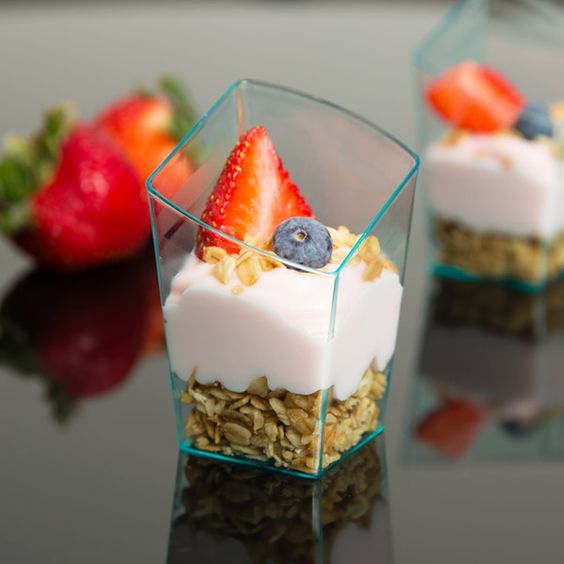 Trend Alert: Miniature Foods
Move over bacon - there is a new trend in town. Miniature versions of your favorite foods will be hitting party tables across America this year. No more indecision about which entree to pick - with these bite-sized delights, you can try one of each! Of course, the key to this delectable display is a presentation with each bite looking like a fully-prepared miniature gourmet meal. Give each guest something unique by serving each food option in its signature miniature dish.
The best part about this trend is that it gives your guests a variety of foods to whet their pallets without breaking your wallet. Miniature foods are often just as cost-friendly as serving appetizers and hors d'oeuvres and still gives an air of a "full meal."
The fun aspect of miniature foods is that it gives the creative caterer a lot of leeway for presentation and styling. Displaying the miniature dishes on top of tiered stands presents an opportunity for a colorful and pleasing view, ensuring the adorable dessert tables we are all so fond of.
Another cost-cutting benefit of small servings is that event hosts may be able to forgo china use entirely. Instead, they can opt for tiny 
plastic dinnerware
 conducive to proper portions. On the 
Smarty Had A Party
website
, you can find a fabulous range of 
mini ware
, including 
bowls
, 
plates
, 
trays
, 
forks
, 
spoons
, 
cups
, 
wine glasses
, and more in different sizes, shapes, colors, and designs to suit any theme of your party. Plus, our 
mini plastic party supplies
 are conveniently disposable to allow you to speed up your end-of-day cleanup process.
Do you need an exciting and tasty appetizer and dessert that is quick to prepare? Our suggestion is these mini foods or mini snacks that are the perfect serving for any occasion, whether you have unexpected guests on your doorstep or you are planning the menu for a birthday or other celebration. On the other hand, try our examples and recipes if you are tired of food served in the usual way and want to delight your guests with something new and original.
To add to the experience of sample-sized fare, consider having the chef in an open area where all the guests can watch as the cuisine is created. The chef doubles as entertainment for your guests and creates a conversation piece all at the same time. And if you're really into mini - consider serving two or three signature miniature cocktails at your soiree to add to your arsenal. You know what they say 'dynamite comes in small packages!'
A Wonderful Mini-Cheesecake Made in Just 30 Minutes
In a GLASS or a JAR, it will Look Phenomenal.
Tasty and refreshing, even beginners can prepare it!
We adore strawberries because their arrival means that spring has arrived, clear days indicate summer, and we immediately look for something to sweeten and refresh us!
We suggest this simple cheesecake that you will prepare very quickly. The longest part of the preparation is waiting for it to cool before serving!
Ingredients:
200 grams of biscuits

200 milliliters of sweet cream

200 grams of cream cheese

400 grams of strawberries

100 grams of butter

50 grams of sugar
Preparation:
Crush the biscuit in a blender, melt the butter and mix it with the biscuit. Press the resulting mixture into the bottom of the glasses or jars where you will serve the cheesecake, cool it to room temperature, and put it in the refrigerator to set.
Wash the strawberries, remove the stalks and finely chop half of them, and leave the other half for decoration. Stew the strawberries with sugar and a little water until you get a sauce slightly thinner than jam, then cool it well.
Beat the whipped cream with a mixer, then mix it well with the cream cheese with a spatula. Fill the glasses with this mixture, pour over the cooled sauce and decorate with strawberries. Refrigerate for at least an hour before serving.
Banana Pudding In a Cup
Banana pudding in a glass is a modern version of a traditional South American dessert that consists of vanilla cream, banana pieces, and biscuits. Biscuits of the Nilla brand have had a recipe for banana pudding printed on their packaging since 1940, and with that, an American company branded this delicacy. Today it is made all over the world, and why not when the combination is very nice, and the preparation is simple?
For the recipe in front of you, you will spend a minimum of time and effort, and you will get a sweet that will be enjoyed by all generations. Here you go.
Ingredients:
1-2 bananas (not overripe)

Juice half a lemon

Sweet cream or whipped cream powder for decoration (opt.)

Round biscuit biscuits
For the vanilla cream:
2 -bags of vanilla-flavored cream pudding (preparation without cooking)

5 -dl of milk

250 g of mascarpone cheese (or whipped cream as the most adequate substitute)

50 g of powdered sugar (or according to your taste)
Preparation:
Vanilla cream:
Pour the contents of two bags of vanilla pudding into a suitable container.
Add the cold milk, then beat with a mixer for a minute at the lowest speed and then for another five minutes at the maximum speed.
Add the mascarpone and powdered sugar to the prepared pudding, and mix everything well together.
Stacking glasses:
Peel the bananas cut them into rings, and sprinkle them with lemon juice to prevent them from darkening.
Place a few pieces of biscuits and bananas at the bottom of each of the 4 glasses.
Cover them with a couple of spoons of vanilla cream, then repeat the stacking process in the specified order.
Cool the filled glasses in the refrigerator for a few hours, then decorate with whipped cream or whipped cream according to your taste.
Enjoy!