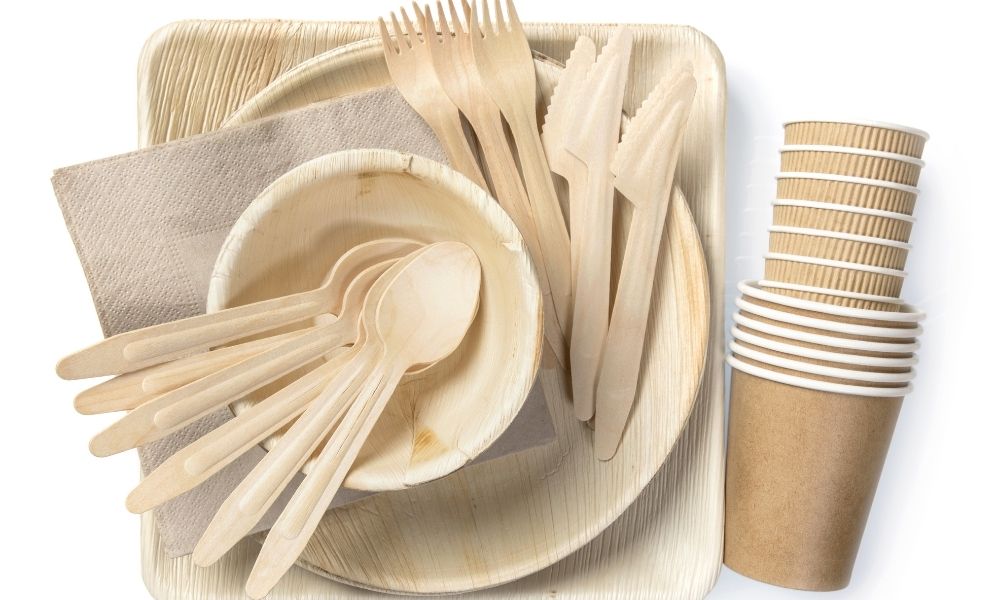 How To Choose Between Paper and Plastic Dinnerware
"Paper or plastic?" It's not just the question you must answer as you check out at the grocery store. As you plan an event where porcelain plates aren't an option, you'll have to ask yourself. You have an abundance of choices regarding sets of single-use dinnerware, but all the shapes and colors on the market come down to one distinction, and on this occasion, it's a distinction with a difference. Confused? We'll show you how to choose between paper and plastic dinnerware as you set your table.
The Pros and Cons of Paper
"Go green" is the mantra of the 2020s, and it's no surprise why. We can hear the clock ticking against us regarding climate change and sustaining our natural resources. With that in mind, the intuitive choice for disposable dinnerware would appear to be paper products, which use a renewable resource rather than their petroleum-based plastic competitors. Seems obvious, right? Not so fast. Those paper products might be more plastic than you think. While paper plates aren't 100 percent waterproof—ask anyone who's ever tried to eat watermelon off of one—they do benefit from a thin layer of a petroleum-derived wax that makes them more resistant to liquids and much less biodegradable. Once you've eaten from paper dinnerware, forget about recycling them—recycling facilities can't treat them, so they're headed to the landfill, where they'll sit beside the pizza boxes and milk cartons.
Plastic Dinnerware: Benefits and Drawbacks
It's an inescapable truth—North America produces a lot of garbage, and we're not just talking about what's on basic cable all day. Amid the trash, you'll find lots and lots of plastic. Much of it will wind up buried, where it won't break down for centuries. Some of it even winds up in our oceans, forming a veritable island of rubbish. Fortunately for you and the earth, this doesn't necessarily have to be the case. If you're so inclined, you can wash single-use plastic dinnerware at the end of the party and send it to recycling, where the materials can resurface in new products rather than rotting away—or failing to do so—underground. With a bit of work on your part, plastic dinnerware can be a sustainable choice.
Biodegradable Plastic and Its Advantages
So, the main advantages of bioplastic tableware:
Safe for the environment. The period of decomposition of bioplastics is about 180 days (according to GOST), while plastics of hydrocarbon raw materials decompose in the natural environment for up to several hundred years.

It is not toxic. The process of production and degradation of traditional plastics involves the release of toxic substances into the environment. In this sense, bioplastics are safe for nature and people.

It helps to reduce air emissions. The exploitation of raw materials does not require the development of fossil fuels, and practically no harmful compounds and greenhouse gases are emitted during production.

Easier to recycle. Recycling bioplastics is more efficient and less energy intensive than conventional plastics.

Wide range of operating temperatures. Bioplastic enables safe food storage in the freezer and heating of food in the oven and microwave.

Ease of use. Bioplastic tableware is strong, light, and comfortable.
Disposable Paper Dinnerware
The following characteristics of disposable paper dinnerware:
It does not heat up very quickly and retains heat, so it can be used to store hot food.

Due to the lamination process, thin cardboard is not subject to soaking from condensate.

Such accessories can be safely used for heating food in microwave ovens because they do not emit harmful substances under the influence of high temperatures.

The most crucial advantage of paper dishes is that they cannot be reused, and in the case of plastic, this important rule is often neglected.

Paper tableware is much less popular than plastic, and this is due to the expensive and labor-intensive production process.

Despite the expensive production and less popularity, paper dishes have several favorable properties, including a long heating speed and the ability to store hot food, resistance to condensation, and the absence of harmful emissions during heating. In addition, paper containers can be used more than once.
Every celebration, during which it is planned to serve even not a full meal, but a light snack, forces the organizer to think about setting the table. Unfortunately, traditional glassware is not always justified because it is expensive, fragile, and heavy. In addition, it has to be washed afterward, which is an additional waste of time and money.
For these reasons, more and more people are inclined to believe that it is more expedient to use disposable tableware for feasts of different formats and orientations.
An excellent alternative to other disposable dishes will be plates made of coated or plain cardboard or shaped paper. Such products have a bright design, optimal dimensions, and improved quality characteristics.
The Functionality of Plastic vs. Paper Dinnerware
What is excellent about disposable plastic dinnerware is that the plates and glasses look and feel beautiful. They also feature a practical design that lets you stack pieces on top of each other without worrying about breaking and causing a mess. Lightweight yet remarkably sturdy and durable design also ensures stability while serving and during transportation and lessens the likelihood that servers or guests will drop their glasses, plates, or tray, creating operational efficiencies. Another attractive feature is that plastic drinkware can hold a frost longer than paper cups. As the liquid in the paper cup quickly warms in hand, causing the drink to become dull and 'flabby' with drinkware made of the highest quality plastic materials, this is less of a concern. 
Which Is Right for Me?
If you're throwing a small, casual party, you can get by with paper dinnerware. But if you've put together a guest list and are trying to impress, consider one of the attractive assortments of single-use plastic dinnerware from Smarty Had a Party. Suppose you still don't know how to choose between paper and plastic dinnerware. In that case, there's a third way—palm-leaf dinnerware and other biodegradable party supplies from Smarty Had a Party are attractive, durable, and eminently eco-friendly.