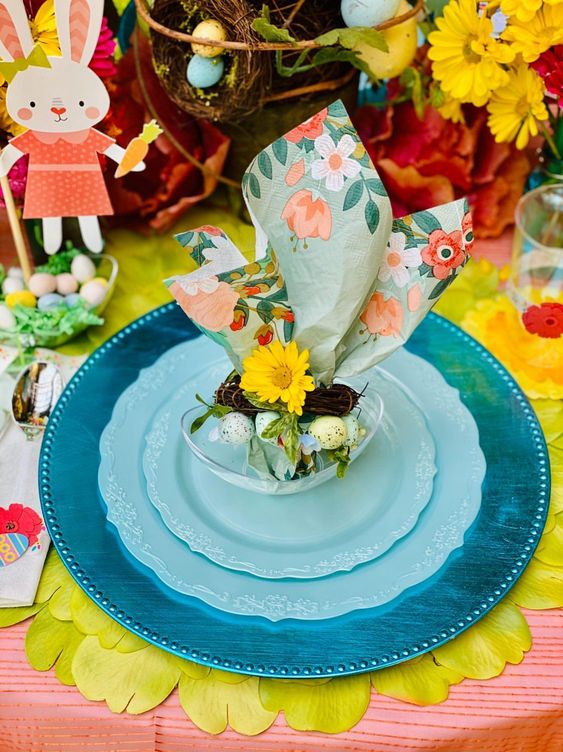 The Best Easter Tablescape Ideas
Finally, winters have bid adieu to us, and we are all set to welcome the most glorious time of the year. Yes - it is springtime, which comes along with Easter. A celebratory time that ushers a sense of positivity, joy, and much-needed cheer. It is finally time to celebrate spring's bounty and cherish all the beautiful things this lovely season offers. Among all the ways you can celebrate this exciting holiday, we think setting up a lavish Easter table and gathering your loved ones is the best way to make your party eggs memorable!
Tablescapes are one of Smarty's favorite hobbies, so you have come to the right place - we have assembled an sp-egg Easter tablescape that will even get the bunny hop with joy! And to create this beautiful tablescape or tablescape for your guests, you don't even need to spend a large sum of money. Smarty Had A Party will give you good reason to call off your Easter table settings; hunt for good.
Instead of paying a considerable fortune and wasting a lot of time setting the perfect table, with Smarty's fabulous disposable plastic tableware and gorgeous tablescape ideas, you will be able to host a festive and memorable Easter party. Just purchase everything you need at smartyhadaparty.com and keep scrolling to find out what we used to create a whimsical-looking Easter table that will surely impress everyone!
Easter is a time to celebrate spring, new life, and nature renewals, so take advantage of nature's awakening by hosting a springtime Easter feast outdoors. The holiday falls on the most enjoyable part of the spring season, so having the lovely springtime feast outdoors will make your celebration even more special.
There is something vintage about the blush pink tablecloth, and along with a light green floral placemat, it makes a perfect foundation for an easter-inspired setup. Besides pink, you can also experiment with ivory, light blue, and other pastel hues.
After you have dressed up the table, your next step should be to accommodate each guest with fancy dinnerware. To further spruce up your tablescape with a splash of pastel hues, you can use our beautiful Blue Beaded Charger Plates and Turquoise Vintage Round Disposable Plastic Dinnerware Value Set. They are charmingly paired with the refreshing flair of the light green floral placemat and the vintage charm of our blush pink tablecloth. Finally, to make the table extra festive, blend some shimmering metallic tones into your holiday color palette by opting for a Shiny Metallic Silver Flatware Set.
For serving wine, sparkling juice, or any other delicious beverage at your Easter celebration, you can dress up our crystal clear cups, champagne flutes, coffee mugs, and wine glasses with fun Easter flower tapes and pink flowers. Simply glue flower tape over the glasses, stick a pink flower in the middle and serve them up. These glass embellishments will surely add a festive and unique touch to your Easter tablescape.
An easy way to spice up your table decor is with some festive dinner napkins. Instead of buying expensive linen napkins and wasting time on laundering, this year, use our disposable flower paper napkins and a touch of colorful style to your table decor. Just wrap an Easter-inspired napkin ring around your favorite napkin and set it up in our Clear Small Disposable Plastic Concave Cup and Easter eggs and fresh flowers. A beautiful small cup with eggs beside that helps balance the color theme and makes a nice favo+r to give to guests.
It is no secret that additional accessories give an extra charm to the entire setup. Highlight your table with various decorative accessories like wooden or paper bunnies to accentuate your table decor. Moreover, create a couple of charming Easter flower arrangement centerpieces using pastel-colored florals to bring the perfect springtime vibe to your Easter tablescape.
These Easter tablescape ideas and Smarty's gorgeous disposable plasticware and eco ware will make setting up for your Sunday party a breeze. When preparing your holiday meal, you won't have to worry about your presentation or the long-lasting cleaning up. And what is more surprising about this beautiful tablescape – it is pretty budget-friendly. So order your decor supplies from Smarty Had A Party and set your one-of-a-kind Easter tablescape to uplift your festive spirit.
Photo and styling credit: Alicia Alvarez
The dishes you can serve on this festively decorated table are festive glazed ham, juicy turkey meat, lamb chops, roast beef, roast pork, turkey breast, and various salads with this beautiful main course.
Since this is a happy, colorful spring holiday, we will not talk much about the main dish, but we will focus on Easter sweets!
Make something new and unique for the Easter holidays, sweets that every child will adore - colorful chocolate bars. The recipes are effortless, and you can let your imagination run wild by making different combinations. They are a great gift and the perfect decoration for a basket with Easter eggs.
The first suggestion is a mixture of sweet and salty flavors to delight the whole family. Melt the white and dark chocolate in unique bowls and then pour them into a baking tray lined with baking paper. Spoon to make the mixture, and then arrange the salted sticks and add the colorful candies you have. Allow cooling.
Tiny Candies in the Shape of a Bunny
This candy needs a mold, but you can make the shapes you want. The most important thing is to put colorful chocolates in the mold first and then melt chocolate.
You can make a table for sweets that you will decorate with colorful bunnies, green grass, colorful balloons, chocolate bunnies, and chocolate eggs that children love the most! Make small packets of decorations in baskets in which you will put colorful eggs that you have painted and chocolate bunnies and chocolate eggs and ties! These beautifully arranged gifts will delight and delight your guests on their way home and give the final touch to your celebration! 
Featured Smarty Products:
Happy Tablescaping and Happy Easter Smarties!