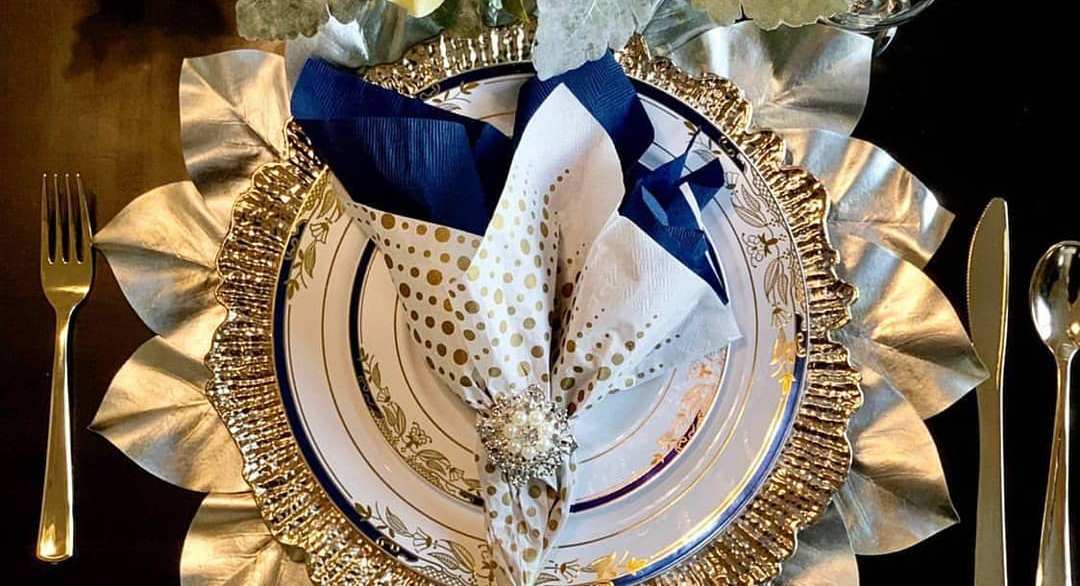 Top 9 Most Glamorous Holiday Party Décor and Table Setting Ideas
The holiday season always brings happiness and relief from work. At this time of the year, a fun holiday party is all you need to refresh your mind and relieve stress.
Plus, engaging with your friends' network can be an excellent opportunity to help you resume your job or business with a fresh mind.
When it comes to a fun holiday party, decor and table setting are the most essential elements. After all, they adorn the beauty and charm of the event. This season's most glamorous parties will surely spark your interest with these elegant party decor and table presentations.
1. Floral Ornamentation 
You can never go wrong with a floral arrangement (unless you're allergic to flowers)—all you need to turn on your creative and selection of elegant flowers for decor and table setting.
The glow and freshness that these colorful flowers bring are unmatched. Set the party space with flower bunches and beautiful drapes with floral patterns. The floral curtains look even better with golden string lights.
Use bunches of beautiful seasonal flowers in the middle of the table with a white tablecloth for the table setting. The pop of color on top of the white tablecloth will give a subtle, sublime look to the overall party.
2. Glorious Colors of Winter
The winter season is full of exciting natural beauty. You can bring winter colors to your party decor and table setting to feel more calm and serene.
Set your winter table with pine cones in the middle of the table, matching candles, and seasonal flower petals.
Matching blue and white elegant plastic dinnerware will fascinate guests as well. The most important thing is maintaining symmetry and coherence in party decor, table setting, and dinnerware.
3. Relaxing Party Decor and Table Decor
When it comes to relaxing themes for party decor, simplicity is the key element. A garland with pinecones, flowers, and ribbons can make up a stylish party decor. Fragrant candles in a beautiful candle stand can enhance the charm, and their beautiful flickering flames will have a soothing impact on the whole party scene. 
4. Wooden Lanterns and Calligraphy Decor
We cannot deny the beauty of wooden lanterns and the beautiful calligraphy on different art pieces. If you want to throw an elegant and traditional party, you can set room for your party with elegant wooden lanterns and beautiful pieces of artwork. This decor style needs your design and art skills.
As far as table setting is concerned, it is essential to synchronize it with decor style to bring harmony to your party. For example, you can place some lanterns along the long table. The yellowish-blue light of the lanterns will turn on the mood for a memorable party.
5. Snow White Decor
A snow-white theme is always the best choice when it comes to elegant decor style. The white color decor will bring purity and innocence to your party. Use elements like snowmen, white candles, curtains, lilies, chocolates, or candies in white wrapping.
Set the table with little decoration pieces of pine trees. We recommend you use fancy party plates in white color. With our white disposable dinner plates, your Snow White-themed decor will be off to slay.
6. Royal Red Party Decor 
Combine monochromatic floral centerpieces with red bulbs at each place, setting for a blend of tradition and glam. The monochrome pieces provide a touch of glimmer, while the rich red of the flowers offers rich texture.
For your royal-themed event, add red roses, red curtains, rose petals, and fragrances to set an aroma of love and style everywhere.
Set the table with red and white lilies. The gorgeous combination of white and red will make your Holiday party decor look magical. Then, serve a decadent red velvet cake in Smarty's fancy party plates to make this more touchy and worth remembering. 
7. A Natural Decor for Nature Lovers
If you are looking for a party set up to feel nature's beauty and refresh your mind and soul, this idea is for you. You can set the party decor with natural stuff such as wildflowers, maple leaves, aesthetic paintings of a hilly area or waterfall, and soft music.
The menu should have coherence with the theme. It is smart to serve organic food to your guests with mint margaritas or fresh juices. Never forget to embellish your table with fresh seasonal fruits and pumpkins.
How can you not have natural dinnerware on a Nature-inspired tablescape? Get our palm leaf square disposable plates made that will bring your Nature-themed Holiday party closer to nature.
8. Purple and Pink Centerpiece
This centerpiece idea makes your party youthful, bright and energizing. Decorate your stage and table with beautiful and fragrant purple and pink flowers anchored with greenery at the bottom of the flower bed. Delicious meals with proper serving in the right dinnerware will enhance the beauty and elegance of the party.
9. Multishade Party Decoration and Table Setting 
You must try this one if you are good at color selection and can also work with multiple colors. For example, you can decorate the party stage with seasonal flowers of various colors. Adding a flower bouquet to guests' tables would be even better to give them a sense of importance.
Beautiful glittering paintings and decoration pieces will bring style and glamor to your party. Hanging flower baskets and pearls can add beauty to your decor and table setting. You can mix colors with creativity to get the best results.
The table setting must be considered if you want your party to be gorgeous and beautifully set. While it can look pretty daunting, it actually isn't. All you need is an attractive centerpiece and elegant dinnerware that matches the decor.
You can seek help from Smarty's elegant dinnerware to add charisma and grace to your table setting. We have a wide collection of elegant disposable plastic dinnerware sets that can decorate any table wonderfully.
You can select high-quality and beautiful disposable plastic plates of different shapes and sizes according to your choice. In addition, our extensive collection will give you a wide range of options for pulling up any theme for the Holiday season.
So, what are you waiting for? Visit Smarty's website and grab the best deals right now!