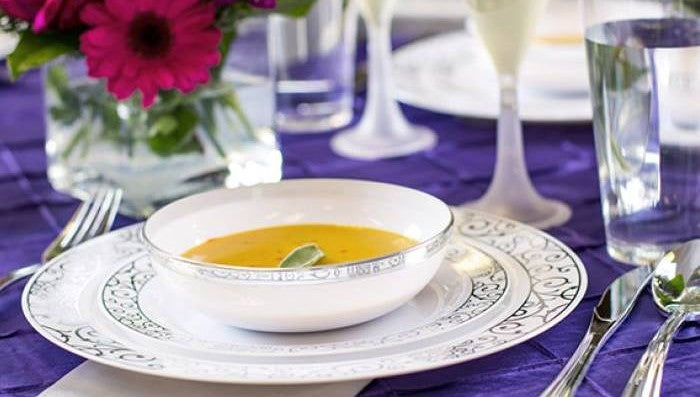 5 Easy Dinner Recipes to Try This Winter
We all crave comforting and warming meals during the cold winter months, and our taste buds drool at the sight of delicious food.
The winter season offers many mouthwatering dishes, so there's no need to stress if you're unsure what to make. We have combined a list of delicious recipes to try this winter.
Before you make these dishes, we suggest you buy disposable serving ware as it is more economical, easy to clean, and eco-friendly. 
Smarty offers a variety of disposable serving ware, including plastic soup bowls, plastic plates, serving platters, and plastic serving trays.
1. Vegetable Soup
Vegetable soup is one of the tastiest dishes you should try this winter.
Ingredients:
3 potatoes coarsely cut into equal pieces

3 parsnips cut into equal pieces

2 carrots coarsely chopped into equal pieces

2 turnips coarsely cut into equal pieces

3 stalks of celery coarsely chopped into equal pieces

1 leek cut into equal pieces

1 onion coarsely cut into equal pieces

2 garlic cloves

2 tbsp olive oil

1 pinch salt

Ground pepper to taste

4 cups chicken broth

1 cup water

1 cup partly skimmed milk
Method:
Peel all the vegetables, including potatoes, carrots, turnips, garlic, and celery, and put them in a large pot or pan. 

Add 1½ liters of boiling water, 2-3 tbsp salt, and pepper to taste.

Bring this mixture to a boil. Reduce heat and cover it.

Simmer for 40 to 45 minutes until the vegetables are tender.

If you prefer a thick texture, blend a third of the soup in a food processor or with a hand blender.

Pour soup into bowls and serve it in 

disposable serving trays

.
2. Butter Chicken Recipe
This one-pan butter chicken recipe is easy and hassle-free. It's simple and doesn't need a lot of ingredients, but it still has just the right amount of spice.
Ingredients:
1 tbsp oil

1 tbsp butter

1 onion (diced)

1 tsp fresh ginger (finely minced)

1 tsp chili powder or paprika (or according to taste)

500g skinless, boneless chicken thighs

1 tsp ground fenugreek

1 tsp cumin

1 tsp salt

¼ tsp black pepper

2-3 garlic cloves (finely minced)

4 tbsp tomato paste

200g yogurt

Hot cooked rice or naan for serving

Mango chutney, lime pickle (optional)

Fresh coriander (optional)
Method:
Heat a cooking pot over medium-high heat.

Add oil and butter to the pot. After this, add onions and cook them until the onions turn slightly brown. 

Add ginger and garlic. Let it cook for 30 seconds and keep stirring it to prevent burning.

Add chicken, tomato paste, and all the spices, and cook it for 5-6 minutes until everything is well cooked.

Add yogurt to this mixture and simmer for 5 minutes while stirring it occasionally.

Your delicious butter chicken recipe is ready. Sprinkle it with fresh coriander leaves.

Serve it in 

eco-friendly serving platters

 with naan, rice, mango chutney, or lime pickle.
3. Vegetable Lasagna
This mouthwatering vegetarian lasagna is made with layers of roasted vegetables and homemade tomato lasagna sauce.
Ingredients:
3 red peppers cut into large pieces

2 aubergines cut into slices

8 tbsp olive oil

300g lasagna sheets

125g mozzarella

Some cherry tomatoes

White sauce

Tomato sauce
Method:
Preheat the oven to 200C. 

Add the peppers and aubergines to a big baking pan that has been lightly oiled. Season thoroughly, toss with olive oil, and roast for 25 minutes or until it is lightly browned to serve it as a starter.

Reduce the temperature to 180C. Brush a large dish with oil.

Add a layer of vegetables and pour homemade tomato sauce over it.

Top it with a layer of lasagna sheets and drizzle over a layer of white sauce.

Repeat the same process until you have three layers of pasta.

Cover the pasta with leftover white sauce and then sprinkle the mozzarella and cherry tomatoes on top of it.

Bake it for 45 minutes in the oven until it is brown.

Serve the vegetable lasagna with roasted aubergines on a large serving platter.
4. Chicken Spaghetti
This is a basic spaghetti recipe made with chicken and cheddar. It is easy to make, and it doesn't need much time. It is packed with vegetables and proteins, which is why it is a perfect dish to try in winter.
Ingredients:
1 whole raw chicken

2-3 pack spaghetti

2 ½ cups shredded cheddar

¼ cup finely diced green pepper

¼ cup finely diced red pepper

1 tsp salt

1 cup mushroom soup

1 medium onion (finely diced)

Freshly ground black pepper
Method:
Heat the oven to 350 degrees F.

Add water to a large pot and bring it to a boil.

Boil the chicken in hot water and take it out after it is boiled, but don't throw the broth.

Reduce the heat to medium-low and take out 2 cups of broth from the pot and cook the spaghetti in the same chicken broth until it is firm but do not overcook it.

Shred the chicken.

After the spaghetti is cooked, transfer it to another bowl and add chicken, mushroom soup, ½ cheddar cheese, red pepper, green pepper, and onions and sprinkle with salt and pepper.

Add 1 cup of the reserved chicken broth to this bowl and stir it.

Transfer it to a deep 

plastic serving tray

, top it with the remaining cheese and serve your family or guests.
5. Beef and Bean Chili
Our beef and chili recipe is perfect for keeping you warm in winter, and you can't skip this delicious dish. It is a must-try recipe.
Ingredients:
1 kg beef

6 garlic cloves

2-8 ounce cans of tomato sauce

1-6 ounce tomato paste

½ cup chili powder

2 tbsp cumin

2 tbsp salt

4 to15 ounce cans of beans

Shredded cheddar and sliced jalapenos for topping.
Method:
In a large pot, cook the ground beef and garlic until brown.

Add tomato paste, sauce, cumin, salt, and chili powder.

Stir everything thoroughly; reduce the heat to low and cover the pan. Simmer for one hour while frequently stirring.

To prevent the chili from burning, add up to1½ cups of water if the liquid level seems low.

To thicken, simmer for another 10 minutes. Add the spices based on taste. In the end, garnish it with cheese, beef, and jalapenos.

Serve your guests with beef and chili in disposable serving ware.