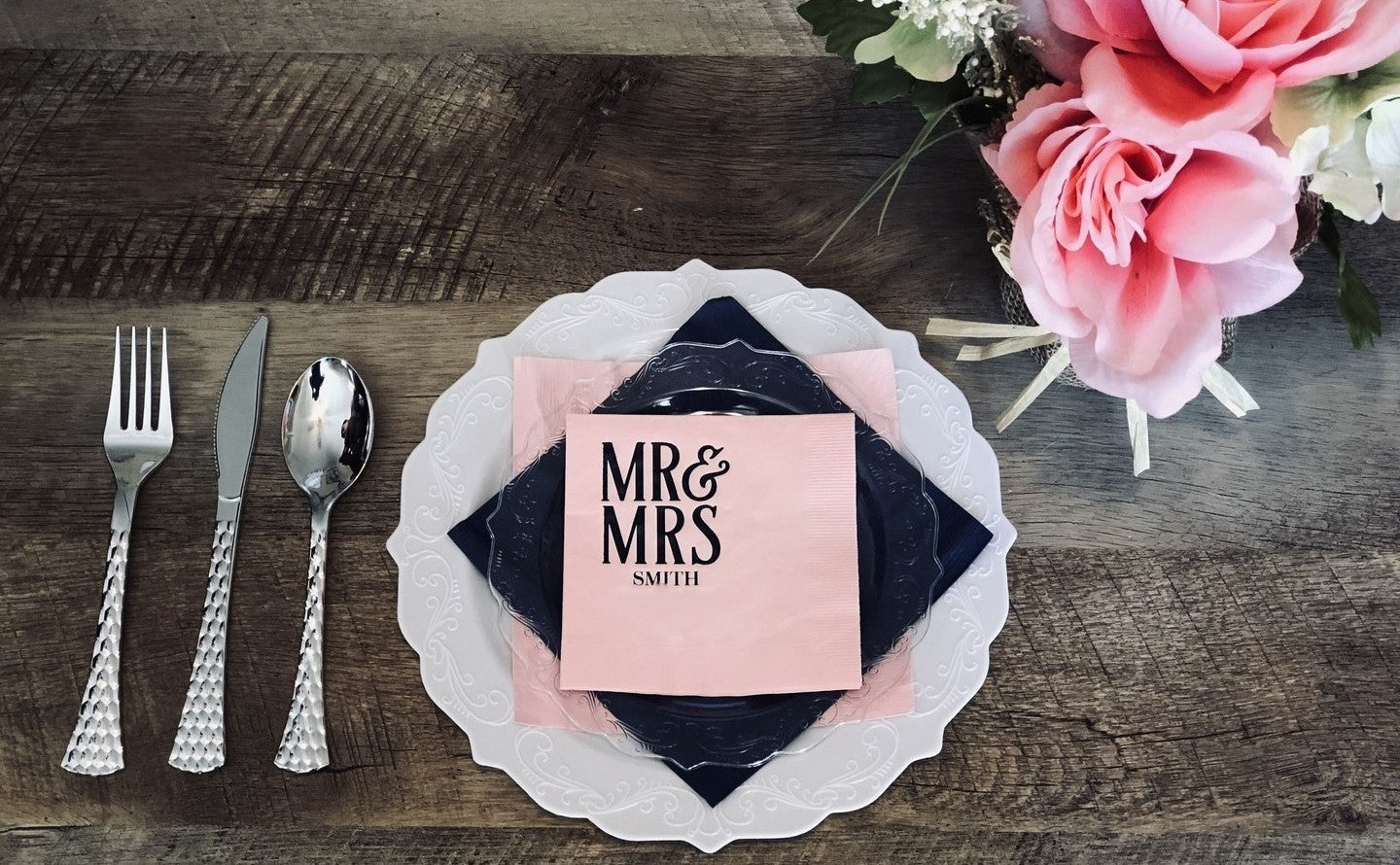 From Classic to Modern: Wedding Table Setting Ideas to Suit Every Style
The wedding table setting is like a blank canvas awaiting the artist's touch, setting the stage for the celebration ahead. From classic elegance to modern minimalism, the style of your table settings can beautifully reflect the theme and ambiance of your special day. Whether you envision a timeless affair or a stylish soiree, this blog post guides you through a world of wedding table-setting ideas that will suit every style.
Classic Wedding Table Setting Ideas
Classic wedding table settings evoke a sense of timeless elegance and grace. They embrace traditional elements that have long been associated with formal dining experiences.
Key elements of classic table settings that can transform a classic table setting into a masterpiece:
Vintage Vibes: Add a nostalgic touch to your table setting with vintage-inspired elements. Use dinnerware with floral patterns and delicate tea cups. Lace or embroidered table runners enhance the timeless aesthetic.
Royal Elegance: Infuse regal elegance into your table setting. Choose ornate dinnerware, crystal glassware, and gold/silver accents. This luxurious combination exudes modern opulence.
Glamorous Accents: Bring the glitz with metallic charger plates, sequined tablecloths, and crystal-encrusted candle holders. Create drama with floral arrangements, tall candles, and chandeliers for a captivating modern flair.
Examples of Classic Table Setting Themes
Romantic Garden: Create an enchanting atmosphere with pastel tones, floral centerpieces, and vintage-inspired dinnerware. Combine lace runners and fresh blooms for an ethereal garden-themed setting.
Timeless Black and White: Embrace elegance with a black and white scheme. Crisp white linens, black napkins, and black and white dinnerware create a refined setting. Add drama with silver candelabras or crystal chandeliers.
Vintage Glamour: Transport guests to Hollywood's golden age with antique-inspired glassware, velvet runners, and gilded candle holders. Vintage menu cards and personalized place cards add old-world charm.
Classic Elegance: Keep it effortlessly sophisticated with a white and silver setting. Clean lines, white linens, and silver-rimmed glassware create a timeless ambiance. Additionally, crystal accents and fresh white flowers add refinement.
Modern Wedding Table Setting Ideas
As weddings evolve, so do the styles and trends that shape them. Modern wedding table settings embrace the spirit of the times, incorporating fresh and innovative ideas to create visually stunning and unique dining experiences. 
Key elements of modern table settings:
Minimalism: Focus on simplicity with crisp white linens, streamlined dinnerware, and sleek glassware. Keep decor minimal, highlighting one or two statement pieces. The understated elegance allows each element to shine.
Unique Textures: Add depth with textured linens in velvet, silk, or linen. Use dinnerware or glassware with embossed patterns or frosted finishes. Layering textures creates a contemporary and captivating table setting.
Geometric Shapes: Embrace modern design with geometric patterns and shapes. Choose geometric dinner plates, hexagonal glassware, or angular cutlery. Use geometric-inspired runners or napkins for impact. Bold and edgy - geometric shapes make a statement.
Examples of Modern Table Setting Themes:
Industrial Chic: Achieve an urban and contemporary ambiance with concrete or metal chargers, copper or black matte cutlery, and modern glassware. Exposed Edison bulbs, metallic candleholders, and minimalistic floral arrangements enhance the clean-lined theme.
Scandinavian Simplicity: Embrace minimalist elegance with Nordic-inspired design. Use soft neutrals, clean-lined dinnerware, simple glassware, and sleek silverware. Incorporate natural elements like wood and greenery for warmth. This theme embodies simplicity, functionality, and natural beauty.
Artistic Fusion: Showcase your creative side with texture, color, and pattern combinations. Mix vibrant plates, geometric napkins, and asymmetrical dinnerware for artistic flair. Add hand-painted place cards, watercolor table runners, or personalized illustrations as centerpieces. This theme celebrates creativity and individuality.
Futuristic Elegance: Create a visually striking and futuristic setting with metallic elements and contemporary designs. Incorporate mirrored or metallic charger plates, geometric glassware, and modern cutlery. Add LED lighting or neon accents for drama. This theme exudes sophistication and innovation.
Introducing Disposable Plastic Party Supplies
Disposable plastic party supplies have gained popularity for wedding table settings. They offer a practical and convenient alternative to traditional materials, fitting seamlessly into modern trends. Their versatility, affordability, and ease of use contribute to the growing demand.
Benefits of Using Disposable Plastic for Wedding Table Settings
1. Convenience and ease of cleanup: Disposable tableware offers convenient setup and cleanup. They save time by eliminating the need for extensive washing and prevent breakages, allowing you to enjoy the celebration without worrying about post-event chores.
2. Cost-effectiveness for large gatherings: Disposable dinnerware is a cost-effective solution for large gatherings, as they are more affordable than traditional dinnerware. They help you stay within budget while maintaining style and presentation.
3. Versatility in accommodating various wedding styles: Disposable plastic party supplies are versatile and can accommodate multiple wedding styles. Contrary to misconceptions, the market offers various options that complement different themes. Whether classic, modern, rustic, or themed, you can find disposable plastic party supplies in elegant or vibrant designs to seamlessly incorporate into your wedding ambiance.
Integrating Disposable Dinnerware into Classic Wedding Styles
Vintage Plastic Dinnerware: Opt for disposable plastic plates and bowls with delicate patterns or scalloped edges reminiscent of vintage china. These details can elevate the overall look and create a sense of nostalgia while offering the convenience of disposable design.
Royal-Designed Dinnerware: Look for disposable plastic dinnerware sets that mimic the regal designs of traditional porcelain or bone china. Elegant gold or silver accents on plastic plates and refined plastic drinkware can add a touch of sophistication to your classic table setting.
Metallic Accents: Integrate disposable plastic serving ware with metallic finishes, such as gold or silver. Plastic trays, platters, or utensils with a metallic sheen can enhance the elegance of your classic table setting while being lightweight and easy to handle.
Tips for Incorporating Plastic Elements Without Compromising Elegance
Choose High-Quality Plastic: 

Opt for disposable plastic party supplies made from high-quality materials that closely resemble the look and feel of traditional dinnerware. 

Coordinate Colors and Designs: 

Select plasticware complementing your color scheme and theme. Consider matching the color or pattern of the plastic elements with the rest of your table decor, such as floral arrangements, linens, or chair covers.

Mix and Match with Traditional Elements:

 Integrate the plastic party supplies with traditional elements to create a seamless blend. For example, combine vintage plastic dinnerware with real silverware or use plastic cups alongside crystal glassware.
Incorporating Disposable Dinnerware in Modern Wedding Styles
Minimalist Table Settings: Opt for disposable plastic plates and cups in solid, neutral colors, such as white, black, or clear. Embrace modern design's simplicity and clean lines by choosing plastic party supplies with minimal embellishments or patterns. 
Unique Textures: Look for disposable plastic party supplies with unique textures to add visual interest to your modern table setting. Matte finishes, frosted surfaces, or geometric patterns can lend a contemporary touch while maintaining the convenience of plastic.
Geometric Shapes: Explore disposable plastic party supplies with geometric shapes to complement the modern aesthetic. Consider hexagonal or square plates, triangular bowls, or faceted drinkware. These angular and symmetrical elements can infuse your table setting with modernity and sophistication.
Tips for Maintaining the Sleek and Contemporary Aesthetic
Opt for High-Quality Plastic: 

Choose disposable plastic party supplies made from high-quality materials to ensure they maintain a refined appearance. Look for plastics with a glossy finish or a polished texture, giving them a premium look and feel.

Stick to a Cohesive Color Palette:

 Select plastic party supplies that align with your chosen color palette. Stick to a monochromatic or limited color scheme to maintain the sleek and contemporary aesthetic. Consistency in color creates a cohesive and visually appealing table setting.

Pair with Modern Decor Elements:

 Incorporate modern decor elements that complement the plastic party supplies. Use contemporary centerpieces, minimalist table linens, or geometric-shaped candle holders to enhance the modern vibe.