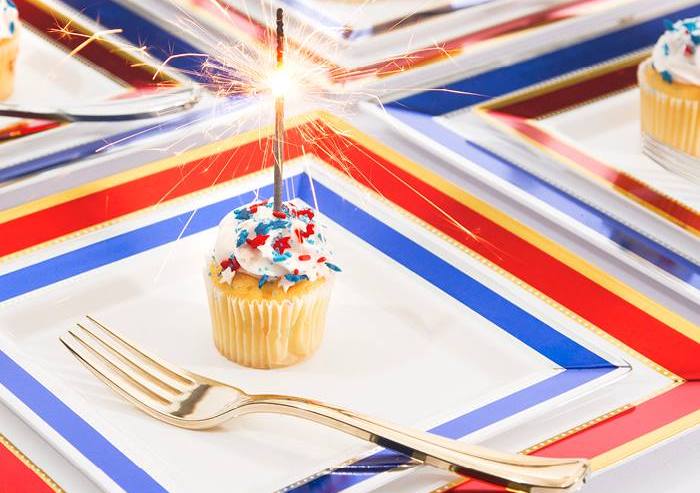 Top 10 Labor Day Party Ideas
Do you want to make this Labor Day Weekend entertaining but don't know how? Then don't worry! You can throw an epic LDW party with these ideas.
1. Host a Family Dinner Party
The three-day weekend is all about celebrating with your family and closest buddies. Arrange a dinner party for them and enjoy delicious food.
Decorate the home with patriotic plastic party supplies - balloons, pom poms, and disposable tableware in blue, red, and white colors. You can make the decor process fun-filled by involving the kids too. They will have an entertaining activity to do during the vacations.
Level up the tables with an eclectic mix of dishes - from different parts of the world. You can make vegetable Pisto, kebabs, Poutine, Quibebe, biryani, and grilled chicken. Serve strawberry lemonade or mojito alongside.
2. Make Patriotic Mocktails
Is a Labor Day party even a party without patriotic drinks? Not at all! Prepare bubbly drinks in red and blue colors to complete a patriotic setup.
Blue Lagoon and Bloody Mary can be a perfect combination for the day. Blue Lagoon is the simplest mocktail to prepare. You'll only need a few ingredients - mint leaves, a soda can, lemon juice, and lots of ice. The bright color of this mocktail will look more vibrant if you serve it in a highball glass.
You can prepare Virgin Bloody Mary using tomato sauce, Worcestershire sauce, lemon juice, celery, hot sauce, black pepper, and ice.
3. Wear a Vintage White Dress
Traditionally, Labor Day is the last day to wear white until next summer. However, most people don't believe it - they think you can wear any color at any time of the year.
No matter what you think, Labor Day can be a great excuse to wear that vintage white short dress in your closet. Host an all-white theme and flaunt your gorgeous cotton outfit.
Decorate the house with white drapes, white roses, and white balloons. Use a golden chandelier to add a royal effect to the decor. Use patriotic plate sets in white and blue for a pop of color.
4. Plan a Camping Night
Host a camping night with your friends while the weather still allows. It's the best way to celebrate LDW and the end of summer. The items needed for the camp night include a tent, cushions and blankets, food, and drinks.
Merge a BBQ night with it to make the night camping more entertaining. Camping at barbecues offers a one-of-a-kind experience. Give your guests the taste of heaven with barbecued lamb.
Camping nights can't get any better without some spooky stories. So sit in a circle around the fire and tell a horror story from your lives. You can even play the game of Truth or Dare or Never Have I Ever.
5. Go to the Pool with Your Friends
The end of the summer calls for a pool party. Celebrate the Labor Day weekend at the pool with your friends. Wear blue and white or red and white swimsuits to get into the spirit of Labor Day. 
Play entertaining pool games like ring toss, beach ball race, inflatable toss, and float races. Get American flag-printed floaties - the kids would love them.
6. Make Patriotic Meals
What's the meaning of a Labor Day party without patriotic meals?
Set up a patriotic table using colorful recipes such as berry pie, American flag cake, strawberry-blueberry popsicles, fruit salad, and patties. These meals look best when served in colorful tableware sets - the patriotic colors will look even more vibrant.
Make a patriotic cake and serve it elegantly on a cake table. Decorate the table using a combination of red and white flowers, and feel free to be a bit extra with cake decorating. Get the prettiest cake stands from Smarty.
7. Ice Cream Sundae to Say Goodbye to Summer
We can't have a summer party without ice cream! Honestly - it feels incomplete if there's no ice cream at a summer event.
Therefore, you must include ice cream to make your Labor Day celebration grand. First, build a sundae bar with different flavors of ice creams. You can also create a fancy ice cream trolley and decorate it using flowers, balloons, and ice cream banners. Finally, make your own hanging ice cream banners with cardboard and color markers.
You can make this setup attached to a tricycle for an authentic effect. Make the ice cream trolley patriotic using blue, white, and red colors.
8. Buy Patriotic Disposable Tableware
No matter how much you spend on the food, your tables will still need that oomph. With colorful tableware sets, you can set your tables exceptionally.
Disposable tableware is a necessity for outdoor parties because of its easy disposal. Our dinnerware sets are lightweight yet sturdy, making them perfect for your Labor Day celebrations.
9. Host a Labor Day Cookout
Cookouts and BBQs are everyone's favorite! They are the only events that can make you excited even when you're not in the mood to party. 
Call your extended family at your home and host a perfect cookout at your home. Prepare the grill and make some sizzling beef burgers and sausages. Everyone would love to enjoy their favorite grilled meal while listening to the stories of older family members.
Budget is not an issue when you're shopping from Smarty. You can get the most elegant patriotic disposable tableware at a lower price than the market. Try out these ideas and host an epic LDW this year while giving a memorable farewell to the summer.