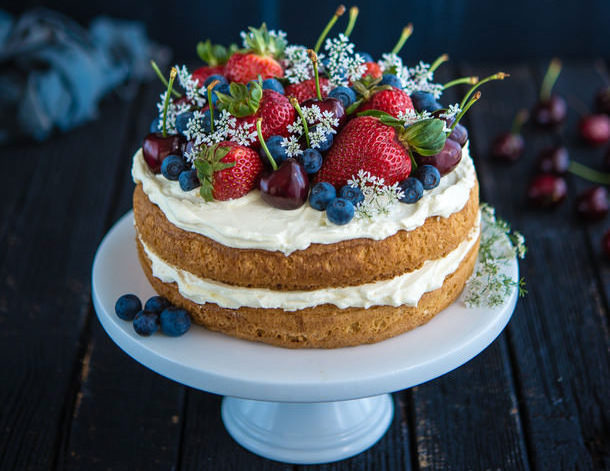 The Best Memorial Day Cake Recipe
The time to praise and honor all those brave soldiers who lost their lives serving our country has just arrived. Yes, it's Memorial Day, and we all need to gear up with our celebratory mood to celebrate this patriotic day with some delicious desserts.
As you arrange your holiday weekend, we have a little something that will undoubtedly make your celebration a little sweeter than ever before: a festive and delicious Memorial Day Cherry Berry Sponge Cake Recipe. Food and sweet treats are a significant part of Memorial Day celebrations that can also be used to take your holiday decor up a notch. And this tasty and unbelievably easy cake recipe will make the yummiest addition to your Memorial Day menu. So whether you are planning a big cookout or picnic for a large group or a family barbecue, this red, white, and blue cake recipe is a beautiful way to bring people together at your Memorial Day gatherings and celebrations. This Memorial Day cake idea is patriotic but delicious, summery, and impressive. And if you want to make your cake the star of your Memorial Day get-together and put everyone in a patriotic spirit, creativity display it on our White Round Plastic Cake Stands.
Ingredients:
For the Cake:
Whipped Cream:
Garnish:
1 - 1-1/2 cups fresh whole strawberries, blueberries, and blackberries

herb flowers
Instructions:
Preheat the oven to 350 F. Spray three 6-inch round cake pans (or two 8-inch pans) with baking spray and line the bottoms with parchment paper.

In the 

bowl

 

of a stand mixer, beat together the eggs, sugar, and vanilla until it has tripled in volume - about 10 minutes. The mixture should be thick, creamy, and pale. Add the lemon zest.

Sift the flour, baking powder, and salt into a separate 

bowl

. Stir into a stand mixer using a 

plastic spoon

, preferably in batches.

Add the melted butter and gently fold it into the cake batter mix.

Divide the batter evenly between the pans and gently smooth the tops. Tap the cake pans on the counter to remove any air bubbles.

Bake in preheated oven for 21-25 minutes or until the sponges are evenly golden and come away from the sides of the baking pans.

Allow the cakes to cool in their pans for 10 minutes. After 10 minutes, carefully turn them onto the wire rack and allow the cakes to cool completely.

Make the whipped cream. In a small pan, combine gelatin and cold water and allow to sit for 5 minutes until thick. Place over low heat, constantly stirring, just until the gelatin dissolves.

Remove from heat and allow to cool slightly (but do not let it set).

Using a stand mixer, whip the heavy cream with the icing sugar until soft peaks form.

While slowly beating, add the gelatin to the whipping cream. Whip at high speed until stiff peaks form.
To Assemble:
Place your first layer of cake on a 

serving plate

 or 

cake stand

.

Spoon a generous layer of whipped cream and spread evenly using an offset spatula.

Place an even layer of sliced strawberries and berries on the whipped cream.

Add the second layer of cake and repeat until all layers are on the cake.

For the top layer, spread on with a generous layer of whipped cream and spread evenly using an offset spatula.

Garnish with fresh strawberries, blueberries, blackberries, and herb flowers.
Memorial Day is always a free day for everyone, both adults and children, it is celebrated in May when the weather is mostly lovely and sunny. Therefore, it is an ideal opportunity to celebrate it in nature and organize a picnic or barbecue! While the kids are having fun drawing a giant American flag on the sidewalk, white, blue, and red chalks, you throw yourself into setting the table! For the picnic, you need plastic or cardboard cups and plates, which you can find in the colors of the American flag and which will contribute to this patriotic atmosphere!
Since this is a celebration in nature, here are some quick and easy recipes that will serve this purpose:
A Trifle of Berries, Lemon, and Donuts
This is the proper treatment if you have little time to prepare for the celebration or have unannounced guests and want something simple, beautiful, and fast! Make this quick but impressive dessert in a short time. It will be your family's favorite treat that you will make without any special occasion when you try it!
Ingredients for this treat:
2 cups cold 2% milk;
1 package (3.4 ounces) instant lemon pudding mix;
1 carton (8 ounces) frozen whipped topping, thawed and divided;
16 to 32 plain doughnut holes;
3 cups fresh strawberries, halved;
2 cups fresh blueberries;
Instructions for use: 
Whisk the milk and pudding for 2 minutes.

Leave to stand for 2 minutes, fold in 2-1 / 2 cups of whipped topping; set aside.

Put half the donut holes in the 3-qt. Trifle bowl;
Coat half of the pudding mixture on top.
Top pudding with half strawberries and blueberries.
Repeat the layers until the filling is the last.
Drizzle with remaining whipped topping.
Refrigerate before serving.
Memorial Day Cheesecake
Cheesecake is always a hit. Even when you make a simple vanilla recipe, it is ideal for a picnic and barbecue, and it is phenomenally refreshing on a pleasant Mayday! The non-baking version is the quick and perfect dessert we need for this occasion! Set up a cheesecake bar with different toppings in red, blue, and white when serving it!