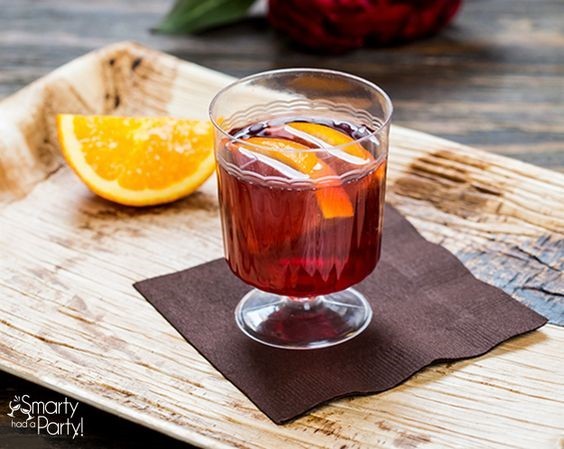 Red Wine Sangria Recipe
Red wine sangria is a great drink option for a party host. Since you need to prepare sangria the night before, it leaves you with one less thing to worry about on the day of your event. With its floating fruit and deep colors, this classic drink looks beautiful both in a pitcher and wine glass. Unfortunately, the fruity flavors of the recipe mask the taste of alcohol, so sangria tends to be a crowd-pleaser among all guests. And no need to purchase an expensive bottle of wine, an inexpensive bottle of dry red wine will do the trick! This recipe will be a hit at all your summer parties: fruity, Sweet, Dry, Lush, Smooth, Refreshing & Boozy. Cheers!
To make this Spanish summer cocktail, you need very few ingredients, and this drink is very customizable. The good part is that there is no standard way to make sangria. If you're feeling extra festive, you can add or remove any ingredient that you want to the mix.
Homemade sangria is too easy to make, and you can put whatever fruit you want in it - it is perfect.
With the help of this easy recipe, you will learn how to make an authentic Spanish alcoholic beverage at home, and you only need a few minutes to prepare it.
First, combine your favorite wine and fruit.
Preparation takes less than 10 minutes, the ingredients are relatively cheap, and cheap wine can be used. Fruit ingredients are added according to personal taste and will. The bonus is that everything can be prepared hours in advance and always looks great in the jug.
What you need:
2 bottles of red wine. Spanish red wine - if you are already making Spanish drinks, it's time to take their wine, and you can use some cheap ones.


1 cup Brandy. Brandy - this alcohol is most often added to sangria in Spain, but cognac or orange liqueur is an excellent substitute if you don't have it.


1/2 cup orange liqueur

4 cups sparkling water. Bubbles depend entirely on your taste, so it can be any non-alcoholic carbonated drink or just plain mineral water.


Freshly chopped fruits - oranges, lemons, and green apples are common ingredients of sangria, but for extra juiciness, you can add some of your favorite fruits.


Cinnamon stick - certainly don't forget that because they always put it in Barcelona.
Sweetener - sugar or brown sugar is the standard for sangria, and turn it into a syrup by boiling an equal amount of water and sugar. But you can also add maple syrup or honey.

Directions:
Slice oranges put into a pitcher.

Add brandy and orange liqueur.

Add wine and stir.

Cover the pitcher and refrigerate overnight.

Top off with sparkling water when you're ready to serve and stir.

Serve cold sangria with ice
The beauty of sangria is more in the method of making it than in the exact recipe. Therefore, gather the ingredients you have and make sangria to your liking. For example, suppose you don't like brandy. In that case, you can use a different wine, have another alcoholic beverage, and always add leftovers of frozen fruit such as berries, grapes, mangoes, kiwis, and others to the sangria. You can also add fresh ginger.

White Sangria
For this refreshing sangria, you need:
1 bottle of quality white wine
1/3 cup of sugar
3/4 cup of peach brandy
6 tablespoons of fresh lemon juice
230 g of chopped peaches
1 cup of halved grapes of white grapes
1 cup of halved grapes red grapes.
How to make white sangria:
Stir in wine, sugar, brandy, and lemon juice until sugar is dissolved. Add the fruit and leave it in the fridge overnight. Sangria is served the next day with lots of ice.
Sangria Sweet
You only need 10 minutes for this unusual dessert.
For the sangria sweet, you need:
Prepare 1 bottle of fruity white wine

14 g of gelatin

2 tablespoons of sugar
2 cups of white grape juice
1 cup of strawberries chopped
1 cup of blueberries
1 cup of raspberries.
How to make sangria sweet:
Pour the wine into a small pot and place it on the stove at a medium temperature. When it boils, remove it from the stove. Stir in the gelatin and sugar and stir until melted. Add grape juice. Divide the fruit into 6 -glasses (250 ml) and pour the wine mixture over it. Leave in the fridge until firm, about 3 hours.
Silver Sangria
For this sangria, you should mix gin and white wine with grapes and apples for a refreshing new blow.
Bright, refreshing, and sparkling.
With floral gin mixed with dry white wine and white grape juice, the recipe is easy to integrate the night before the party. Before serving, simply add ginger, and get ready to see the joy on the faces of your party guests!
Smarty Party Tip:
You can use any fruits that you like. Make sangria with seasonal fruits for a different taste each time. If using watery fruits, add them to the pitcher closer to the serving time. And don't forget, the longer sangria sits in the refrigerator, the better it gets! Let it sit overnight or up to 24 hours before enjoying it.
Serve this red wine sangria using these beautiful Smarty's partyware for the perfect look: