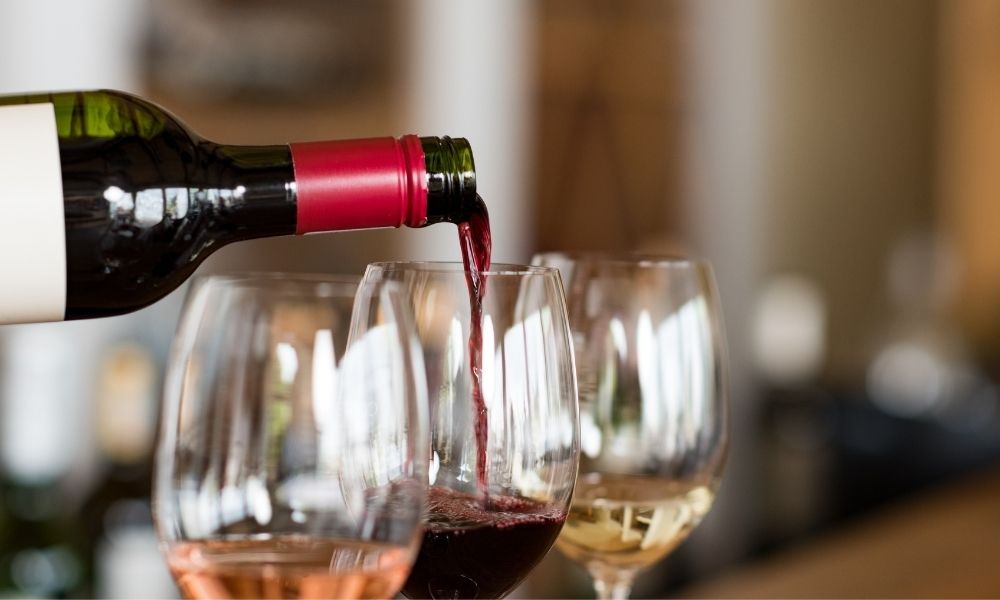 Cheers To Worry-Free Wine Glasses
It's not a party without wine, right? And it's not wine without the right glass for the right bottle. But whether it's a slender champagne flute, a curvy stemless glass, or anything in between, most wine glasses have one thing in common—their thin glass composition makes them extremely prone to breakage. And that's a surefire way to spoil a party. Fortunately, Smarty Had a Party is changing how we enjoy wine by keeping drinkware in our hands but removing the fear of breakage. So here's why we're lifting a glass and saying cheers to worry-free wine glasses.
Disposable glassware has come a long way in the past couple of years. Gone are the days when the only option was a cup you couldn't get your mouth around or a flimsy plastic cup that got all wobbly at room temperature. So if you're planning a big holiday party, these four different disposable wine glasses will help you put your best foot forward.
Shatter-Resistant Construction
We can envision the scenarios already. Someone is wildly gesticulating with a drink in hand, forgetting that there is a drink in their hand, and it goes flying. Wine glasses and dance moves don't always mix. Condensation on a hot day makes a glass slightly more slippery than usual.
Before you know it, you're a one-person cleanup crew. The many nuances of wines' flavor profiles make them perfect for a delicate palate. However, there's no rule that says a delicate palate needs to enjoy them from delicate glassware. Shatter-resistant plastic drinkware makes parties easier by allowing the wine to flow into vessels that won't break if someone drops one.
You Can Still Have Stems
Wine connoisseurs frown upon drinking from a plastic cup because we tend to hold them. However, by wrapping your hand around a red plastic cup, your natural body heat is transferred through the plastic and into the wine, changing its intricate composition of flavors for the worse. Fear not—you can enjoy all the notes and overtones of a glass of fine wine from a durable plastic glass, complete with a stem to shield the wine from your warmth. Our crystal-cut goblets allow for that tiny but ever-important bit of separation, and if you should handle those stems with anything less than the utmost care, you won't end up having to sweep up any broken glass.
Suitable Occasions of Plastic Wine Glasses
Most places with poolside, beaches, parks, or patio services don't even allow glass in their areas. And for a good reason. These venues are full of barefoot people out to have a good time. Therefore, elegant disposable wine glasses will provide a safe and comfortable environment for your guests. Plus, plastic wine glasses are elegant enough to suit any style of event or party. Plastic wine glasses will fit right in no matter how upscale the setting. Therefore, whether you are planning a barn wedding reception, an anniversary celebration, a boat party, deck party, poolside birthday party, barbeque, picnic at the park, backyard family get-together, and other outdoor dining establishments, you can be sure that plastic glasses are a perfect choice. 
The Best Choice Under the Sun
With summer in full swing, the biggest reason we're saying cheers to worry-free wine glasses is that you can take plastic drinkware out on the porch, patio, deck, or yard with no reservations. No one wants to break a stemmed wine glass or champagne flute, and it's really a party foul when guests don open-toed footwear. Shattered glass and sandals really don't go together. Smarty Had a Party takes particular joy in providing the necessities for open-air gatherings, which is why we're happy to present disposable wine glasses that are perfect for summertime. When the days get shorter, the weather cools down, and the parties move back indoors? This durable single-use drinkware works just as well in the house.
An Easy and Quick Cleanup Process
Cleaning several glasses after a large reception is often discouraging for organizers, hosts, and catering staff. But with disposable wine glasses, there is no need to worry about the chore of cleaning after an event. Whether you organize a grand affair like a wedding or a small family reunion, dirty plastic glasses can be thrown away and recycled, making washing up less hassle. 
Plastic vs. Glass When it Comes to Wine Glasses
Glass
Elegant, classic design.

Exceptional clarity.

Expensive ($$$).

Easily breakable (not ideal for kids).

Poor durability.

Bad choices for outdoor venues, especially where glass is strictly prohibited, like parks, beaches, and campsites.

Lead-free.

Nondisposable.

Glass is heavier and more fragile than plastic.

Is not as convenient or practical as plastic.
Plastic
Beautiful, extensive range of varieties, shapes, sizes, and designs.

Plastic glasses look like glass; they offer the same clarity as glass drinkware, but they are not as scratch-resistant as glass.

Affordable ($).

Preferred for safety.

Resistant to cracking, bending, and breaking even under severe impact.

Extremely durable and sturdy.

An excellent choice for outdoor events such as beach weddings, barn, park, and backyard events.

Certified BPA-free.

Disposable (efficient and quick cleanup process).

Lightweight for easy serving and transporting.

Remarkably convenient and practical.
Opinion aside, disposable wine glasses are the perfect solution for a party where you will serve wine but have no dishwasher. By removing the need to wash real wine glasses, you are freeing yourself from many concerns that might otherwise keep you from enjoying the experience of opening another bottle. In addition, with disposable wine glasses, you will never hear people asking if they can take one with them because everyone is given their own.
Cheers to worry-free wine glasses! Cheers to the idea that we don't have to dirty or wash glassware. Cheers to the idea that we can party and not clean up after ourselves. Cheers!