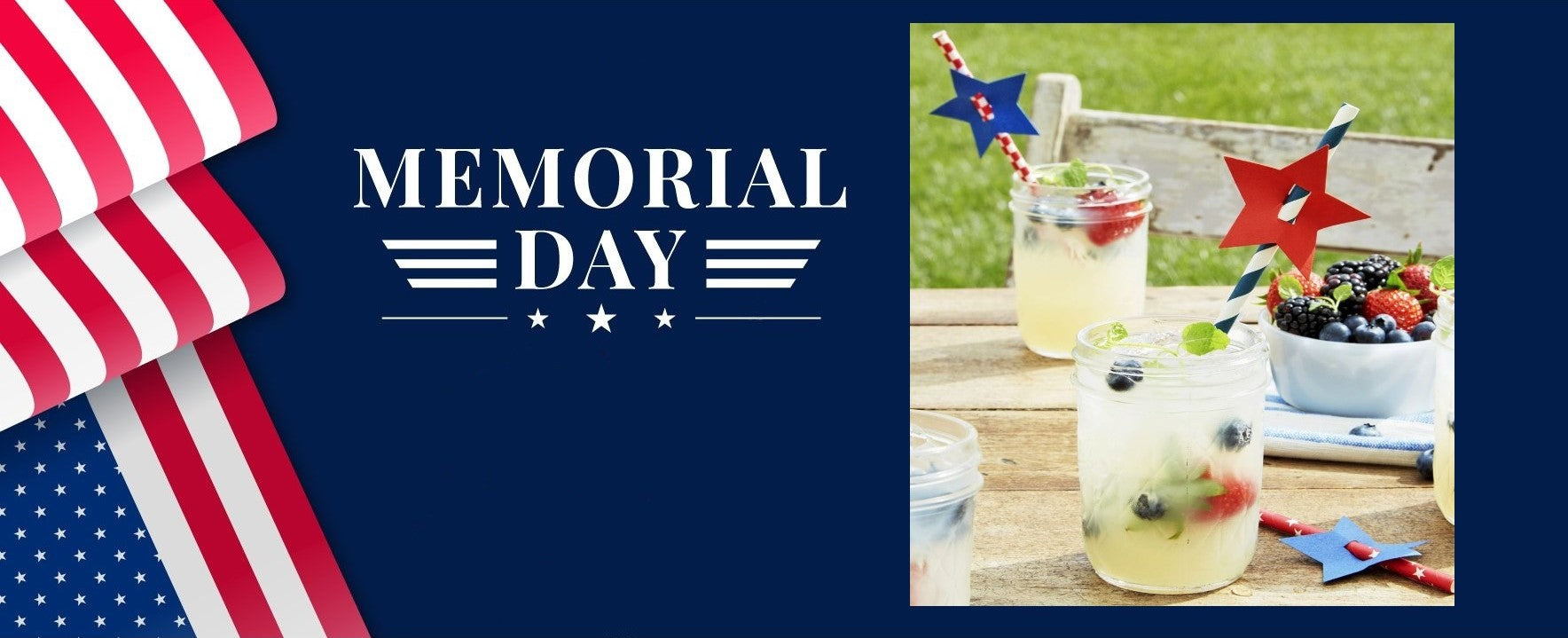 Patriotic Memorial Day Lemonade Recipe
Memorial Day is celebrated to honor and remember the national heroes who have fought heroically and sacrificed their lives to defend our land and independence. Memorial Day weekend is also the unofficial start of summer that calls for backyard barbecues, pool hangs, and refreshing drinks. It is one of the most festive holidays where you can show patriotism in full swing and be grateful for the ultimate sacrifice of those who died for our country. So if you are looking for some exciting and enlivening ways that will furthermore enrich your surroundings with festive flair and delightfully satisfy your guests, we have got a simple yet highly patriotic, lip-smacking Memorial Day lemonade recipe. Our delicious patriotic lemonade recipe, which just screams summertime, will give your party a delightful red, white, and blue touch and make this Memorial Day holiday sweeter than ever.
7 Simple Recipes for Fresh Fruit Lemonade
On hot days, almost nothing can cool and refresh you, like homemade lemonade made from fresh fruit from your garden. In addition to lemon, which is most often used to prepare this juice, you can also use other fruits and vegetables. For you, we tried 7 effortless recipes for lemonade made from fresh fruits and vegetables for this holiday. Indeed, your guests will be pleasantly surprised and ask you for the recipe!
1. Patriotic Lemonade Recipe
Ingredients:
½ 

cup

 

granulated sugar

½ 

cup

 

water for syrup

1 

cup

 

lemon juice

4½ 

cup

 

water

1 lemon, sliced

5 strawberries, cut into wedges

1 

cup

 

blueberries, cut ¼ of them in half

Fresh mint sprigs

Ice for serving
Directions:
Combine sugar and ½ 

cup

 

of water into a small saucepan. Bring to a boil and let the sugar dissolve. Let the simple syrup cool to room temperature.

Add remaining water to a glass pitcher.

Add lemon juice, simple syrup, lemon slices, strawberries, blackberries, and blueberries. Mix well.

Serve in our beautiful 

iced tea tumblers

, 

cups

, or 

pitchers

 

with ice.

Decorate with straws that resemble the American flag.

Enjoy!
2. Lemonade with Raspberries
The combination of raspberry and lemon already seems refreshing and very tasty.
Ingredients:
8 lemons, cut into crosses

200 grams of sugar

140 grams of raspberries

1.2 liters of water

Ice cubes
Directions:
Peel the rind from the lemon, but be sure to leave as much of the white rind as possible, and cut the lemon into strips. Squeeze the lemon, grate the peel and add sugar, raspberries, and 1.2 liters of boiled water. Mix it all well, and then let it cool. When it is cool enough, strain it through a strainer and press with a spoon so that all the juice passes through.
Add more sugar if needed. Also, add sliced ​​lemon wedges, raspberries, and plenty of ice.
3. Lemonade with Watermelon
This watermelon lemonade looks fantastic, but it's also effortless to make.
Ingredients:
1 larger or 2- smaller watermelons

250 milliliters of squeezed lemon juice

100 grams of white or brown sugar

1 liter of sour water

1 lime cut into crosses

A handful of fresh mint

Crushed ice
Directions:
Cut off the top of the watermelon and scoop out the inside with a spoon. Crush the pieces of watermelon through a sieve with a spoon. Put the crushed watermelon, lemon juice, and sugar in a blender and mix until you get a puree-like mixture, then add the sour water.
Pour this lemonade into a jug and let it cool. Before serving, you can add crushed ice and fresh mint leaves.
4. Lemonade with Melon and Cucumber
This colorful lemonade made from sweet melon, cucumber, and lime is a real refreshment for summer days. It also contains a lot of vitamins.
Ingredients:
1/4 large cantaloupe

1/2 cucumber

1 lime without peel
Directions:
Peel the melon, remove the seeds and cut it into cubes. Put the melon, cucumber, and lime in a blender and mix well. When you're done, pour it into a pitcher and let it cool.
5. Lemonade with Carrots
If you bought a lot of carrots and didn't use them all for the soup, don't throw them away because you can make a delicious summer drink.
Ingredients:
150 grams of grated carrot

Juice of 5 lemons

Juice of 1 orange

150 grams of sugar

Ice

Mineral water
Directions:
Mix grated carrots, sugar, lemon juice, and oranges in a bowl. Leave the mixture in the refrigerator to cool for 1 hour and occasionally stir so that the sugar melts nicely. You can also strain this mixture.
When serving, pour 25 to 50 milliliters of this mixture into a glass (depending on whether you want it to have a weaker or stronger taste). Add ice and top up with 200 milliliters of sparkling water.
6. The Easiest Lemonade Recipe
A very simple lemonade that is often made is lemonade. It is excellent for hot summer days. Here's what you need to make it.
Ingredients:
3 sliced ​​lemons

140 grams of sugar

1 liter of cold water
Directions:
Put the sugar, water, and lemon in a blender and blend until the lemon is well blended. Strain this mixture through a strainer and squeeze out as much juice as possible. Pour the lemonade made in this way into a jug into which you can later add sliced ​​lime or lemon slices and fresh mint leaves.
Red, Blue, and White Lemonade in the Colors of the Flag!
7. Red Lemonade Recipe
Lemon is rich in vitamin C, and its juice has a beneficial effect on our bodies. Especially pleasant, lemonade is the most straightforward, refreshing drink we prepare every day in the summer. Today we bring you a recipe for something different and even tastier - red lemonade!
Ingredients:
2-3 lemons

Berries, frozen or fresh

2 dl of lime juice

3dl of water

Natural sweetener
Directions:
Place a few berries in the ice cube tray and pour water onto the top. Place in the freezer for at least half an hour. Squeeze fresh lemon, and carefully examine whether you have an inflamed pit. If unsure whether you will have enough juice, roll the lemon by hand before squeezing. Add water and natural sweetener and mix.
Add lime juice to the lemonade and mix well. Put the frozen fruit in the glasses, add the mixture of lemonade and Elderberry and serve cold. After melting, the fruit will give an excellent taste and change the color of the lemonade.