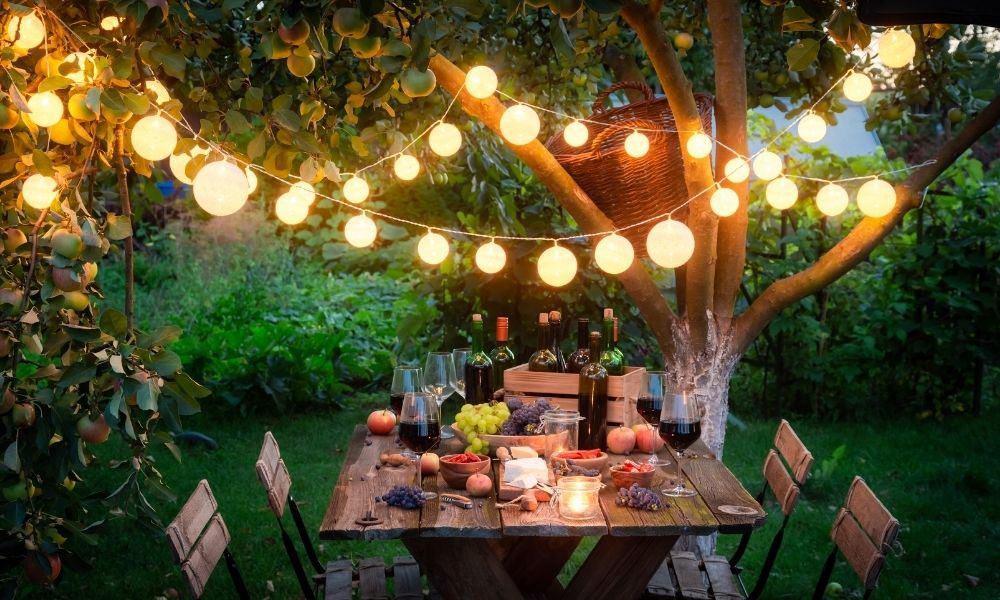 Spring and Summer Outdoor Party Essentials
Now that the CDC has vaccinated people with the all-clear to go without masks this summer, we can party with a clear conscience. To give ourselves enough space just in case, however, it's a great idea to make the most of the warm sun and fresh air and keep our parties outside. An outdoor party has a few requirements that your indoor party would not, but we have a list of what you need. Set up a season's worth of parties from Memorial Day to Labor Day with our spring and summer outdoor party essentials.
Outdoor Games
As you set up the tables, make sure to leave enough space for some pre-meal recreation. Badminton, which participants can easily dial down from intense competition to a gentle conversational backdrop, is a reliable classic for backyard barbecues and get-togethers. You don't need Italian heritage to set up a rousing tournament of bocce. You don't need well-trimmed grass and flat ground—navigating challenging terrain in a game of backyard bocce is part of the fun. (Part of the frustration, muses the loser.) If you don't mind cutting the grass down to golf-course length and want to bring a bit of trans-Atlantic panache to your party, break out the mallets and wickets for a game of croquet. Whether you know it as cornhole, bags, baggo, or "that game where you throw the beanbags at the inclined plane with the hole in the middle," this game is always a crowd-pleaser at parties and can turn even the most timid guests into highly competitive team players.
Ice Chest
Your summer party needs refreshments, and you don't want guests constantly entering and exiting the house if they don't have to. All those intermittent blasts of humid outdoor air can overwork the air conditioning; continually opening and closing the refrigerator door does that system no favors. And if you're a stickler for a shoes-off household, many of your guests are probably not observing that rule as they duck back in for a can of soda. Keep the fridge door closed and foot traffic down by investing in an ice chest or two to store cool drinks on a hot day. Besides, there's always something uniquely exhilarating about reaching deep into the ice and cold water to pull the last glass bottle of root beer out of hiding.
Bar Cart
A versatile rolling bar cart can store your bottles in a cool, dark place without plunging them into the chilly depths for adult beverages that aren't best served ice-cold. Not only is this a valuable compartment for your liquor bottles with the necessary surface space for outdoor mixology, but your rolling bar cart can also provide additional storage for other outdoor-party necessities, such as charcoal for your grill.
The Grill
Speaking of grilling, make sure you please the crowd with cooked-to-perfection sausages, patties, and steaks—all courtesy of your choice's gas or charcoal grill. Each side has its purists, from the propane partisans who believe in "tasting the meat, not the heat" to the charcoal aficionados who think it's not true grilling without that undeniable smoky flavor. Whichever side you fall on, ensure you're cooking your main courses in the great outdoors.
Sound System
No summer party is complete without music. You don't need an entire Marshall stack to pump out the hot summer jams, but some speakers are necessary. Fortunately, you have options, from a comprehensive outdoor speaker system to a single portable, deceptively small but refreshingly powerful unit. A portable speaker with Bluetooth will connect to your network and allow you to curate your music from your smartphone's library—no need to burn your playlist to a CD and party like it's 2009.
Outdoor Lighting
Your choice of outdoor lighting doesn't just shed a little light on you and your guests—it goes a long way in setting the mood for the party. String lights have recently enjoyed quite a rise in popularity, with numerous varieties now on the market. For unmatched resiliency, look for strands of LED bulbs, which can provide light across a spectrum of warm and cool tones—and, if properly cared for, never need replacing.
In addition to your string lights, which set the mood nicely, you may also want some high-powered lighting from a set of outdoor electric lanterns. These lanterns can take LED bulbs of their own or even battery-powered faux candles. Place these lanterns on tables or hang them from tree branches for ambiance and illumination as the party goes deep into the night.
Disposable Dinnerware
When you have company outside, your everyday dinnerware shouldn't travel beyond the house's four walls. If you're the average family of four, you may not have enough plates and silverware on hand to cover the guest list, and you certainly don't want to dip into the fine china or the special Thanksgiving plates for a summer party. There's also the matter of fragile plates on the porch or patio—with one misstep, a ceramic plate that's served you well for years could shatter in an instant and leave your whole set shorthanded (or short-plated, as the case may be). Avoid this scenario with another one of the spring and summer outdoor party essentials: disposable plastic dinnerware sets from Smarty Had a Party. Embracing disposable dinnerware for your party need not be a costly investment, nor even a wasteful one. Our value sets allow you to buy in volume, with more than enough forks, spoons, and knives for everyone, along with well-matched plates that bring harmony to multi-course meals. Square plates in a lovely shade of mint green perfectly complement the verdant tones of spring and summer—not to mention the copper patina of the Statue of Liberty for your 4th of July cookout. Our line of white bagasse plates matches minimalism with strength and sustainability for a durable alternative to those flimsy, waxy paper plates that never seem to hold up under the weight of a dinner. And, of course, our lines of palm leaf flatware and dinnerware provide the most attractive and organic patterns on fully biodegradable materials. Peruse our full collection of value sets to find the designs and materials best suited to this summer's slate of parties.