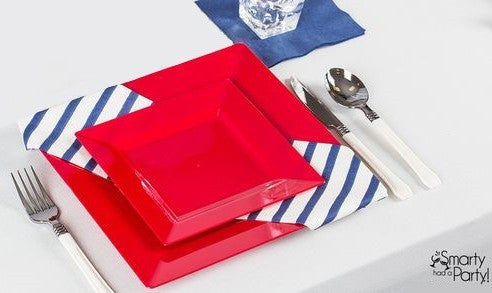 Fantastic Memorial Day Party Tips
Memorial Day celebration is all about sensational firework displays, lively parades, beach and park picnics, and sharing a hearty meal with your loved ones to commemorate the event. The time to honor the brave men and women of the American Armed Forces who have died protecting the land we live in, preserving peace, protecting the defenseless, and defending liberty. Therefore, celebrate this patriotic day in the most positive and hopeful style by throwing a fabulous Memorial Day Party. Of course, the best way to brighten the memory of the fallen soldiers is by accentuating the festive patriotic spirit, but don't worry, Smarty Had A Party has everything you need to create a fun and festive weekend for the whole family. We mustered some fantastic Memorial Day Party Tips to make your party unforgettable.
- Dress the Yard in Patriotic Colors -
Garden parties are ideal for Memorial Day. First of all, mow your yard. Then, decorate the tree with red, blue, and white lanterns and flower pots, and arrange pillows in the same colors on the chairs!
Dress your guests in a cowboy suit, or offer them cowboy hats. Have a patriotic western party, and Memorial Day is the perfect occasion for that!
- Dress Your Tables in a Patriotic Color Scheme -
Since this holiday is the unofficial start of summer, it is best to move your party outside. Apart from enjoying the beautiful weather, the advantage of that is that most of the decorations are already arranged for you. Take advantage of what nature has to offer! If you have trees, string them with lamps or ribbons. If you have a lot of open space, set up a long table for your celebration in the middle so that it takes up open space, so your landscape will not look empty and undecorated. The patriotic theme is the main one this day. Paper and plastic utensils have many colors: the brighter, the better, and with red, white, and blue, you will certainly not go wrong.
The organization of the place is essential for the enjoyment of all guests, including yours. Since there is outdoor entertainment, you can introduce a lot of seating without interfering with the entertainment flow. This way, you will be able to socialize with your company and enjoy the conversation. Good organization of the seating schedule is the best way to ensure that the conversation flows naturally. Arrange the seats in small groups. If there are many guests, then in several small groups, and not randomly in your yard. Use the options of sitting in the sun and in the shade to make everyone comfortable. Take care of the comfort of all your guests, and they will surely enjoy and stay as long as they can.
It's not a Memorial Day party without the red, white, and blue decorations. With fantastic Smarty had a Party plasticware, you will give your tables a patriotic look that is also elegant and stylish. Bright red plates, a beautiful flatware set, and blue-and-white-striped napkins create a sharp and sophisticated combo. Moreover, our contemporary Disposable Party Dinnerware Sets will give a chic look to your party spread and make cleaning up after the party much more accessible.
 - The Food -
When planning any party, the menu must be the center of your planning, and the success of your party depends on it the most. The best entertainment in the world can be missed by poor food choices. Barbecue is traditionally prepared on the occasion of this holiday, but don't forget to include ingredients such as pasta salad, fruit trays, vegetables, and other refreshing options. Also, keep in mind the age of your guests. Cocktails may only be suitable for an adult party, but for children, you must also have options tailored to them. Serve cocktails in Masonic jars with a classic flag-colored paper straw! And don't forget the lemonade! Since you are organizing an outdoor party, including neighbors and friends you can't see often, who will be happy to spend this day with you.
- Get Creative With Snacks -
The three-day weekend gives you extra time to prep for your event, so why not try your hand at a simple DIY project. Our Set Sail Snack Boats are creative, clever, and oh-so-easy to make. Your guests will love them!
- Stock Up on Refreshing Summer Drinks -
If you are having an outdoor bash, you must keep your guests hydrated during this pre-summer soiree. So make sure you have plenty of refreshing beverages, like our seasonally inspired recipe for Raspberry Peach Iced Tea.

Watermelon Mojito
It differs from the classic Mojito. It is a fruit twist that requires mixing watermelon and mint, agave nectar, light rum, and lime juice.
Ingredients:
4 ounces seedless watermelon, chopped

4 large mint leaves

1 tablespoon agave nectar

1/4 ounce lime juice, freshly squeezed

1 1/2 ounces light rum

Garnish: lemon twist
Directions:
Muddle the watermelon and mint in a shaker with the agave nectar and lime juice.

Add the rum and fill the shaker with ice.

Shake until well chilled, and strain into a rock glass over fresh ice.

Garnish with a lemon twist.
- Don't Forget Dessert -
With all the grilled goodies, pretty summer salads, and buckets of American-made beer - it can be easy to forget the sweets. But that would be a travesty. Try our Patriotic Pops. These tasty — and portable — treats are fun for kids and adults alike. Your guests will love our gourmet ice cream bar if your party is a bit more upscale. The posh flavors will keep everyone cool and satisfied until it's time for fireworks.
With Smarty's interesting Memorial Day party tips, this year's celebration will surely be remembered!