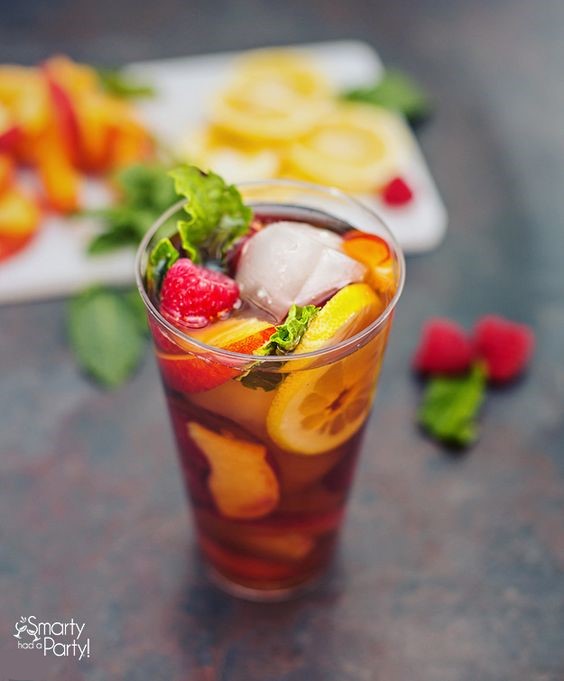 The Best Iced Tea Recipe to Celebrate Spring
Can you feel the sweet scents of blooming flowers and the cozy warmth of sunshine in the air? Yes, it is spring, the most beautiful time of the year! Summer, winter, and fall may have their fans, but spring is the most lovable of the four seasons. Often referred to as 'The Queen of the Seasons', spring is the time when our calendars begin to fill up with everything from barn wedding receptions, fancy birthday parties, super cute baby showers, Mother's Day, Easter brunch, Cinco de Mayo, Passover, and everything in between. And let's not forget those spring parties that spontaneously pop up for no other reason than just to hang with your friends.
But whether you're throwing a casual or elegant party, creating an atmosphere of relaxed revelry and celebration is about more than just the meal. To make the spring party feel complete and welcome this joyous and blissful season in style, you need delicious drink recipes filled with the season's favorite flavors and Smarty's fabulous tableware collections. So instead of reaching for a soda or sugary punch when temperatures climb, it's better to opt for a delicious iced tea. What could be more refreshing than a beautiful spring iced tea party arranged with a beautiful Smarty's disposable party dinnerware sets, flatware, and elegant drinkware pieces?
There is nothing quite like soothing herbal tea when winter temperatures drop. Still, when the sun starts shining and the days grow longer, there is nothing better than a tall glass of iced tea - which is why, as the weather gets warmer, these amazing iced tea recipe is going to become your new obsession. As winter turns to spring, iced tea should reflect the change in seasons. Yes, regular iced tea is excellent, but why not take advantage of spring's bounty of fresh and flavorful fruits? Of course, it takes a couple of extra ingredients to transform your average party into a sweet sipping experience. To add a touch of springtime to our favorite teas, we loaded raspberries, peaches, lemons, and mint into our recipe, and let me tell you - it is worth the effort. And raspberry peach iced tea makes an exceptional beverage for any get-together because it looks beautiful served in a pitcher, carafe, or punch bowl. Plus, spring iced tea recipes are as delightfully easy to mix up as they are to drink.
Both lovely and refreshing - Raspberry Peach Iced Tea
What you need:
tea

peaches, sliced into wedges

raspberries

lemons, cut into wheels

fresh mint

ice
Suggested Smarty Products:
Directions:
Start with your favorite tea recipe and let it cool.

Take a 

16 oz cup

 and cover the bottom with peaches, raspberries, lemons, and mint.

Add ice, another layer of fruit, and mint, then add tea.
Cool down with Raspberry Peach Iced Tea all spring long!
Suppose you host a more fancy event like a wedding reception, engagement ceremony, or anniversary celebration. In that case, you can serve your delicious iced teas in our sophisticated, old-fashioned 14 oz. Clear Crystal Cut High Ball Plastic Glasses and add a touch of pure luxury to your upscale celebrations. Our beautiful glasses are made of the highest quality plastic and designed for disposable use, so you don't have to worry about any fuss around accidental breakage or long-lasting cleaning up!
For the ritual of making tea, it is important how you feel. Choose the tea you like, and it is always interesting to discover new flavors. Tea is drunk moderately hot or cold and in small sips. It connects people around the world. It simply makes us happy! Tea has the power of calming. According to the latest research, the respondents who drank tea before going to bed confirmed that they felt better, fell asleep more accessible, and slept even better. It is known to have a very calming effect and support the journey to beautiful dreams. By drinking this drink, we are more endurable during physical activities. Tea is a beverage of various flavors that we relax with, giving us the strength daily.

However, if you don't like hot tea, it certainly does not mean that you cannot have your own oasis of peace. We will remind you that there is a perfect fusion of tea, fruits, and herbs, but cooled and reincarnated in a unique - iced tea. Isn't it nice to know that at any moment, you can have the opportunity to dedicate yourself and yourself, and with a sip of the unique flavors of iced tea, enjoy the present moment and be grateful for everything you have?

Some flavors are really nice, and you will love this refreshing drink after the first sip. Similar ones can be bought, but this one is incomparably cheaper.

Ingredients Quantity:

bags of mint tea 4
water 1 l
lemon 1
sweetener as desired
ginger powder 1/2 tsp
How to prepare:
First, you need to pour 200 ml of boiling water over the tea bags, cover, and leave for 15 minutes.
When the tea has cooled, take out the bags and squeeze them well into the tea.
Pour the tea into a bottle, add lemon juice, sweetener, and ginger, and shake everything well.
Pour water onto the top and leave it in the fridge.
Each of us has different rituals. For example, many need to have their own little break later for refreshment and respite for waking up and having a beautiful day. So we suggest that you try something completely different, a fusion of flavors of black and green tea, fruits, and herbs. You can combine as many as four refreshing flavors: black tea-peach-hibiscus, black tea-lemon-lemongrass, green tea-mango-chamomile, and forest fruits.
Engage yourself in an oasis of peace where stress disappears with a sip of your favorite iced tea!
This amazingly fresh and delicious recipe will take center stage when you bring it along to your next wedding, birthday, BBQ, or picnic!
Cheers to your parties Smarties!