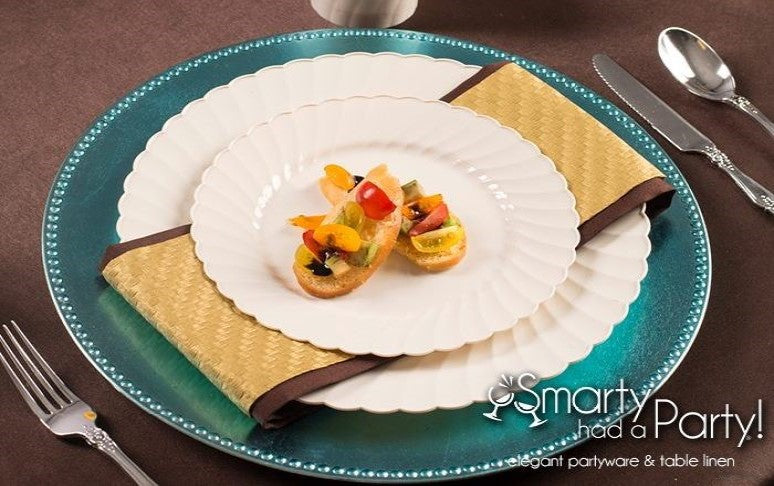 Elegant Fall Feasts: Stylish Table Settings for Autumn Entertaining
As summer's green hues shift to autumn's warm tones, embrace the enchanting season with open arms and a welcoming table. Fall's magic lies in its crisp air, rustling leaves, and the promise of cozy gatherings. It's a season that beckons us to come together, celebrating life's moments, big and small, in elegant style.
Harvesting Inspiration: Fall Table Setting Ideas for Every Occasion
Discover the secrets to creating stunning autumn table settings for any occasion. Get inspired with our guide to the art of hospitality and make every feast a refined masterpiece. Let's capture the warmth and beauty of autumn together.
Elevating Your Table with Exquisite Tableware
Choosing the right tableware can transform a basic meal into a masterpiece and set the tone for your autumn gathering. Elevate your table settings with our selection of options.
Elegant Plastic Plates: Balancing Style and Convenience
When hosting a stylish fall feast, one might not immediately think of plastic plates, but elegant plastic plates have emerged as tableware game-changers. These plates blend style and convenience effortlessly, offering many benefits that pleasantly surprise you.
Versatility and Elegance: Plastic plates are designed to mimic the look and feel of fine china, offering a touch of opulence to your table settings. Crafted with meticulous attention to detail, they often feature intricate designs and textured surfaces that exude sophistication.
Mixing and Matching for a Sophisticated Look: One of the standout qualities of elegant plastic plates is their versatility. Mix and match different styles and colors to create a unique, sophisticated table setting that reflects your aesthetic. Consider pairing classic white plates with colored chargers for a timeless look or experimenting with seasonal colors for a playful twist.
Disposable Charger Plates: Elevating the Dining Experience
Charger plates, also known as service plates, are a secret weapon in the world of tableware, capable of elevating your dining experience to new heights. Disposable charger plates, in particular, offer versatility and creativity that can't be matched.
The Role of Disposable Charger Plates: Charger plates serve as elegant underplates beneath dinner plates, adding depth and dimension to your table settings. They create a sophisticated layered effect that draws attention to the main course while enhancing the overall aesthetic.
Creative Ideas for Charger Plate Arrangements: The beauty of disposable charger plates lies in their adaptability. Experiment with different materials, colors, and textures to create captivating arrangements. Consider rustic wooden chargers for a warm, cozy feel or sleek metallic ones for a modern touch. Mixing and matching charger plates can be a playful way to add depth and variety to your autumn table.
Disposable Silverware: Adding the Final Touch
The silverware you choose for your autumn feast may be disposable, but it's far from ordinary. Disposable silverware is the final touch that completes your table's aesthetic, adding a touch of refinement and practicality.
The Role of Disposable Silverware: While often overlooked, disposable silverware plays a pivotal role in ensuring a seamless dining experience. It serves a functional purpose and enhances the overall elegance of your table setting.
Choosing Chic Disposable Silverware: When selecting disposable silverware, consider design and material. Opt for sleek and stylish options that complement your chosen tableware. Consider silver or metallic finishes for a classic look, or experiment with matte black or colored options for a contemporary twist. The key is to choose silverware that resonates with your desired aesthetic.
Disposable Coffee Cups: Cozy Sips for Fall Evenings
As the evening chill sets in and the conversation flows, there's nothing quite like sipping a warm beverage from a cozy cup. Disposable coffee cups are the unsung heroes of autumn gatherings, ensuring your guests stay warm and content throughout the night.
The Importance of Disposable Coffee Cups: Disposable coffee cups are more than just a practical necessity; they contribute to your guests' overall comfort and enjoyment. Whether you're serving hot cider, spiced coffee, or a soothing herbal tea, these cups provide a delightful vessel for autumn beverages.
Stylish and Functional Options: When choosing disposable coffee cups, consider their insulation properties to keep drinks hot. Additionally, explore designs incorporating autumn motifs or colors to align with your seasonal theme. These cups can double as stylish decor elements on your beverage station, adding a touch of warmth and charm to your gathering.
Smarty Had A Party - Your Premier Event Styling Partner
When hosting an elegant fall feast, having a reliable partner in event styling can make all the difference. That's where Smarty Had A Party comes into play. With a commitment to excellence and a vast selection of event essentials, Smarty Had A Party is your go-to resource for transforming autumn entertaining into a seamless and stylish affair.
Savoring the Flavors of Autumn
Autumn entertaining relies on more than just table decorations. Delightful dishes and seasonal flavors are key to a memorable meal for your guests. Highlight the richness of fall with your menu.
Delectable Autumn-Inspired Dishes and Appetizers
Roasted Butternut Squash Soup

: Start your autumn feast with a velvety butternut squash soup garnished with toasted pumpkin seeds and a drizzle of maple syrup.

Savory Stuffed Acorn Squash

: Acorn squash halves filled with a savory mixture of grains, mushrooms, and herbs make for an elegant and nutritious appetizer.

Apple and Walnut Salad

: Combine crisp apple slices, toasted walnuts, and crumbled blue cheese on a bed of fresh greens, drizzled with a tangy apple cider vinaigrette.

Slow-Roasted Pork with Cranberry Glaze

: For the main course, a succulent pork roast with a cranberry glaze captures the essence of autumn's sweet and savory flavors.

Pumpkin Risotto

: Creamy pumpkin risotto with hints of nutmeg and Parmesan cheese is the epitome of comfort food for fall.
Delightful Array of Autumn-Themed Beverage Ideas
Mulled Wine

: A classic choice for fall, mulled wine infuses red wine with spices, citrus, and a hint of sweetness. Serve it warm for a comforting sip by the fire.

Spiced Apple Cider

: Warm apple cider infused with cinnamon sticks, cloves, and star anise is a non-alcoholic crowd-pleaser that embodies the essence of autumn.

Pumpkin Spice Latte

: This beloved coffee shop favorite can be recreated at home with espresso, steamed milk, and a dash of pumpkin spice for a cozy caffeinated treat.

Cranberry Fizz

: A sparkling cocktail made with cranberry juice, vodka, and a splash of ginger ale. Garnish with fresh cranberries and a twist of orange peel.

Autumn Mocktail

: Create a non-alcoholic autumn mocktail by combining apple cider, sparkling water, and a splash of pomegranate juice. Garnish with a slice of apple and a sprig of rosemary for a touch of elegance.
Creating an Inviting Ambiance
Autumn's arrival brings a certain magic—a transformation of landscapes into a kaleidoscope of warm hues and an invitation to cozy gatherings. As you prepare to host your elegant fall feasts, don't overlook the importance of creating an inviting ambiance that reflects the beauty and charm of the season. 
Table Centerpieces: Autumn's Natural Beauty
Fall Foliage Elegance: Consider creating a centerpiece using an array of autumn foliage. Gather colorful leaves, branches, and twigs from your backyard or a local park. Arrange them in a rustic wooden box or a vintage vase to bring the beauty of the outdoors to your table.
Candles and Gourds: Another captivating idea is to pair candles with the charm of pumpkins and gourds. Hollow out small pumpkins or gourds to create unique candleholders. Use a mix of tall taper candles and tea lights for a warm and enchanting glow that adds an intimate atmosphere to your feast.
Mason Jar Magic: Repurpose mason jars with acorns, pinecones, or dried autumn flowers. Place a candle inside each jar for a cozy and rustic centerpiece that radiates the spirit of fall.
Table Linens and Napkins: The Elegance of Texture
Color Schemes and Patterns: Start by selecting table linens and napkins that evoke the warmth and richness of autumn. Deep burgundies, burnt oranges, and earthy browns are ideal choices. Consider patterns like plaid or houndstooth for a classic autumnal touch.
Texture Matters: Remember to underestimate the power of texture. Opt for tablecloths or runners with a tactile quality, such as burlap or linen, to add depth and visual interest to your table. Paper napkins with embroidered or printed autumn motifs can elevate the overall aesthetic.
Candles and Lighting: Adding Warmth and Glow
Candlelit Lanterns: Place candles inside lanterns with glass panels to protect them from the elements if you're hosting an outdoor gathering. Hang these lanterns above the table or scatter them along the center for an enchanting effect.
Floating Candles: Use clear glass bowls or vases filled with water and floating candles as elegant centerpieces. Add a few fall leaves or flower petals for seasonal charm.
String Lights: For a whimsical and magical ambiance, string lights overhead or wrap them around branches or centerpieces. The soft, warm glow of string lights enhances the overall mood of your gathering.
Additional Resources for Fall Entertaining Inspiration
As you embark on your journey to create elegant fall feasts with stylish table settings, having a wealth of resources at your fingertips is always helpful. Here are some additional sources of inspiration and guidance to enhance your autumn entertaining experience:
1. How to Host a Fall Harvest Party in Your Backyard
This insightful article from Smarty Had A Party provides valuable tips and ideas for hosting a delightful fall harvest party in your backyard. You'll find suggestions for decor, food, and activities that embrace the season's beauty.
2. Rustic Autumn Country Wedding Ideas
If you're planning a rustic autumn wedding or any special event, this resource offers a treasure trove of rustic and country-inspired ideas. From table settings to decor, it provides creative inspiration for creating a charming and memorable celebration.
3. Tablescaping Trends for Fall: Autumn Edition
Stay up-to-date with the latest tablescaping trends for fall with Smarty Had A Party's autumn edition. Explore innovative ideas, color palettes, and decor trends that elevate your fall table settings.#
Frequently Asked Questions (FAQ)
1. How can I create an elegant table setting without breaking the bank?
Creating an elegant table setting on a budget is absolutely possible. Consider mixing and matching, DIY decor, and exploring partyware on clearance to achieve an upscale look without overspending.
2. Are there themed tableware sets available for specific fall holidays?
Yes, Smarty Had A Party offers themed tableware sets for holidays like Thanksgiving and Halloween, featuring plates, napkins, and decor elements with holiday motifs and colors.
3. Can you suggest unique decoration ideas for a rustic autumn gathering? 
Consider incorporating wooden elements, mason jar centerpieces, vintage accents, eco-friendly palm leaf dinnerware, burlap, and lace decor for a rustic autumn gathering to create a charming and rustic atmosphere.
4. How can I ensure the durability of my disposable dinnerware, especially for hot dishes? 
To ensure the durability of disposable dinnerware, choose high-quality materials, check product specifications for heat resistance, use placemats or trivets under hot dishes, and serve hot dishes shortly after preparation to minimize exposure to heat.
May your autumn feasts be filled with laughter, love, and the season's joy. As you savor the beauty of autumn in every detail, you'll create moments that linger in the hearts of your guests long after the leaves have fallen. Cheers to the art of autumn entertaining and the memories that await!