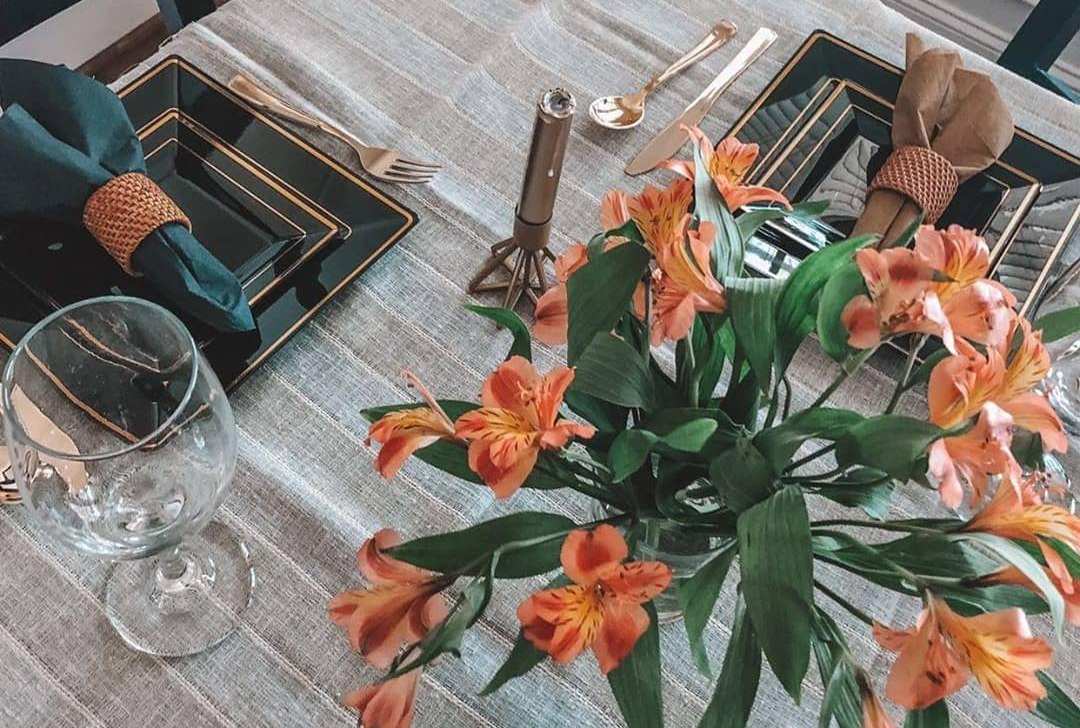 Tablescaping Trends for Fall: Autumn Edition
As the leaves begin to turn and the air takes on that unmistakable crispness, it's time to welcome one of the most enchanting seasons of the year – autumn. Fall brings a rich tapestry of colors, flavors, and endless opportunities for creative expression for those who appreciate the finer details. There's no better way to celebrate the season's splendor than by curating an exquisite autumn tablescape that captures the essence of fall.
Autumn Elegance: Table Setting Ideas for the Fall
In this blog post, we invite you on a journey through the world of table setting, where we'll explore the latest trends and timeless classics that can transform your dining space into a warm and inviting sanctuary. 
Whether you're a seasoned host or new to the art of tablescaping, this guide is your ticket to creating an autumn dining experience that not only delights the senses but also reflects the unique charm of the fall season. 
Autumn's Color Palette
As the vibrant greens of summer gradually give way to the warm and rustic hues of autumn, it's only fitting that we begin our journey through fall tablescaping trends by diving into the captivating world of color palettes. Autumn's Earthy Tones Palette is the foundation upon which you can build a tablescape that embodies the very spirit of the season.
Embracing Warmth and Natural Beauty
Earthy tones celebrate the natural world's transformation during this magical season. Think deep, earthy browns reminiscent of freshly fallen leaves, warm oranges mirroring the glow of pumpkins in the setting sun, and rich, rustic reds that evoke the cozy feeling of wrapping up in a warm blanket. These colors form the basis of your autumn tablescape and set the stage for a memorable dining experience.
Invoking the Essence of Fall
The choice of earthy tones for your tablescape isn't just about aesthetics; it's about connecting with the essence of fall. When guests gather around your table, they should feel like they've stepped into a woodland retreat, surrounded by the comforting colors of the season. This palette draws inspiration from the changing foliage, the crispness of the air, and the earthy aroma of fallen leaves underfoot.
Mixing and Matching Earthy Hues
One of the beauties of the Earthy Tones Palette is its versatility. Mix and match these warm and natural colors to suit your style and the occasion. For a more traditional autumn look, lean into deep browns and oranges. To add a touch of sophistication, incorporate subdued reds and muted greens. The options are as limitless as the shades of fall itself.
Accents and Complementary Colors
While the Earthy Tones Palette takes center stage, add accents and complementary colors to enhance your tablescape's visual appeal. Consider using metallics like gold or copper for a touch of luxury, or introduce a pop of contrasting colors, such as deep burgundy or olive green, to create visual interest and depth.
Texture and Layering
To truly capture the essence of autumn, think beyond just the color palette. Incorporate textures and layering into your table design. Rich, tactile elements like woven placemats, linen table runners, and wooden chargers can amplify your tablescape's natural and inviting feel.
Elegant Centerpieces and Decor
In the world of tablescaping, the centerpiece takes center stage as the focal point of your autumn tableau. It's the piece that draws the eye, sparks conversation, and sets the mood for your gathering. When it comes to fall, the possibilities for creating stunning centerpieces with seasonal flowers and elegant decor are as abundant as the harvest itself.
Celebrating the Season with Seasonal Flowers
Nothing says "autumn" quite like the vibrant and cozy hues of seasonal flowers. When creating an elegant centerpiece for your fall tablescape, consider using blooms that capture the season's essence. 
Sunflowers:

 These sunny blossoms in shades of gold and orange are iconic symbols of fall. They add a burst of color and cheer to any arrangement.

Roses:

 Deep red, orange, or burgundy roses exude romance and sophistication, making them an ideal choice for an elegant autumn centerpiece.

Dahlias:

 With their intricate petals and warm tones, dahlias are a stunning choice to add texture and depth to your arrangement.

Mums:

 Chrysanthemums come in various autumnal colors and can provide a lush look to your centerpiece.

Eucalyptus and Berries:

 Add greenery like eucalyptus and seasonal berries to create a rustic, woodland feel that complements your fall theme.
Elegant Vases and Fancy Candle Holders
Once you've selected your seasonal flowers, it's time to choose the vessels that will hold them. Elegant vases and fancy candle holders play a crucial role in enhancing the overall aesthetic of your tablescape.
Crystal and Glass Vases:

 These classic choices offer timeless elegance and allow your flowers' colors to shine. Consider mixing and matching various shapes and sizes for added visual interest.

Metallic Accents:

 Incorporate gold or copper vases for opulence and warmth. The metallic sheen adds a luxurious element to your centerpiece.

Wooden Crates and Boxes:

 For a more rustic or farmhouse-inspired look, consider using wooden crates or boxes as unconventional vases. They create a charming contrast with the flowers.

Fancy Candle Holders:

 Add fancy candle holders that complement your centerpiece to create a cozy ambiance. Choose candles in autumnal colors or scents to enhance the fall atmosphere.

Mixing Heights:

 Play with the heights of your vases and candle holders to create visual depth. Tall vases with cascading flowers can be balanced by shorter, wider candles or vice versa.
Stylish Autumn Place Setting
When setting the stage for an unforgettable autumn tablescape, right down to the plates, glasses, and utensils, every element counts. The choices you make in dinnerware and drinkware can elevate your table to a new level of style and sophistication.
Black and Gold Plastic Dinnerware Sets: A Trendy Choice
For those seeking a chic and trendy look for their autumn table, black and gold plastic dinnerware sets are the perfect choice. These sets have been gaining popularity for several compelling reasons.
Elegance Meets Convenience:

 Black and gold exude elegance and luxury, making them ideal for a stylish fall tablescape. Combining these two colors adds a touch of opulence and drama to your table without the cost and fragility of traditional china.

Durable and Practical:

 Plastic dinnerware sets are incredibly durable, making them suitable for indoor and outdoor gatherings. They can withstand the wear and tear of a busy event while still maintaining their polished appearance.

Easy Cleanup:

 After your event, the convenience factor comes into play. No one enjoys the daunting task of washing a mountain of dishes. With disposable plastic dinnerware, cleanup becomes a breeze, allowing you to savor the memories rather than the mess.

Environmentally Friendly Options:

 Many modern plastic dinnerware sets are eco-friendly, being made from recyclable materials. This means you can enjoy disposable tableware's benefits while minimizing environmental impact.
Disposable Silverware and Utensils: Practicality in Elegance
Let's discuss a practical aspect that complements your stylish place setting: disposable silverware and utensils. Disposable silverware offers a balance between convenience and style, and here's why:
Convenience:

 Much like disposable dinnerware, disposable silverware eliminates the need for post-event dishwashing. This convenience allows you to spend more time enjoying the company of your guests and less time cleaning up.

Consistency in Aesthetics:

 When you opt for disposable silverware, you can choose styles that complement your overall table design. This ensures a cohesive and harmonious look for your autumn tablescape.

Safety and Hygiene:

 With individual, wrapped utensils, you can provide a hygienic dining experience for your guests. This is especially important when hosting larger gatherings.
Smarty Had a Party: Your Source for Elegant Disposable Tableware
Smarty Had a Party's online store is a top destination when sourcing fancy disposable party supplies. Smarty offers a wide range of high-quality disposable tableware options that cater to various aesthetics and themes.
Smarty Had a Party provides stylish dinnerware and a selection of coordinating plastic drinkware, serveware, and decorative items. Smarty's attention to detail and commitment to quality make them a trusted resource for creating a memorable fall tablescape.
Additional Tablescape Accessories
In the art of tablescaping, every detail matters, and the little touches can make a big difference in creating a cohesive and visually stunning autumn tablescape.
Disposable Paper Napkins:
Color Harmony:

 

Black and brown paper napkins perfectly complement the earthy tones of your autumn palette. These subdued hues evoke the warmth and coziness of fall, adding depth to your table.

Function and Style:

 Beyond their aesthetic appeal, 

disposable paper napkins

 offer practicality. They're easy to use and discard, making cleanup a breeze, and they can be chosen in various fold styles to suit your table setting.
Napkin Rings:
Elevating Presentation:

 Napkin rings serve as elegant accessories that elevate the presentation of your paper napkins. Choose black or gold napkin rings to enhance the overall sophistication of your tablescape.

Customization:

 

Napkin rings can be customized to match your theme or style. Consider adding a personal touch, like name tags or autumn-themed ornaments, to make each place setting feel special.
Tablecloths:
Anchoring the Theme:

 

A deep brown or black tablecloth acts as the canvas upon which your entire tablescape is painted. It serves as the backdrop that grounds your theme and ties the various elements together.

Protection and Aesthetic Value:

 

Besides aesthetics, a tablecloth protects your table's surface from spills and provides a smooth, unified look. Opt for disposable tablecloths for easy cleanup.
Frequently Asked Questions (FAQs)
1. Where can I find affordable and stylish disposable dinnerware sets for my fall tablescape?
When it comes to affordable and stylish disposable partyware for your fall tablescape, Smarty Had a Party is your go-to source. Their online store offers many options that combine elegance with convenience. Whether you're looking for classic black and gold sets or something with a unique twist, you'll find many choices to suit your aesthetic.
2. What are some alternative color palettes for a fall-themed tablescape?
While the Earthy Tones Palette is a classic choice for fall, you can explore several alternative color palettes to create a unique fall-themed tablescape. Consider rustic neutrals, jewel tones, monochromatic schemes, or pastels for a softer look.
3. Are there any tips for arranging seasonal flowers in my centerpiece?
When arranging seasonal flowers for your centerpiece, consider starting with a focal point, varying the heights of your blooms, incorporating greenery for texture, balancing colors, and choosing a vase that complements your overall aesthetic.
4. How can I make my fall tablescape kid-friendly?
Creating a kid-friendly fall tablescape is a beautiful idea for family gatherings. To achieve this, use durable materials, provide kid-sized options, incorporate playful decor like mini pumpkins, offer kid-friendly food options, and choose spill-resistant plastic tablecloths to make cleanup easier.
This fall, embrace the art of tablescaping to celebrate the season's splendor, bring loved ones together, and create cherished moments that will be fondly remembered. Whether you're hosting a small gathering or a grand feast, let your autumn tablescape reflect your creativity, warmth, and the season's beauty. Happy tablescaping!