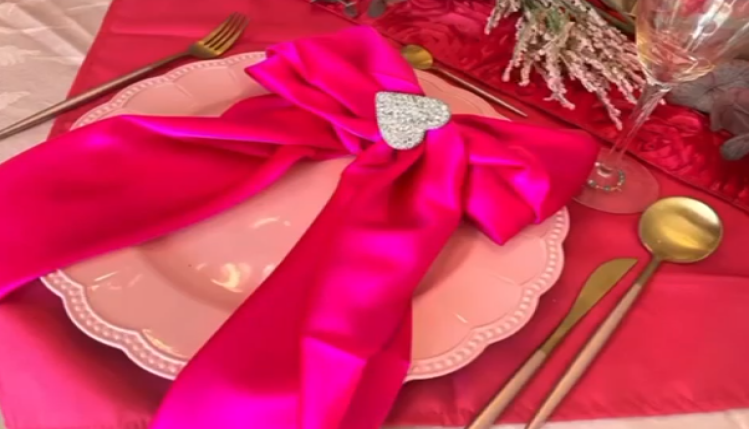 DIY Bow Linen Fold 🎀: Barbie Tablescape Magic
Welcome to a world of enchantment and creativity where elegance meets miniature marvels – the world of Barbie! If you're a Barbie enthusiast or simply someone who appreciates the art of table decor, you're in for a treat. In this blog post, we will embark on a journey of crafting elegance and style for your Barbie-inspired tablescape. Our focus? The enchanting DIY Bow Linen Fold; a simple yet impactful detail that will transform your Barbie-themed dining experience into pure magic.
Crafting Elegance: DIY Bow Linen Fold for a Barbie Tablescape
With her timeless charm and impeccable taste, Barbie has long inspired fashion, design, and table settings. A Barbie tablescape is more than just a delightful way to entertain; it's an opportunity to unleash your inner decorator and bring Barbie's world to life in every detail.
Whether you're planning a whimsical Barbie-themed event or simply want to add a touch of Barbie's world to your dining experience, join us as we unravel the secrets of creating a captivating Barbie tablescape filled with DIY Bow Linen Folds and so much more. It's time to let your imagination run wild and craft your own tablescape magic!
The Art of Creating a Barbie Tablescape
When it comes to creating a captivating dining experience that's straight out of Barbie's world, the art of crafting a Barbie tablescape is a must-know skill. A Barbie tablescape isn't just about setting a table; it's about crafting a tiny universe where every detail exudes elegance, style, and a touch of whimsy.
The Significance of a Barbie Tablescape
The Barbie tablescape adds enchantment and playfulness to your dining experience, inspired by the fashion doll's exceptional taste and style.
Here are a few reasons why creating a Barbie tablescape is more than just a fun craft project:
Creative Expression:

 Crafting a Barbie tablescape allows you to express your creativity uniquely and tangibly. It's a chance to design your miniature world where you're the master decorator.

Memorable Gatherings:

 Whether you're hosting a Barbie-themed party or a simple dinner with friends, a Barbie tablescape sets the stage for unforgettable gatherings. It adds an element of surprise and delight to any event.

Attention to Detail:

 A Barbie tablescape teaches you the art of highlighting minor details. It's in those tiny details that the magic truly lies, and they're what Barbie herself would notice and appreciate.
Key Elements of a Barbie Tablescape
Color Palette:

 Barbie's world is a burst of vibrant colors. Incorporate shades of pink, purple, and pastels into your tablescape to capture her essence.

Miniature Decor:

 From tiny vases and dainty dinnerware to small chandeliers, it's all about the mini decor that makes Barbie's world come alive.

Elegance and Glamour:

 Barbie is synonymous with elegance and glamour. Incorporate elements like glitter, sequins, and satin for that touch of luxury.

Playful Details:

 Remember the playful details! Barbie's world is full of surprises, including mini figurines, accessories, or even a Barbie-themed centerpiece.

DIY Touches:

 The DIY Bow Linen Fold we'll explore in this guide is a prime example of the personal, handmade touches that elevate a Barbie tablescape.
Getting Started: DIY Bow Linen Fold
Now that you've embarked on creating a Barbie-inspired tablescape, it's time to add a touch of elegance with our DIY Bow Linen Fold. This simple yet stunning detail will capture the essence of Barbie's world and leave your guests in awe of your crafting prowess. Follow our step-by-step guide to create a beautiful touch.
Step 1: Gather Your Supplies
Disposable Dinner Napkins:

 Opt for disposable linen napkins in your preferred color to match the Barbie theme.

Napkin Rings:

 Select chic and stylish napkin rings that complement your table decor.

Flat Surface:

 A clean, flat surface like a table or countertop to work on.

Iron and Ironing Board:

 You'll need these to ensure your napkins are wrinkle-free.
Step 2: Prepare the Napkin
Start by laying your disposable dinner napkin flat on the ironing board. If it's wrinkled, use the iron to smoothen it for a neat and polished look.

Fold the napkin in half diagonally to create a triangle, with the point facing away from you.
Step 3: Begin Folding the Bow
Take the bottom point of the triangle (the one closest to you) and fold it up towards the top point, leaving about 1-2 inches of the top point visible.

Now, fold the left and right corners of the triangle towards the center. These folds should meet in the middle, forming a diamond shape.
Step 4: Create the Bow Shape
With the diamond shape you've just created, fold the top point (the one you left visible) down towards the center of the diamond.

Secure the folded point with your fingers while carefully flipping the napkin over. Make sure to hold it firmly to maintain the shape.
Step 5: Tying with Napkin Rings
Place the stylish napkin ring around the center of the napkin where you folded it. Ensure it's snug but not too tight, as you want to maintain the bow shape.

Adjust the bow's loops and tails to achieve your desired look. Fluff them up to add dimension and elegance.
Step 6: Final Touches
With your DIY Bow Linen Fold elegantly tied with a napkin ring, your disposable dinner napkin has been transformed into a work of art. This elegant addition elevates your Barbie tablescape and brings a sense of refinement and sophistication to the dining experience.
Smarty Had A Party: Your Trusted Supplier
As you dive deeper into crafting the perfect Barbie tablescape with a DIY Bow Linen Fold, it's essential to have a reliable source for your party supplies. That's where Smarty Had A Party comes into play, serving as your trusted partner in creating memorable and stylish gatherings.
Meet Smarty Had A Party
Smarty Had A Party is not your ordinary party supply store. Smarty is committed to providing top-notch disposable party supplies that blend elegance and convenience. Whether planning an intimate dinner with friends or a lavish Barbie-themed celebration, Smarty Had A Party covers you.
Disposable Dinner Napkins for Every Occasion
One of the standout offerings from Smarty Had A Party is their extensive range of disposable dinner napkins. For your Barbie tablescape, you can choose from a variety of options:
Disposable Linen Napkins:

 These 

linen-like napkins

 mimic the luxurious look and feel of real linen without the hassle of laundering. Ideal for adding a touch of sophistication to your table setting.

Fancy Disposable Napkins:

 If you aim for a more intricate look, Smarty Had A Party offers 

fancy disposable paper napkins

 with unique textures, patterns, and finishes.
Exclusive Barbie-Themed Products
What truly sets Smarty Had A Party apart is the commitment to catering to themed events, and yes, that includes Barbie-themed gatherings! While crafting your Barbie tablescape, check Smarty's inventory for any exclusive Barbie-themed products that could add charm to your event. From Barbie-inspired plates to decor accents, you may stumble upon the perfect additions to your tablescape.
Additional Resources
We have a fantastic resource for those seeking inspiration and insights into creating a whimsical Barbie tablescape. Be sure to check out Smarty Had A Party's related blog post, "Barbie Dreamscape: Creating a Whimsical Tablescape Inspired by Barbie's World."
This insightful article from Smarty Had A Party dives deeper into the world of Barbie-themed table settings and offers many ideas, tips, and tricks to bring Barbie's magic to life at your next event. From imaginative decor suggestions to creative use of disposable party supplies, you'll find a treasure trove of inspiration to elevate your Barbie tablescape game.
👉 Barbie Dreamscape: Creating a Whimsical Tablescape Inspired by Barbie's World
Frequently Asked Questions (FAQ)
1. What napkin ring styles work best for a Barbie tablescape?
Choose napkin rings that reflect Barbie's aesthetic, such as ones with glitter, rhinestones, or pink accents. These can add a touch of glamour to your tablescape.
2. How do I ensure my Bow Linen Folds stay in shape throughout the event?
Use napkin rings to secure your linen folds in place. The rings will help maintain the bow shape and ensure they look perfect throughout your gathering.
3. Can I create the DIY Bow Linen Folds in advance?
Yes, you can! To save time on the day of your event, create the DIY Bow Linen Folds ahead of time and store them flat to maintain their shape. Then, simply attach them to napkin rings just before your guests arrive.
4. What other Barbie-themed decorations can I incorporate into my tablescape?
Look for Barbie-themed disposable plates, plastic cups, and centerpieces to enhance the Barbie theme. You can also add miniature Barbie figurines or iconic accessories as decorative elements.
Let your inner decorator flourish, and may your Barbie tablescape magic continue to enchant and inspire everyone around it. Cheers to many more captivating celebrations ahead! 🎉🎀✨