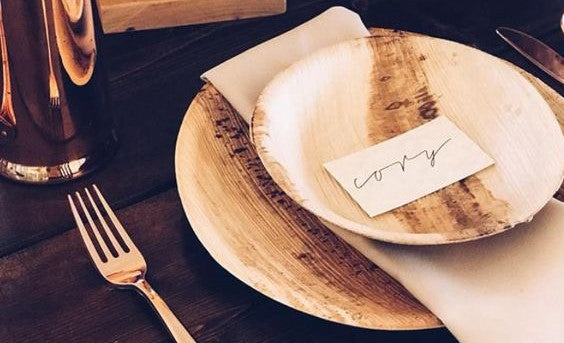 Rustic, Autumn & Country Wedding Ideas
Say hello to October since it's here again. Wedding bells have started ringing, too, as this aesthetic season is approaching. If you plan to have a wedding in the fall, no matter how much you search, you will get three significant themes: Rustic, Autumn & Country.
Let's walk you through each theme, but before that, we should enlighten you about some basics of setting up a fall-themed wedding. 
Venue
Firstly, you need to choose the most suitable venue for the occasion. 
Stables, farms, and barns are among the most prominent locations for country weddings. Due to their casual situations and rural surroundings, these locations suit rural marriage styles. Rustic design works well in farms, alpine resorts, leisure areas, or campers' sites.
The choice between a somewhat more formal, sophisticated look or a relaxed setting should be according to your requirements. Several locations may accommodate your chosen Autumn motif, but the most well-liked are barns or converted churches.
Food
Fall weddings call for substantial fare and comfortable meals. Some of our favorites are roasted lamb or meat, mashed potatoes, grilled veggies, warming soups, and pot pies.
Consider serving homemade macaroni and cheese with breadcrumbs or a barbecue-themed dinner. If you decide to have a wedding cake, there are many options, including black wedding cakes and fall-themed cakes.
You just need to ensure that the food is according to this colorful season and based on your guests' liking. 
Barn Theme
If you're thinking of a rustic wedding theme, a barn or farm venue is the ideal location. Numerous farm wedding locations provide all-inclusive bundles and subscription options, such as décor rents, which can simplify your preparations.
The arena where the ceremony's memorable events happen should have chairs and tables. 
A tiny indoor space should also be designated for all the "first" dances. Once the visitors have made their debut move, they may try to get down on the main stage with DJs and music arranged in the tent to accommodate the guests outdoors. 
Wineries and Vineyards
Since the fall has already become the informal period for wine tours and vineyard touring, why not wholly capitalize on the occasion by tying the knot at your preferred vineyard? First, it helps that most wineries and distilleries are situated in picturesque rural areas.
This specific location setting will make it possible to organize a lovely, enjoyable Autumn marriage on a budget.
Ski and Mountain Resorts
Although the wintertime is usually their busiest, many skiing and mountainous attractions are also stunning in the autumn. It is better because its' equally aesthetic and less busy. 
Just picture being wedded while flanked by limitless vistas of hillsides draped in brilliant crimson, yellow, and red color.
On the mountains, you need to be careful of having kids and open area. The kids your guests bring could be threatened if the space doesn't have much fencing. Make sure to book the resorts that maintain security if you expect kids. 
Rustic And Country 
Do you two fit the stereotype of the hospitable and charming South? If so, a rustic country theme is among the autumn marriage motif options you want to consider. 
Though that is helpful, you don't necessarily have to be a farmer or be married in a barn to create a rustic atmosphere. Any location may have a rustic country motif, ranging from ragged to elegant to décor.
The décor will feel more rustic the more handcrafted it is. Utilize as much timber as possible and additional components like twinkle lights, linen, wooden pallets, vintage containers, jute, and suede to create a rustic autumn wedding motif. 
Include a rustic bare custom cake or other dessert substitutes, barbecue cuisine, walk down the aisle wearing your combat boots, and keep the classic rock playing. 
Floral Theme
In addition to creating the ideal bouquets, and fall-inspired hues, a rustic ceremony style also offers you a broad range of possibilities! With containers draped in jute or fabric and filled with flower arrangements, you can make your easy decor for your visitors. 
An antique lamp with a light or a crystal container stuffed with fresh fruits from the harvest is more options.
Hay Bales
With a few sets of photos of bales of hay, you can drastically turn your backyard sitting area into a perfect rural location. These are fantastic options that instantly provide a hint of autumn, regardless of whether you have them as ceremonial couches or just as aisle decor. 
We advise draping them with a modest duvet or comforter for the convenience of your visitors as well.
Eco-Friendly Theme 
Another epic theme for your rustic wedding is an eco-friendly theme in which you use eco-friendly things only. Your environment and overall decor need to be natural and organic, and you can get some pumpkins as candle holders. 
You can also get all the eco-friendly utensils like eco-friendly dinner plates, biodegradable serve ware, compostable bowls, disposable eco flatware, and palm leaf plates. 
Your guests will be amazed by your knowledge and regard for mother nature. Moreover, getting food on palm leaf plates will be a whole new experience for everyone they will cherish. 
A barn theme will make your wedding memorable since all the farms have such beautiful sites for photography. Vineyards and wineries are also an exceptional opportunity to get close to the cultural wine-tasting habits and serve as a chance to get more relative to each other. 
For all the adventurous people, a fall wedding is best done in the mountains since you get to see death in the eyes while also knowing that you're safe. Rustic and country are the traditional theme that justifies a fall wedding the best. 
Adding floral arrangements and using eco-friendly serving ware simply elevates the look of the entire wedding. If you are also looking for some nice eco-plates with eco-flatware, then you should check out the Smarty Had a Party website since that's an entire world of partyware. 
You can also access eco-bowls to serve different soups, etc., and the square palm leaf collections give a natural look to your wedding.