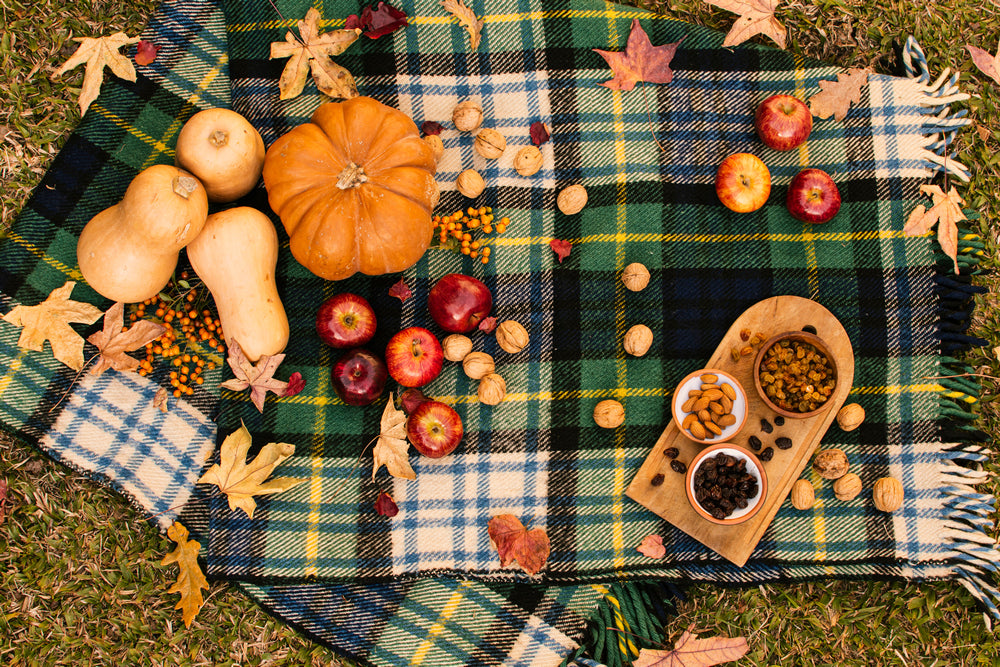 Fall Picnic Magic: Ideas for a Cozy and Charming Outing
Welcome to the enchanting world of fall picnics, where crisp air, cozy blankets, and the irresistible allure of autumn create magic. As the leaves turn to vibrant red, orange, and gold hues, there's no better time to embrace the season's beauty and indulge in the warmth of a cozy and charming outdoor outing. This guide will take you on a journey to plan the ultimate fall picnic—a delightful experience beyond just a meal in the great outdoors. 
Crisp Air, Cozy Blankets, and Good Eats: Your Ultimate Autumn Picnic Guide
Whether you're a seasoned picnic enthusiast or a newcomer eager to experience the joys of autumn alfresco, join us as we uncover the secrets to crafting a fall picnic that is as charming as it is memorable. It's time to wrap yourself in blankets, sip on warm drinks, and immerse yourself in the magic of a fall picnic adventure.
Planning Your Autumn Picnic
Location Matters: Choosing the Perfect Spot Amidst Nature's Canvas
Selecting the right location is the first step to infusing magic into your fall picnic. Look for parks, meadows, or lakesides where the beauty of nature is fully displayed. Seek spots with a backdrop of vibrant autumn foliage, creating a picturesque setting for your outing. Consider accessibility, amenities, and the potential for capturing stunning photos as you scout for the perfect place to spread your blanket.
Involve Everyone: Making it a Friends and Family Affair
The essence of a fall picnic lies in shared moments and laughter. Invite friends and family to join the adventure, turning your outing into a collective celebration of the season. Consider everyone's preferences when planning—from the youngest to the oldest member of your group. Encourage guests to bring their favorite fall dishes, creating a diverse and delectable spread that caters to various tastes.
Essential Elements: Blankets, Pillows, and Cozy Throws
As temperatures drop, ensuring comfort is vital to a successful fall picnic. Bring an assortment of blankets, pillows, and cozy throws to create a warm and inviting atmosphere. Arrange them on the ground for comfortable seating, or use them to craft cozy nooks for intimate conversations. Embrace autumn hues in your choice of blankets, adding to the overall aesthetic of your outdoor haven.
Creating a Cozy Atmosphere
Blanket Forts and Cushions: Designing a Comfortable Seating Arrangement
Elevate the coziness of your fall picnic by transforming your outdoor space into a haven of comfort. Arrange blankets in a way that invites creativity—build blanket forts for a touch of whimsy or create a sprawling seating area with plush cushions. Encourage everyone to sink into the softness, making your picnic not just a meal but an immersive and comfortable experience.
Embracing Autumn Hues: Decorating with Warm Colors and Fall Foliage
As you revel in the magic of fall, bring the season's colors into your picnic setup. Opt for warm, earthy tones like deep oranges, rustic reds, and golden yellows. Enhance the natural beauty of your surroundings by incorporating fall foliage into your decorations—gather colorful leaves, acorns, and pinecones to add a touch of woodland charm to your picnic spread.
The Power of Lighting: Lanterns, Fairy Lights, and Candles
As the sun begins to set, let the warm lighting glow add enchantment to your fall picnic. Hang lanterns from nearby branches, string fairy lights around your picnic area, or scatter candles in safe holders to create a magical ambiance. The flickering light against the backdrop of autumn's colors will cast a spell of charm over your gathering.
Fall Flavors: The Heart of Your Picnic
Seasonal Delights: Incorporating Autumn Produce into Your Menu
Transform your fall picnic into a culinary adventure by embracing the season's flavors. Visit local markets and include a variety of autumn produce in your menu. Think crisp apples, juicy pears, and earthy pumpkins. Create a hearty salad with roasted root vegetables, or prepare a savory soup served in insulated thermoses for a warm and comforting treat.
Sip in Style: Warm Drinks and Spiced Infusions
Elevate your fall picnic experience by offering a selection of warm, aromatic drinks. Consider packing a thermos with spiced apple cider, pumpkin lattes, or a soothing herbal tea. The scent of cinnamon and cloves wafting through the air will add a layer of warmth to your picnic, making it a sensory delight for everyone.
Sweet Endings: Desserts that Capture the Essence of Fall
No picnic is complete without a sweet ending; in the fall, desserts can showcase seasonal delights. Consider baking apple crisp, pumpkin pie bars, or maple-infused treats. Bring an assortment of gourmet chocolates with autumn-inspired flavors for a fuss-free option, providing a sweet finale to your picnic feast.
Tableware: Eco-Friendly Elegance
Why Eco-Friendly Tableware?
In the spirit of fall, where nature showcases its most vibrant colors, it's only fitting to extend that appreciation to our choices, even in the simplest details like tableware. Embracing eco-friendly options is not just a trend but a responsibility. Opting for sustainable tableware reduces the environmental impact of your picnic, ensuring that the season's beauty is preserved for generations to come.
Smarty Had a Party: Online Store Spotlight
Smarty Had a Party is a beacon of sustainable elegance for those seeking a seamless and stylish transition to eco-friendly tableware. This online store specializes in providing sophisticated, eco-conscious party supplies that align perfectly with the ethos of a fall picnic. From chic designs to practical solutions, Smarty Had a Party is your go-to source for enhancing the environmental friendliness of your gathering without compromising on style.
Must-Have Eco-Friendly Party Supplies
Entertainment for All Ages
Playlist Perfection: Curating the Ultimate Fall Picnic Playlist
Enhance the ambiance of your fall picnic with a carefully curated playlist that harmonizes with the season's charm. Consider including acoustic folk tunes, indie classics, and songs with autumnal vibes. Let the music become a backdrop to your picnic, creating a soundtrack that elevates the experience and transports everyone into the enchanting world of fall.
Games and Activities: From Classic to Creative
Keep the season's spirit alive with various games and activities catering to all ages. 
Leaf Pile Jumping:

 Rake up a pile of fallen leaves for the little ones (and the young at heart) to enjoy classic leaf pile jumping.

Nature Scavenger Hunt:

 Create a list of fall-themed items for a scavenger hunt. This can include acorns, pinecones, and leaves of different colors.

Storytelling Circle:

 Encourage storytelling by creating a cozy circle with blankets. Each person can share their favorite fall memory or even invent a whimsical tale inspired by the surroundings.
Frequently Asked Questions (FAQ)
1. What are the best locations for a fall picnic?
Selecting the ideal location for a fall picnic depends on personal preferences, but consider parks, meadows, or lakesides with vibrant foliage. Look for places that offer a mix of sunlight and shade, creating a comfortable atmosphere for your gathering.
2. How can I make my picnic eco-friendly with tableware?
Opting for eco-friendly tableware is a fantastic way to make your picnic sustainable. Choose options like palm leaf plates, biodegradable servingware, and birchwood flatware. These items are stylish and environmentally friendly, reducing the environmental impact of your picnic.
3. Are palm leaf plates and bowls durable for outdoor picnics?
Absolutely! Palm leaf plates and bowls are stylish, sustainable, and durable enough for outdoor use. They can handle a variety of dishes without compromising on their eco-friendly qualities.
4. Where can I purchase eco-friendly party supplies online?
Smarty Had a Party is an excellent online store that provides sophisticated and eco-conscious party supplies. From stylish eco-friendly to palm leaf serving ware, they offer a wide range of options to elevate the environmental friendliness of your picnic.
May your fall picnics be filled with the season's essence—cozy, charming, and, above all, magical. Here's to the joy of picnicking under the falling leaves and embracing the beauty of autumn in every delightful moment. Cheers to fall, to picnics, and to the enchantment that lingers in the air.