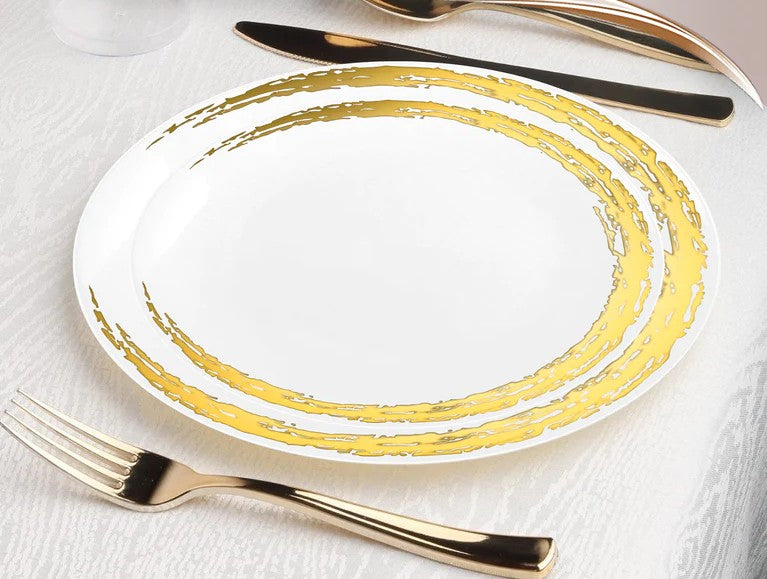 Dining in Style: Gorgeous Table Settings that Dazzle
Welcome to a world where dining becomes an experience, and every meal transforms into a symphony of style. In our blog post, we invite you to explore the art of crafting stunning tablescapes that elevate your dining occasions from ordinary to extraordinary. A beautifully set table is more than just a backdrop for your meals; it's a canvas on which you can express your creativity, showcase your personality, and create lasting memories.
Dazzling Dinners: The Art of Crafting Stunning Table Settings
In this enchanting journey through the realms of dining aesthetics, we delve into the intricate details that make a table setting truly dazzle. Whether you're a seasoned host looking to elevate your dinner parties or a novice seeking inspiration, this is your guide to transforming your dining space into a haven of style and sophistication. Let's embark on this journey together, where every meal is an opportunity to dazzle and delight.
Elements of Elegance
The Role of Tableware in Enhancing Dining Aesthetics
The table setting you choose can impact the aesthetic of your dining experience. The shapes, textures, and finishes of your tableware matter. Every detail counts, from the curve of a plate to the gleam of polished silverware. By exploring how these elements come together, you can elevate the visual appeal of your dining space and leave a lasting impression on your guests.
Choosing the Right Colors: Elevating with White and Gold Accents
Color can evoke emotions and set the tone for a dining experience. For example, white signifies purity and elegance, while gold adds a touch of luxury and warmth. Together, they create a harmonious palette that suits a variety of occasions, from intimate dinners to festive celebrations. Whether hosting a formal dinner party or a casual brunch, incorporating these colors into your table settings will instantly elevate the ambiance.
Plastic Dinnerware Sets: Balancing Elegance and Convenience
Elegance and convenience need not be mutually exclusive. We introduce the practical yet stylish world of plastic dinnerware sets. Modern manufacturing techniques have brought forth a range of options that mimic traditional materials' look and feel without compromising aesthetics.
Plastic dinnerware sets offer a perfect balance, allowing you to achieve a sophisticated look while enjoying the ease of disposable items. Dive into the variety of designs available, including the chic white with gold moonlight motifs that add a touch of glamour to your table. Discover these sets' versatility, perfect for formal affairs and casual gatherings.
Golden Touch - Plastic Silverware and Drinkware
Incorporating Gold Plastic Silverware for a Luxurious Feel
The flatware on your table is more than just a tool for dining; it's a subtle yet powerful element contributing to the overall ambiance. In this part of our exploration into dining in style, we focus on the allure of gold plastic silverware. With golden gleam, these disposable utensils bring an air of opulence to your table, elevating the dining experience to new heights.
Incorporate gold-plastic silverware to enhance the visual appeal of your table setting. These elegant pieces serve a functional purpose and become integral to your table's aesthetic.
Stemless Wine Glasses: Plastic Drinkware with a Touch of Class
A well-chosen glass can enhance the enjoyment of your favorite beverage and add a touch of sophistication to your table. Stemless wine glasses, made from quality plastic, offer the perfect blend of style and practicality. 
Explore the benefits of opting for plastic drinkware, such as durability and ease of handling, without sacrificing the elegance of traditional glassware. Whether sipping a fine wine or a refreshing cocktail, these stemless glasses provide a modern and stylish alternative. 
Achieving a Cohesive Look with Coordinated Tableware
Harmony is the key to a visually stunning table setting. From the choice of dinner plates to the selection of drinkware and silverware, creating a unified theme ties the elements together, resulting in a table that dazzles with intentionality.
Careful selection of coordinated tableware enhances the overall visual impact of your dining space. Whether you prefer a monochromatic theme or an eclectic blend of colors and patterns, achieving a cohesive aesthetic will transform your dining table into a work of art.
Practical Elegance - Disposable Napkins
The Convenience and Appeal of Disposable Napkins
In the realm of dining in style, practicality meets elegance in the form of disposable napkins. No longer relegated to mere functional utility, these napkins have evolved into stylish accessories that enhance the overall aesthetic of your table setting.
Discover the freedom of opting for disposable napkins, freeing yourself from the constraints of traditional fabric while maintaining a sense of refinement. 
Adding Glamour with Gold Napkins in Various Styles
Gold has an inherent ability to add a touch of glamour and sophistication to any setting, and when it comes to disposable napkins, it's no exception. Gold paper napkins can complement a range of table settings.
Gold napkins bring a sense of opulence to your dining experience, from subtle metallic sheens to intricate patterns. So, elevate your table with the gleam of gold, adding a subtle but impactful layer of visual interest.
Tips for Folding and Displaying Napkins for Maximum Impact
The art of folding napkins goes beyond mere functionality; it's an opportunity to showcase creativity and attention to detail. Explore various napkin folding styles, from classic to contemporary, and learn how to incorporate them into your table setting. Discover the art of napkin rings, folds that mimic intricate origami, and simple yet elegant placements that catch the eye. Whether hosting an intimate gathering or a grand celebration, these tips elevate your table settings and leave a lasting impression on your guests.
Floral Finesse - Dazzling Centerpieces
Elevating the Ambiance with Gorgeous Flower Centerpieces
The centerpiece is the most remarkable feature of any beautifully set table – a focal point that captures attention and sets the tone for the entire dining experience.
The art of creating centerpieces goes beyond mere floral arrangements; it becomes sculptural works of art that leave a lasting impression. Infuse your dining table with floral finesse, from intimate dinners to grand celebrations.
Choosing the Right Flowers and Colors for the Occasion
Flowers bring a unique language to the table, conveying sentiments and setting the mood. From the romantic allure of roses to the vibrant energy of sunflowers, each bloom contributes to the overall narrative of your dining experience.
Explore the symbolism behind various flowers and the emotions they evoke. Play with colors to create a harmonious palette that complements your table setting. Whether aiming for a sophisticated monochrome look or a vibrant burst of hues, choosing the right flowers is crucial in crafting a dazzling centerpiece.
Stylish Vases: Incorporating Gold Accents for a Dazzling Effect
The vessel that holds your floral masterpiece is as important as the blooms themselves. Gold vases add a touch of glamour and sophistication, elevating the entire centerpiece. Choose from the diverse world of vase styles, from classic and understated to bold and ornate. Choose the right vase to complement both your flowers and your overall table setting, creating a cohesive and visually striking ensemble that leaves a lasting impression on your guests.
Additional Resources
Recommended Products and Suppliers
Related Articles on Entertaining Tips and Home Decor
May your tables always be adorned with elegance and your dining experiences be filled with warmth, connection, and a touch of magic. Cheers to the artful journey of dining in style!