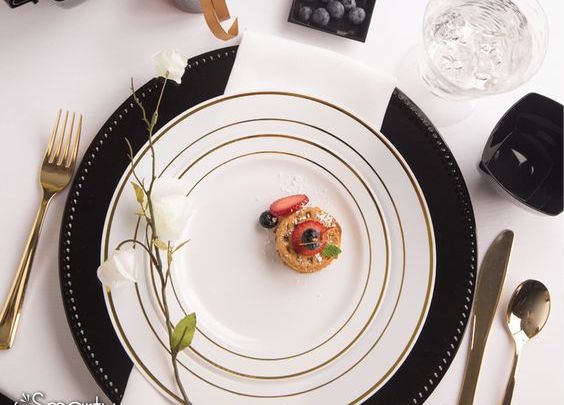 Monochrome Magic: How to Style an Elegant Black and White Tablescape?
Creating an inviting and visually appealing tablescape is essential when hosting guests. Not only does it set the tone for the event, but it also shows your guests that you care about the details. One way to achieve a sophisticated and timeless look is by embracing monochrome styling. This blog post will explore how to style an elegant, practical, and visually stunning black-and-white tablescape. From selecting the right elements to creating a stunning centerpiece, we'll guide you through the process step-by-step. Whether you're hosting a formal dinner party or a casual gathering, this guide will help you create a tablescape that will impress your guests. So let's dive in and discover the magic of monochrome styling!
Choosing the Right Elements
When creating an elegant black-and-white tablescape, selecting the right elements is crucial. In addition, each element must complement the others to create a cohesive and visually appealing design. Here are the specific details that will be used in this tablescape:
By selecting the correct elements, you can create a black-and-white tablescape that is both elegant and practical. Stay tuned for the next section to discuss creating a stunning centerpiece to tie the design together.
Creating a Stunning Centerpiece
A centerpiece is the heart of any tablescape. It is the focal point that ties the entire design together. So when it comes to creating an elegant black and white tablescape, a simple yet stunning centerpiece is essential. Here's how to make one:
Choose clear bowls:

 Clear bowls are the best option for this centerpiece. They are simple and elegant, allowing the floating candles to shine.

Add water: 

Fill the bowls with water. The water will help the candles float and add a touch of elegance to the design.

Float white candles: 

Once the bowls are filled with water, add the white candles. The white candles will provide a soft, warm glow that will enhance the overall ambiance of the tablescape.

Group the bowls: 

Group the bowls together in the center of the table. By grouping them, you create a cohesive design that is visually stunning.

Add finishing touches:

 Add a few small votive candles around the centerpiece to complete the design. The votive candles will provide additional light and add to the overall ambiance.
To incorporate the centerpiece into the larger tablescape design, ensure it is placed in the center of the table. The bowls should be surrounded by black charger plates and white dinnerware. The gold-edged dinnerware and silverware should also be placed strategically to create an elegant and cohesive look. Finally, add the black plastic mugs, plastic wine carafes, disposable tumblers, and fancy mini plastic bowls to the table to complete the loo.
Following these simple steps, you can create a stunning centerpiece that ties the entire black-and-white tablescape together.
Where to Find the Best Disposable Partyware?
When hosting an elegant event, having the right partyware is crucial. Fortunately, finding high-quality disposable partyware has never been easier, thanks to online retailers like Smarty Had A Party.
Smarty Had A Party is an online store that offers a wide range of disposable partyware that is both stylish and practical. One of the main benefits of using disposable partyware is that it makes cleanup a breeze. Instead of spending hours washing dishes after your event, you can simply dispose of the partyware.
In addition to being practical, disposable partyware is also more environmentally friendly than traditional tableware. Instead of using and washing plates, cups, and utensils that will eventually end up in a landfill, you can opt for disposable items made from recyclable materials.
Here are the specific items used in this black and white tablescape that can be purchased from Smarty Had A Party:
By purchasing these items from Smarty Had A Party, you can easily create a sophisticated black-and-white tablescape that will impress your guests. Plus, with the easy cleanup and reduced environmental impact of disposable partyware, you can focus on enjoying your event instead of worrying about the aftermath.
Creating an elegant black-and-white tablescape is easier than you might think. But, whether you're hosting a dinner party, holiday gathering, or other special event, a well-designed tablescape is necessary. Following the tips and tricks outlined in this post, you can create a monochrome magic tablescape that will leave your guests in awe. 
Consider purchasing your partyware from an online retailer like Smarty Had A Party to make things even easier. With their wide selection of high-quality disposable partyware, you can create a sophisticated tablescape without breaking the bank.
So go ahead and get creative with your next tablescape, and remember to have fun with it!