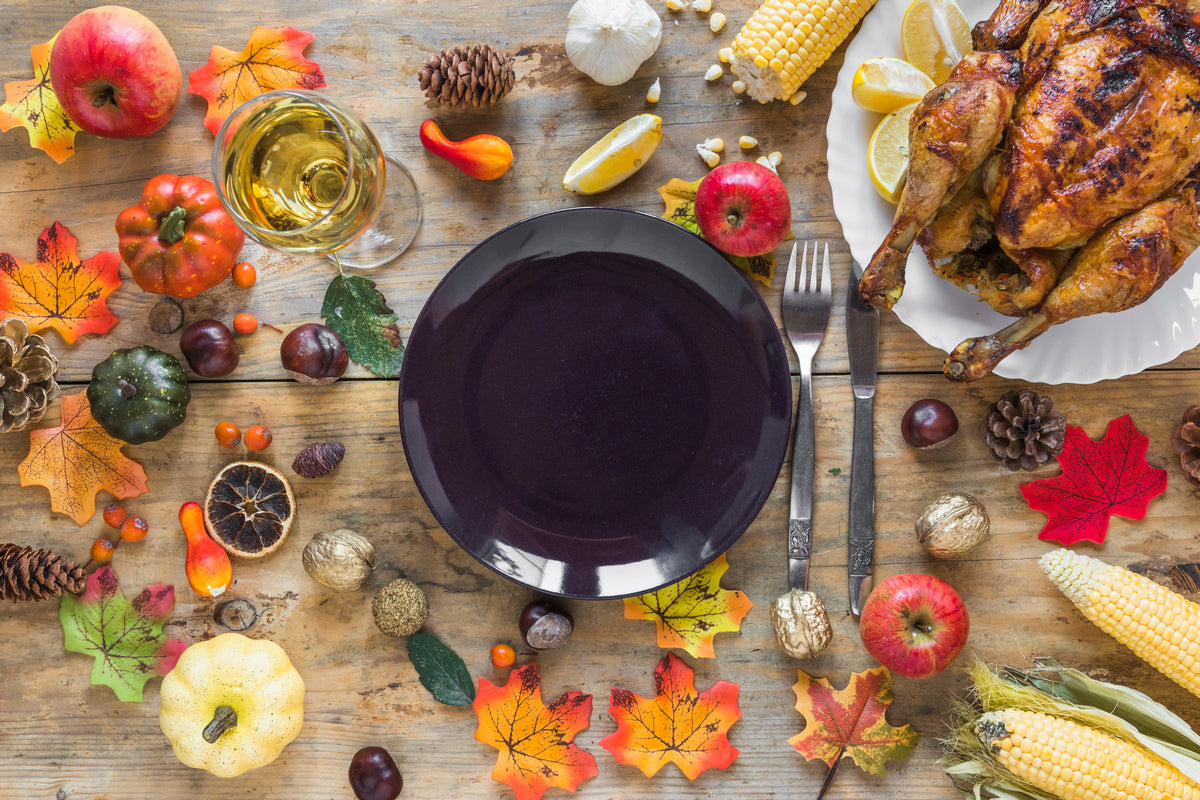 What Do You Serve at an Autumn Party?
Welcome to the enchanting world of autumn, where crisp air and vibrant foliage set the stage for gatherings that warm the soul. As we bid farewell to the heat of summer, the arrival of fall invites us to embrace the season's unique flavors and create unforgettable moments with friends and loved ones. You've come to the right place if you're gearing up to host an autumn party. In this guide, we'll navigate the culinary landscape of autumn, exploring a delightful array of dishes that capture the season's essence. 
Autumn Appetites: A Guide to Delicious Fall Party Fare
Whether planning an intimate gathering or a larger-scale celebration, join us as we uncover the secrets to a memorable autumn party menu. Let's embark on this flavorful adventure together, discovering what delectable delights await at your autumn gathering.
Setting the Scene
With its golden hues and crisp air, autumn provides the perfect backdrop for a memorable gathering. Elevate your autumn party by paying attention to the details that set the scene and create an atmosphere of warmth and festivity.
Decor Ideas for Creating an Autumn Ambiance
Fall Foliage:

 Bring the outdoors in with arrangements of colorful leaves, pumpkins, and gourds.

Candlelight:

 Embrace the cozy vibes of fall with candles in warm, earthy tones. Consider using lanterns or candle holders with autumn motifs.

Table Centerpieces:

 Arrange seasonal flowers in rustic containers like wooden crates or copper pots, such as sunflowers or chrysanthemums.

Garlands and Wreaths:

 Adorn doorways and tables with garlands made from fall leaves or decorative wreaths that celebrate the season.

Comfortable Seating:

 Create inviting seating areas with plush blankets and throw pillows in autumnal colors to encourage guests to relax and enjoy the atmosphere.
Seasonal Colors and Themes for Decorations
Warm Color Palette:

 Embrace the quintessential autumn colors—deep reds, burnt oranges, golden yellows, and rustic browns—to create a cohesive and inviting look.

Rustic Themes:

 Consider incorporating rustic elements such as burlap table runners, wooden signs, and twine accents to enhance the autumn aesthetic.

Harvest Festival Vibes:

 Draw inspiration from harvest festivals with decor that celebrates the season's bounty. Think about incorporating cornucopias, baskets of apples, and clusters of grapes.
Appetizers to Kick Off the Party
Warm and Comforting Soup Options
Butternut Squash Soup: 

Creamy and velvety, this soup embodies the essence of fall. Garnish with maple syrup or toasted pumpkin seeds for added flavor.

Roasted Tomato Basil Soup: 

A classic with a seasonal twist, the rich flavors of roasted tomatoes and fresh basil bring warmth to chilly evenings.

Spiced Pumpkin Soup Shots: 

Serve pumpkin soup in small shot glasses for a stylish and comforting appetizer. Add a dash of nutmeg or cinnamon for an extra layer of autumnal goodness.
Creative Autumn-Inspired Salads
Harvest Salad with Apples and Pecans: 

Combine crisp apples, candied pecans, and mixed greens for a refreshing salad that mirrors the autumn harvest. Drizzle with a honey mustard vinaigrette for a perfect balance of flavors.

Pear and Blue Cheese Salad: 

Savor the sweetness of ripe pears and the savory tang of blue cheese. Toss in some arugula or spinach and finish with a balsamic reduction.

Roasted Brussels Sprout Salad: 

Transform Brussels sprouts into a savory salad by roasting them until crispy and mixing them with cranberries, feta, and a light vinaigrette.
Finger Foods and Appetizers that Capture the Essence of Fall
Autumn Crostini Trio: 

Offer an assortment of crostinis featuring toppings like apple and goat cheese, fig and prosciutto, and caramelized onion with Gruyère.

Mini Pumpkin and Sage Risotto Balls: 

These bite-sized delights are a perfect fusion of creamy pumpkin risotto and the earthy flavor of sage. Serve with a tangy dipping sauce.

Maple Glazed Bacon-Wrapped Dates: 

It's a sweet and savory treat sure to be a crowd-pleaser. The sweetness of dates and the smokiness of bacon come together with a maple glaze.
Main Course Delights
Hearty and Savory Dishes Featuring Autumn Produce
Herb-Roasted Turkey with Cranberry Glaze: 

A classic autumn centerpiece, a perfectly roasted turkey drizzled with a cranberry glaze embodies the essence of a festive fall feast.

Stuffed Acorn Squash: 

Celebrate the flavors of autumn with acorn squash halves filled with a savory stuffing of wild rice, mushrooms, and cranberries.

Maple Glazed Pork Tenderloin: 

Infuse a touch of sweetness into your main course with succulent pork tenderloin glazed in a rich maple sauce. The perfect balance of sweet and savory.
Options for Both Meat Lovers and Vegetarians
Wild Mushroom and Thyme Risotto: 

A creamy, comforting dish showcasing wild mushrooms' earthy goodness. Perfect for vegetarian guests or as a side for meat lovers.

Grilled Apple and Gouda Stuffed Chicken Breast: 

Elevate chicken breast with a delectable mixture of apples and Gouda. Grilled to perfection, this dish is a symphony of autumn flavors.

Vegetarian Pumpkin and Sage Lasagna: 

Layers of pasta, creamy pumpkin béchamel, and sage-infused ricotta create a hearty, meatless main course that embodies the warmth of fall.
Incorporating Seasonal Flavors into the Main Course
Cider-Glazed Salmon: 

Infuse salmon's richness with apple cider's sweetness. The result is a delightful dish that captures the essence of the season.

Sweet Potato Gnocchi with Sage Butter: 

Soft pillows of sweet potato gnocchi bathed in a decadent sage-infused butter sauce create a main course that's both indulgent and quintessentially autumn.

Rosemary and Garlic Roast Beef: 

For meat lovers, a succulent roast beef infused with the aromatic flavors of rosemary and garlic is a hearty and satisfying choice.
Sweets and Treats
Desserts that Showcase Fall Ingredients
Apple Cider Donuts: 

Infuse the flavor of crisp apples and warm spices into these delightful, fluffy donuts. Coated with cinnamon sugar, they're a quintessential fall treat.

Pumpkin Cheesecake Bars: 

Combine the rich, velvety goodness of cheesecake with the seasonal charm of pumpkin. Serve in bar form for a convenient and delicious dessert option.

Cranberry Orange Bundt Cake: 

Celebrate the tartness of cranberries and the citrusy zing of oranges in a moist and flavorful bundt cake. It's a perfect balance of sweet and tangy.
Warm and Comforting Treats for Chilly Evenings
Spiced Hot Chocolate:

 

Upgrade traditional hot chocolate with autumn spices like cinnamon and nutmeg. Top with whipped cream and a sprinkle of cinnamon for an extra treat.

Baked Apple Crisp: 

Warm, gooey apples topped with a crisp oat and nut mixture create a comforting dessert best served hot with a scoop of vanilla ice cream.

Pecan Pie Bars: 

Experience the classic taste of pecan pie in bar form. These decadent treats are perfect for a sweet ending to your autumn feast.
Creative Presentation Ideas for Autumn-Themed Sweets
Mini Pumpkin Pies: 

Serve individual-sized pumpkin pies in mini pie dishes or tartlet pans for a charming and personal touch. Top with a dollop of whipped cream or a sprinkle of cinnamon.

Autumn Candy Apple Bar: 

Set up a DIY candy apple station with various toppings like chopped nuts, drizzled chocolate, and sprinkles. Let guests create their own personalized autumn treats.

Cinnamon Stick Accents: 

Garnish dessert plates with cinnamon sticks for a fragrant and visually appealing touch. Consider using them as stirrers for hot beverages as well.
Thirst Quenchers
Signature Autumn Cocktails and Mocktails
Spiced Apple Cider Sangria (Cocktail): 

Combine the richness of red wine with the warmth of spiced apple cider. Add sliced apples, oranges, and a cinnamon stick for a festive and flavorful cocktail.

Cranberry Ginger Sparkler (Mocktail): 

Create a refreshing, non-alcoholic beverage by combining cranberry juice with ginger ale. Garnish with fresh cranberries and a sprig of rosemary for a touch of elegance.

Pumpkin Spice White Russian (Cocktail): 

Give the classic White Russian a fall twist by adding a splash of pumpkin spice syrup. Serve over ice with a sprinkle of cinnamon for a cozy, autumn-inspired drink.
Warm Beverage Options for a Cozy Feel
Mulled Wine: 

Warm your guests with a comforting mug of mulled wine. Simmer red wine with spices like cinnamon, cloves, and orange zest for a drink that exudes autumn warmth.

Hot Buttered Rum: 

Indulge in the rich and comforting flavors of hot buttered rum. This classic cocktail is perfect for sipping by the fire on a chilly autumn evening.

Chai Latte: 

Create a cozy atmosphere with steaming mugs of chai latte. The aromatic blend of spices like cinnamon, cardamom, and cloves is sure to be a crowd-pleaser.
Recommendations for Non-Alcoholic and Alcoholic Drinks
Autumn Spice Punch (Non-Alcoholic): 

Craft a delightful punch using apple cider, orange juice, and a hint of ginger. Add slices of apples, oranges, and a few cinnamon sticks for visual appeal.

Maple Bourbon Smash (Alcoholic): 

Combine bourbon with maple syrup, lemon juice, and a dash of bitters for a sophisticated autumn cocktail. Garnish with a twist of orange peel for an extra layer of flavor.

Caramel Apple Mule (Alcoholic): 

Put a twist on the classic Moscow Mule by adding caramel vodka and apple cider. Serve in copper mugs for an extra touch of elegance.
Smarty Had A Party - Elevating the Experience with Elegant Disposable Dinnerware
Smarty Had A Party is a trusted provider of elegant disposable dinnerware when setting a sophisticated and visually appealing table for your autumn party. Recognizing the importance of style and convenience, Smarty offers a wide array of options that marry the beauty of traditional table settings with the ease of disposable products.
Range of Options Available
The Convenience and Elegance of Using Disposable Yet Stylish Dinnerware
Effortless Cleanup: 

One of the key advantages of Smarty Had A Party is the convenience it brings to cleanup. Say goodbye to the hassle of washing dishes and instead focus on enjoying the company of your guests.

Eco-Friendly Options: 

Smarty understands the importance of sustainability. Smarty's products are recyclable or biodegradable, providing an elegant solution without compromising environmental values.

Stylish Designs for Any Theme: 

Whether your autumn party leans towards rustic charm or modern sophistication, Smarty offers designs that seamlessly integrate with your chosen theme.
Cheers to creating cherished memories and savoring the delights of autumn with those who matter most.