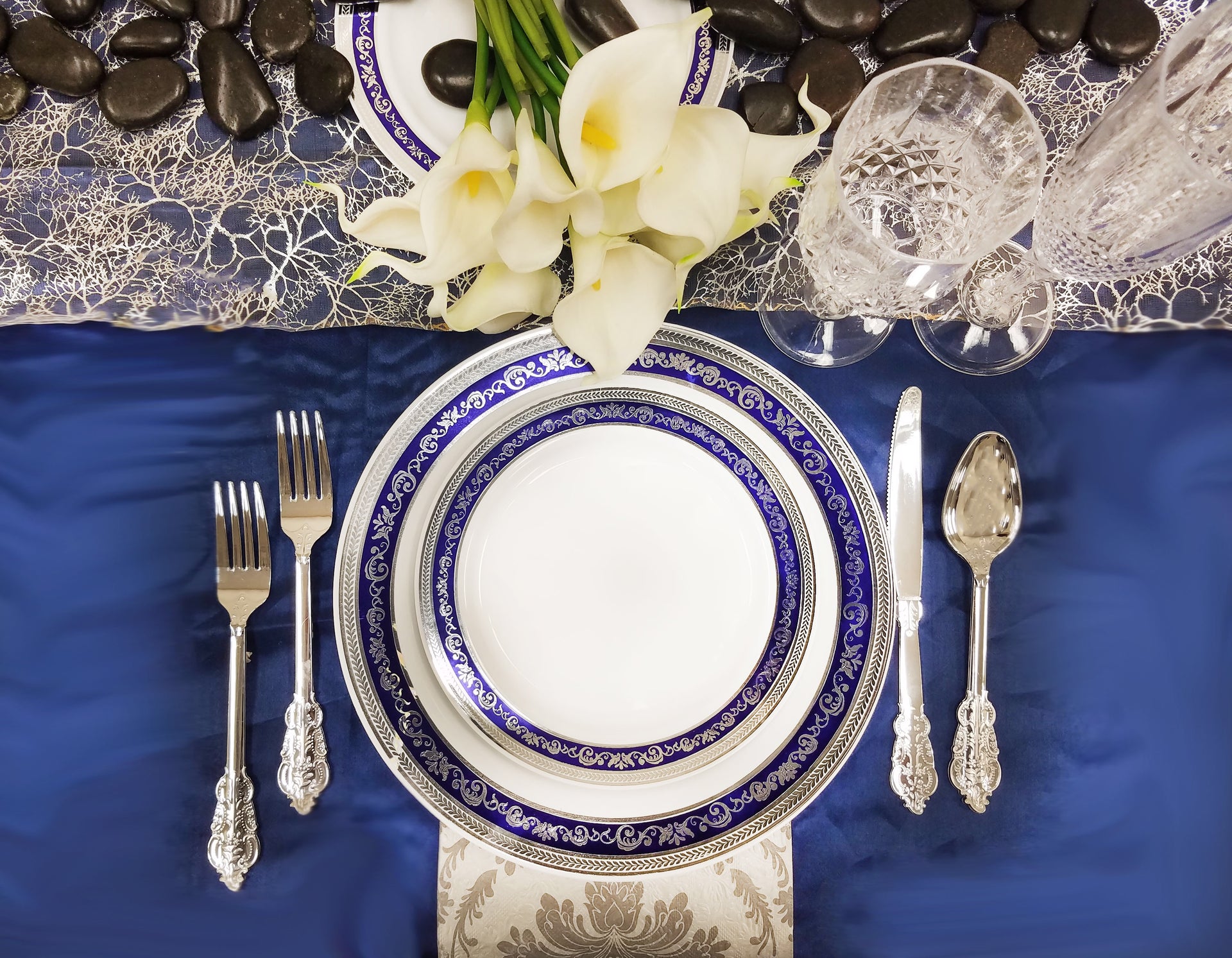 The Perfect Party Tablescape: Ideas for a Memorable Celebration
A great party is made up of many elements, but a well-curated tablescape can be the centerpiece of a truly memorable celebration. From the tableware to the centerpieces, every detail can contribute to creating the right atmosphere and leaving a lasting impression on guests. But where to start? 
This blog post will explore tips and ideas for creating the perfect party tablescape. Whether planning an elegant dinner party or a festive gathering with friends, these ideas will help you create a visually stunning and personalized tablescape that will set the tone for a memorable celebration. So, let's dive in and explore the key elements that will make your party tablescape truly unforgettable.
Choose a Theme 
When creating the perfect party tablescape, one of the first things you'll want to consider is the theme. Choosing a theme that suits the occasion can help set the tone for the party and create a cohesive look throughout the tablescape.
To choose a theme, start by considering the type of party you're hosting. For example, is it a formal dinner party, a birthday celebration, or a casual get-together with friends? Once you have an idea of the occasion, consider the guest of honor or the overall vibe you're going for. Are there any specific colors or motifs that come to mind?
Next, research popular party themes for inspiration. Some popular themes include:
Garden party: 

Incorporate floral elements, pastel colors, and natural textures like wood and linen.

Beach party:

 Think shells, starfish, and blue and white colors reminiscent of the ocean.

Hollywood glamour: 

Add sparkle with metallic accents and bold, luxurious fabrics.

Rustic chic: 

Use burlap, twine, and natural wood elements for a cozy, down-to-earth look.

Black and white:

 A classic and sophisticated choice, this theme can be dressed up or down depending on the occasion.
Tableware and Utensils 
Regarding the tableware and utensils for your party tablescape, there are a few key things to remember. First, you'll want to ensure everything matches and is cohesive with your chosen theme. For example, if you're going for a formal look, consider using elegant plastic plates and disposable baroque silverware. On the other hand, simple plastic plates and classic disposable utensils can be excellent options for a casual look.
When it comes to choosing disposable plastic tableware, there are many options available. Consider using plates and glasses that match your color scheme or have a fun pattern that ties in with your theme. You can also find disposable serving dishes and sturdy and stylish serving flatware.
While some people may shy away from using disposable tableware, there are many benefits to doing so. For one, it's more environmentally friendly than using disposable items made of paper or Styrofoam. Additionally, using disposable plastic tableware can save you time and hassle when cleaning up after the party.
No matter what type of tableware you choose, prioritizing quality is essential. Cheap plastic plates and utensils can easily break or crack, which can be frustrating for both you and your guests. Investing in higher-quality disposable tableware can ensure that your guests have a pleasant dining experience and can focus on enjoying the party.
Linens and Textiles 
Linens and textiles are an essential part of any party tablescape. They add texture and dimension to the table and can help tie together the overall look and feel of the event.
When choosing linens and textiles, consider the formality of the occasion and your chosen theme. For example, you might opt for a classic white tablecloth and matching napkins for a formal event. However, a colorful or patterned plastic tablecloth and disposable paper napkins can be an excellent choice for a casual affair.
In addition to choosing a suitable color scheme and fabric, consider incorporating unique textures and patterns into your tablescape. For example, you could use a burlap table runner for a rustic look or add a pop of color with a brightly patterned tablecloth.
One important consideration regarding linens and textiles is how they will hold up throughout the party. Using disposable plastic tablecloths and paper napkins can be a smart choice, as they are easy to clean up and won't get ruined if spilled on. Additionally, using disposable linens and textiles can save you time and hassle when it comes to laundry after the event.
Centerpieces and Decorations 
Centerpieces and decorations are the perfect finishing touch for any party tablescape. They add a sense of style and personality to the table and can help create a memorable atmosphere for your guests.
When it comes to creating a visually stunning centerpiece, consider the height and scale of the arrangement. You don't want the centerpiece to be so tall that it obstructs conversation or blocks the view of the other guests. Instead, opt for a low or mid-height centerpiece that allows for easy conversation across the table.
Incorporating natural elements, such as flowers and foliage, can be a great way to add color and texture to the table. Consider choosing blooms that are in season and match your color scheme. You can add greenery or branches for a natural and rustic look.
If you're feeling crafty, there are plenty of DIY ideas for unique decorations that you can incorporate into your tablescape. For example, you could create paper flowers, make candle holders, or even paint and decorate small terra cotta pots for a fun and whimsical touch.
Lighting and Ambience 
Lighting and ambiance are often overlooked when it comes to party planning, but they can make a big difference in the overall feel of your event. The proper lighting can create a cozy and inviting atmosphere that encourages guests to relax and enjoy themselves.
When it comes to lighting, there are several different options to consider. Soft, warm lighting can help create a cozy and intimate atmosphere, while brighter lighting can be used for more lively and energetic events. Consider using a mix of different types of lighting, such as table lamps, string lights, and candles, to create a layered and dynamic effect.
In addition to lighting, consider the overall ambiance you want to create for your guests. For example, soft background music can help set the tone and create a relaxed atmosphere. Add elements like scented candles or essential oils to create a pleasant aroma and enhance the sensory experience.
Finally, make sure to take into account the natural lighting in your event space. If your party is during the day, position the table in a spot with plenty of natural light. If your party is at night, consider using outdoor or string lights to create a warm and inviting glow.
Personal Touches 
A party tablescape is a great way to set the tone and atmosphere of your celebration. It's an opportunity to showcase your creativity, style, and personality. While a beautifully arranged table will impress your guests, adding personal touches can take your tablescape to the next level.
Incorporating personal touches into your tablescape can be as simple as adding place cards or party favors. Place cards not only help guests find their seats but also add a touch of elegance and sophistication to your tablescape. You can create your own place cards by hand or use a template to print them out. You can also incorporate the theme of your party into the place cards by using colors, shapes, or symbols that reflect the occasion.
Party favors are a great way to thank your guests for coming and to leave them with a memento of the event. You can choose to purchase ready-made favors or create your own. Some popular party favors include small plants, candles, chocolates, or personalized items such as keychains or bottle openers.
Another way to add a personal touch to your tablescape is by using photos and mementos. For example, you can display pictures of the guest of honor, the host, or even your guests on the table. This adds a personal touch to your tablescape and serves as a great conversation starter. You can also use mementos such as souvenirs from trips, items related to the party theme, or sentimental objects with special meaning.
Creating the perfect party tablescape is all about using your creativity and imagination to set the tone for a memorable celebration. Whether you prefer a classic, elegant look or a more modern, whimsical design, there are countless ways to make your tablescape stand out. Remember, the key to a successful tablescape is to make your guests feel special and welcome, so don't be afraid to let your personality shine through. With these ideas and tips, you can create a tablescape that will impress your guests and make your celebration one to remember. Happy party planning!