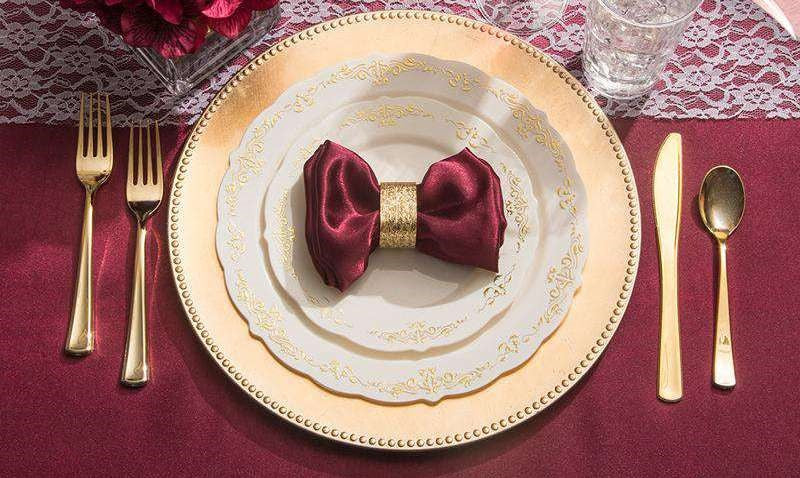 Disposable Dinnerware Delights: Creating Tablescapes for Every Occasion
Are you tired of spending hours washing dishes after hosting a gathering? Do you find it challenging to balance elegance and convenience when setting up your table? Look no further! Disposable dinnerware has emerged as a game-changer in the world of entertainment. Gone are the days when disposable plates were associated with lackluster designs and flimsy materials. Today, disposable dinnerware offers a delightful array of options that simplify your life and elevate your tablescapes to new heights of sophistication. 
Unleashing the Delights of Disposable Dinnerware
In this blog post, we will explore the art of creating stunning tablescapes for every occasion using disposable dinnerware. Say goodbye to the hassle of traditional tableware and embrace disposable dinnerware's convenience without compromising style. Get ready to dazzle your guests and create memorable experiences as we embark on a journey of disposable dinnerware delights.
Creating a Cohesive Look for Indoor and Outdoor Gatherings
Whether hosting an intimate dinner party indoors or throwing a lively barbecue in your backyard, creating a cohesive aesthetic is key to setting the right ambiance. The good news is that disposable party supplies offer a world of possibilities for achieving a unified look, regardless of the setting. Here are some tips and ideas to help you create stunning tablescapes that seamlessly blend indoor and outdoor themes:
Choose a Versatile Color Palette: 

Opt for a color palette that works well indoors and outdoors. Neutral tones such as white, ivory, or earthy shades are excellent choices as they provide a timeless backdrop for any occasion. You can then accentuate the table with pops of color through napkins, centerpieces, or floral arrangements.

Harmonize with Nature: 

For outdoor gatherings, take inspiration from the surrounding natural elements. Incorporate fresh flowers, greenery, or rustic decor to complement the outdoor environment. Bringing a touch of nature indoors for indoor events by using botanical prints, leaf motifs, or even potted plants as table decor.

Consider the Theme: 

Whether it's a formal dinner or a casual brunch, consider the theme of your event and let it guide your choices. Disposable dinnerware comes in various designs and patterns, allowing you to match the theme effortlessly. From elegant floral patterns to sleek contemporary designs, there's something to suit every occasion.

Mix and Match: 

Feel free to mix different styles and textures to create visual interest. Combine different disposable dinnerware sets, charger plates, and cutlery designs to add depth and personality to your table. The beauty of disposable dinnerware is that you can experiment and create unique combinations for each event.

Pay Attention to Details: 

Enhance the overall look by focusing on small details. Coordinate your tablecloth or placemats with the colors and patterns of your disposable dinnerware. Add decorative accents like personalized place cards, ribbons, or themed napkin rings to add a special touch that ties everything together.
Elegant Disposable Dinnerware Sets: Elevating Your Tablescapes
When creating stunning tablescapes, the right dinnerware can make all the difference. Disposable dinnerware sets have transformed remarkably, offering a wide range of elegant options that rival traditional tableware. 
With intricate designs and refined finishes, these sets add a touch of sophistication to any occasion. They cater to various themes and preferences, from delicate patterns to sleek modern styles. Imagine a table adorned with delicate disposable dinner plates embellished with gilded rims or intricately designed dessert plates that add a touch of whimsy to your afternoon tea party. These sets are a feast for the eyes and instantly elevate the visual appeal of your table, leaving your guests impressed and delighted.
Beyond their visual appeal, these sets are made from durable materials, ensuring beauty and practicality. So, say goodbye to post-event cleanup stress and elevate your tablescapes effortlessly with elegant disposable dinnerware sets.
Fancy Plastic Charger Plates: Adding Elegance to Your Table
When it comes to creating a visually stunning table setting, every detail counts. One element that can truly elevate the overall look is the charger plate. 
Charger plates play a vital role in enhancing the overall look of your table setting. While traditionally made of fine china or metal, fancy plastic charger plates now offer a convenient and stylish alternative. These plates mimic the elegance of their traditional counterparts and come in various designs and patterns to suit any occasion. From intricate lacework to metallic finishes, options match every aesthetic preference. By incorporating fancy plastic charger plates, you can effortlessly elevate your tablescapes, impressing your guests with sophistication.
Stylish Plastic Cutlery Sets: Combining Functionality and Beauty
When it comes to creating stunning tablescapes, the role of cutlery should not be underestimated. Stylish and well-chosen cutlery can complement the overall table decor, adding a touch of elegance and completing the visual appeal of your dining experience. 
Modern plastic cutlery sets offer the perfect combination of aesthetics and practicality. With sleek designs, unique shapes, and tasteful finishes, these sets add elegance to any occasion. They come in various colors and designs to suit classic and vibrant themes. Lightweight, durable, and easy to handle, plastic cutlery sets simplify your hosting experience. Choose the perfect set to match your tablescapes and elevate your dining experience effortlessly.
Modern Clear Plastic Tumblers: Showcasing Drinks in Style
When creating stunning tablescapes, beverages are integral to completing the overall aesthetic. While traditional glassware has long been the go-to choice, clear plastic tumblers offer a stylish alternative combining elegance and practicality.
Plastic drinkware is durable, versatile, and exhibits glass-like clarity. With these tumblers, you can present your beverages elegantly and visually appealingly. Garnish drinks with style, create layered delights, add personalized accents, or showcase beautifully crafted ice cubes. The transparency of clear plastic tumblers enhances the overall presentation, making them a perfect choice for any occasion. Elevate your tablescapes and impress your guests with drinks showcased in modern clear plastic tumblers.
Frequently Asked Questions (FAQs)
1. Can disposable dinnerware really look as good as traditional tableware?
Absolutely! Disposable dinnerware has come a long way in terms of design and aesthetics. With advancements in manufacturing techniques, you can find a wide range of options rival traditional tableware's beauty. From elegant patterns and intricate designs to sleek and modern styles, disposable dinnerware sets offer a visually appealing alternative without compromising style.
2. How can I ensure my disposable dinnerware matches my theme or color scheme? 
Disposable dinnerware sets come in various designs, colors, and patterns, making it easier to find options matching your desired theme or color scheme. Consider the overall aesthetic you want to achieve and look for sets that complement it. Whether you're going for a formal and sophisticated look or a vibrant and playful ambiance, disposable dinnerware sets are available to suit your preferences.
3. Can I reuse disposable dinnerware, or is it meant for single use only?
While disposable dinnerware is designed for single-use convenience, some options are durable enough to be reused multiple times. However, it's essential to check the specific product's instructions to ensure it is safe for reuse. Some high-quality disposable dinnerware sets are designed for multiple uses, making them a more sustainable option.
4. Where can I find high-quality disposable dinnerware and accessories? 
Smarty Had A Party is a reputable online store where you can find high-quality disposable dinnerware and accessories. Smarty offers a wide range of stylish and durable products for various occasions. Visit the website at www.smartyhadaparty.com to browse their collection and make a purchase. Smarty's customer service is known for its excellence. 
With disposable dinnerware, you can create stunning tablescapes that leave a lasting impression on your guests. So, bid farewell to the hassle of traditional tableware and embrace the delights of disposable dinnerware for your next occasion. Elevate your hosting experience, impress your guests, and enjoy the convenience of effortless cleanup. Cheers to creating unforgettable moments and dazzling tablescapes with disposable dinnerware!