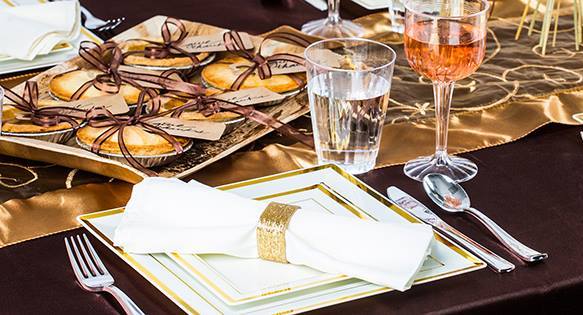 A Symphony of Style: Elegant Thanksgiving Table Settings
As autumn leaves paint a vibrant tapestry outside our windows, the time-honored tradition of Thanksgiving beckons, inviting us to gather with loved ones and express gratitude for the blessings bestowed upon us. At the heart of this celebration lies the communal feast, a momentous occasion that transcends the boundaries of a simple meal. It is a symphony of flavors, emotions, and style.
Setting the Stage: Thanksgiving Table Décor Ideas for a Memorable Celebration
In this blog post, we embark on a journey to elevate your Thanksgiving celebration to new heights through the art of elegant table settings. Beyond the delectable dishes and heartfelt conversations, a thoughtfully arranged table becomes the canvas for unforgettable memories.
Whether you're a seasoned host looking to refresh your Thanksgiving table aesthetic or a first-time host aiming to make a lasting impression, prepare to be inspired. Let's set the stage for a Thanksgiving celebration that will be remembered for its delightful flavors and the symphony of style that graced the table.
Setting the Stage: Thanksgiving Table Décor Ideas
The Centerpiece
As you prepare to host a Thanksgiving feast that transcends the ordinary, create a captivating focal point that sets the tone for your entire table. Enter the centerpiece, a key player in the symphony of style. This year, consider stepping away from traditional arrangements and embracing wheat's rustic allure.
Creating a Symphony with Wheat
With its golden hues and graceful form, Wheat brings a touch of autumnal elegance to your table. Arrange wheat stalks in tall vases or intertwine them with seasonal flowers for a visually striking centerpiece. Consider incorporating small pumpkins or candles for an added layer of warmth. The result? A symphony of style that captures the essence of the harvest season.
Tips for Arranging a Stunning Centerpiece:
Height Variation:

 Play with varying heights to create visual interest. Mix tall wheat stalks with shorter elements for a dynamic arrangement.

Color Palette:

 Harmonize the colors of your centerpiece with the overall theme of your table. Rich browns, deep oranges, and muted greens work well for a Thanksgiving palette.

Natural Elements:

 Embrace the beauty of nature by integrating pinecones, acorns, or even small branches into your centerpiece for a touch of authenticity.
Place Setting
As the heart of your Thanksgiving celebration, the dining table deserves a carefully curated selection of tableware that marries practicality with elegance. Enter Smarty Had A Party, your go-to online store for a dazzling array of disposable party tableware that redefines the art of hosting.
Smarty Had A Party understands that sophistication doesn't have to be sacrificed for convenience. With a vast selection of high-quality disposable tableware, they bring style to your table without the fuss. 
Disposable Party Tableware Options:
Chair Decor
While the table often takes center stage, don't overlook the importance of extending your décor to the chairs. Elevate the dining experience by paying attention to the often-neglected details of chair décor.
The Importance of Chair Decor
Chairs offer an additional canvas to express your creative flair and enhance the overall ambiance of your Thanksgiving gathering. Consider chair décor as the finishing touch that brings cohesiveness to your table setting.
Creative and Elegant Chair Décor Ideas for Thanksgiving:
Festive Fabrics:

 Drape seasonal fabrics, such as rich velvet or autumn-inspired prints, over the backs of chairs to infuse warmth and style.

Floral Adornments:

 Intertwine small bouquets of fall flowers or foliage with ribbons and attach them to the back of each chair for a whimsical touch.

Personalized Accents:

 Add personalized touches like name tags or small, decorative tags tied to the back of each chair to make guests feel special.

Rustic Charm:

 Embrace a rustic aesthetic by incorporating elements like burlap bows or twine around the chair backs for a charming countryside feel.
A Symphony in Detail: Breakdown of Table Setting Components
Coordinated Colors and Themes
As we delve into the intricate details of an elegant Thanksgiving table setting, one of the critical elements to master is the harmonious coordination of colors and themes. Choosing the right palette sets the stage for a visually appealing and cohesive dining experience.
How to Choose Colors and Themes:
Seasonal Inspiration:

 Draw inspiration from the rich hues of autumn. Deep oranges, warm reds, rustic browns, and muted greens evoke the season's spirit.

Metallic Accents:

 Introduce metallic accents like gold or copper for a touch of opulence. These colors complement the warmth of fall and add a refined flair.

Nature's Palette:

 Look to nature for guidance. Incorporate colors found in fall foliage, pumpkins, and other seasonal elements for an authentic and inviting atmosphere.
Examples of Coordinated Color Schemes:
Classic Autumn Elegance:

 Deep burgundy, gold, and ivory create a classic and timeless setting, perfect for a traditional Thanksgiving gathering.

Rustic Harvest:

 Embrace a rustic feel with earthy tones like terracotta, olive green, and mustard yellow. Wooden accents complement this color scheme beautifully.

Modern Chic:

 Opt for a contemporary look by pairing charcoal gray with blush pink and metallic silver. This unexpected combination adds a touch of sophistication to your table.
Layered Table Settings
Layering transforms a table into a visual masterpiece, adding depth and interest to the overall design. You can create a multi-dimensional tableau that captivates your guests by incorporating different textures and materials.
Tips for Creating Depth with Layered Table Settings:
Textured Tablecloths or Runners:

 Start with a textured tablecloth or runner to provide a rich foundation. Consider materials like burlap, linen, or velvet for added depth.

Layered Dinnerware:

 Stack different sizes and shapes of plates to create a visually appealing and dynamic setting. Mix and match patterns or stick to a cohesive theme for balance.

Contrasting Napkins:

 Choose napkins that contrast with your tablecloth or runner for a pop of color. Fold them creatively or use napkin rings to add a touch of sophistication.

Centerpiece Height Variation:

 Extend the layering concept to your centerpiece by incorporating elements of varying heights. This adds visual interest and draws the eye across the table.
The Art of Combining Different Textures and Materials
Metallic Accents:

 Introduce metallic elements through cutlery, chargers, or decorative elements to add a touch of glamour.

Natural Elements:

 Bring the outdoors in with elements like wooden chargers, pinecones, or acorns for a rustic and organic feel.

Glassware Variety:

 Experiment with different glassware textures, such as etched or patterned glasses, to elevate the overall table aesthetic.
Personalized Place Settings
To make each guest feel special, infuse your table setting with personalized touches. DIY place cards and name tags provide an opportunity to add a bespoke element to the dining experience.
DIY Ideas for Personalized Place Cards and Name Tags:
Natural Elegance:

 Write each guest's name on a small leaf or attach a sprig of fresh herbs to their napkin for a natural elegance.

Mini Pumpkin Place Cards:

 Use miniature pumpkins as place card holders. Attach a small tag with each guest's name for a charming and seasonal touch.

Stamped or Calligraphed Tags:

 Create personalized tags using stamps or calligraphy. Tie them to the back of chairs or around napkins with ribbon for an elegant look.

Photo Place Settings:

 Print small photos of each guest and use them as place cards. This adds a sentimental and personal touch to the table.
Additional Resources
As you embark on orchestrating an elegant Thanksgiving table setting, we've curated a collection of additional resources to further inspire and guide you through the process. 
Links to Recommended Products and Stores for Thanksgiving Tableware
Visit Smarty Had A Party for a curated selection of exquisite tableware that effortlessly combines elegance with convenience. Explore their range of disposable party tableware, including plates, trays, bowls, glasses, dinnerware, and more, to elevate your Thanksgiving celebration.
References for Further Inspiration and DIY Tutorials:
Frequently Asked Questions (FAQ)
1. Can I mix and match tableware styles?
Mixing and matching tableware styles can be daunting, but coordination is vital. Use a cohesive color palette, select a primary color, and use it consistently across various pieces. Mixing styles adds visual interest and creates a dynamic and personalized table setting. Don't be afraid to experiment - it's the unexpected combinations that often result in stunning setups.
2. Where can I find affordable yet elegant tableware?
Hosting an elegant Thanksgiving gathering doesn't have to break the bank. Smarty Had A Party, an online store dedicated to providing high-quality disposable party tableware, is a treasure trove for those seeking both affordability and sophistication. From plastic plates that exude opulence to eco-friendly palm leaf dinnerware that reflects your commitment to the environment, Smarty Had A Party offers diverse options that allow you to set a stylish table without compromising your budget.
3. What are some time-saving tips for table decorations?
Save time while setting your Thanksgiving table! Use a statement centerpiece, like a cluster of candles or seasonal fruits, and ready-made decor items, such as garlands or bows for chairs. Remember, simplicity is often the most elegant choice.
4. Are disposable tableware options stylish enough for Thanksgiving?
Disposable tableware no longer means sacrificing style. Smarty Had A Party offers a wide range of elegant options. These options are not only visually appealing, but they also make cleaning up a breeze, so you can focus on enjoying your event without worrying about the aftermath.
Here's to a Thanksgiving that is not only a feast for the senses but a timeless celebration of togetherness and the art of gracious living. Cheers to your symphony of style!