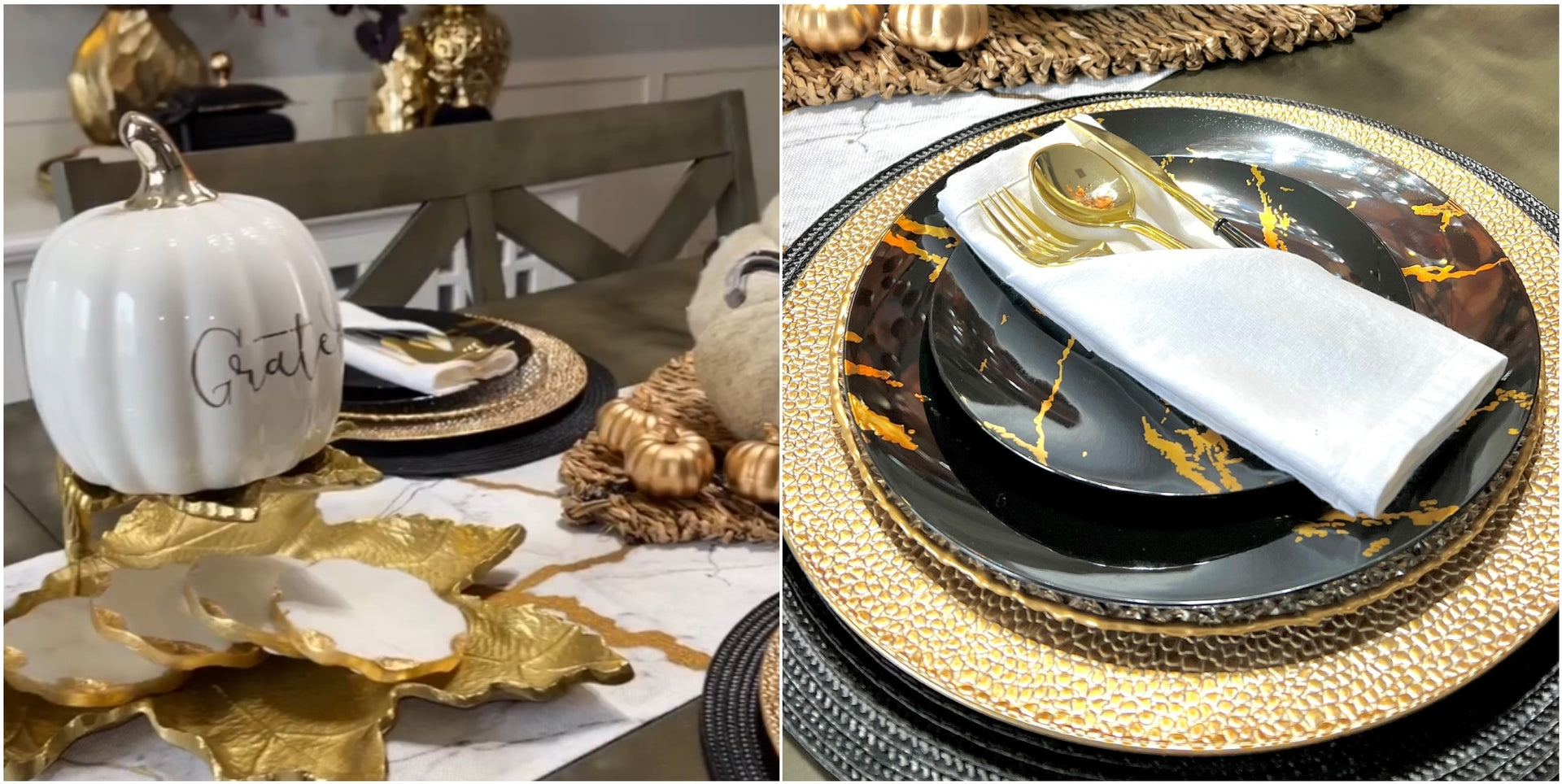 Setting the Stage: Elegant and Easy Thanksgiving Table Decor
As the autumn leaves blanket the ground and a crisp breeze fills the air, the season of gratitude is upon us. Thanksgiving is not just a time for indulging in a feast of delectable dishes; it's a moment to gather with loved ones, share stories, and create lasting memories. One of the keys to elevating this cherished celebration lies in the artful presentation of your Thanksgiving table.
Autumn Elegance: Chic and Stylish Thanksgiving Table Decor
In this guide, we embark on a journey to curate an atmosphere that seamlessly blends elegance with simplicity, ensuring your Thanksgiving table becomes a canvas for warmth and style.
So, let's dive into the world of autumnal sophistication, where each detail is meticulously chosen to delight the eyes and make your Thanksgiving gathering a truly memorable event. 
Autumn Elegance: Creating a Chic and Stylish Thanksgiving Table
The Perfect Centerpiece: A Focal Point of Autumn Opulence
When setting an exquisite Thanksgiving table, the centerpiece takes center stage. Serving as the visual anchor of your dining experience, the centerpiece can transform the entire ambiance. Picture this: a masterpiece that captures the essence of fall's vibrant palette and adds a touch of sophistication to your table.
Gorgeous Autumn-Inspired Flowers: A Symphony of Colors and Textures
Embrace the season's richness with a carefully curated selection of autumn-inspired flowers. Think deep reds, burnt oranges, and golden yellows. Roses, dahlias, and sunflowers can be woven together to create a floral tapestry that not only mesmerizes but also radiates the warmth of fall. Experiment with different textures to add depth and interest to your arrangement.
Elegant Tall Vases: Elevating the Drama
Choose tall vases that gracefully showcase your autumn blooms to elevate the drama and draw your eyes upward. Consider transparent or metallic finishes to complement the overall theme. The height of these vases not only adds a touch of grandeur but also allows guests to enjoy unobstructed views across the table.
Pumpkins in Various Sizes: Whimsical Seasonal Touch
No Thanksgiving table is complete without the quintessential pumpkin, but why stop at just one? Play with the sizes and colors of pumpkins for a whimsical and eclectic look. Arrange them around the base of your floral centerpiece or scatter them organically across the table. This playful addition brings a delightful seasonal charm to your setup.
Decorative Placemats and Big Leaf-Shaped Bowls: Coordinated Elegance
Extend the elegance beyond the centerpiece with thoughtfully chosen decorative placemats. Whether for subtle patterns or bold designs, these mats provide a stylish backdrop for your dinnerware. Take it a step further with big leaf-shaped bowls that not only serve as functional tableware but also contribute to the table's overall charm, mimicking the season's beauty.
Smarty Had A Party: Stylish Plastic Party Supplies
When it comes to hosting a Thanksgiving gathering that seamlessly marries elegance with ease, the choice of tableware plays a pivotal role. Enter Smarty Had A Party – your ally in achieving a chic and stress-free table setting. Let's explore the elements from Smarty Had A Party's collection that effortlessly elevate your Thanksgiving table decor.
Charger Plates: The Foundation of Table Elegance
Charger plates, often underestimated, are the unsung heroes of a well-dressed table. These decorative plates serve as the foundation upon which your entire table setting rests, adding a layer of sophistication and dimension. In our quest for elegance without fuss, Smarty Had A Party offers a range of stylish and durable charger plates. These pieces protect your table and serve as a canvas for the visual symphony unfolding above.
Modern Plastic Dinnerware Sets: Beauty Meets Practicality
Bid farewell to the notion that elegance requires fragility. Smarty Had A Party presents a stunning array of modern plastic dinnerware sets that effortlessly bridge the gap between beauty and practicality. Say goodbye to the chore of washing delicate dishes and embrace the convenience of high-quality plastic. The available dinner and salad plate sets boast intricate designs and textures, ensuring your tableware is a feast for the eyes.
Gold Plastic Cutlery in White Pocket Napkin Set: A Touch of Opulence
For those who believe every detail matters, the gold plastic cutlery set from Smarty Had A Party is a game-changer. Elevate your table setting with the opulence of gold without compromising on convenience. Paired with a white pocket napkin set, this combination adds a touch of sophistication and ensures a polished look that speaks volumes about your hosting prowess.
Plastic Drinkware: Sip with Style and Ease
As conversations flow and glasses clink, the choice of drinkware becomes paramount. Smarty Had A Party recognizes the advantages of using plastic in this domain. Not only is it practical and durable, but it also doesn't skimp on style. Explore the elegant plastic drinkware options to ensure every sip is accompanied by a touch of refinement.
Adding Personal Touches: DIY Thanksgiving Decor Crafts
In creating an unforgettable Thanksgiving table, infusing personal touches is the key to turning a meal into a cherished experience. The magic lies in the details, and what better way to achieve this than through do-it-yourself (DIY) Thanksgiving decor crafts? Let's explore three delightful ideas to add a unique and heartfelt touch to your table setting.
Handmade Place Cards: A Personal Welcome for Each Guest
Give your guests a warm and personalized welcome with handmade place cards. The possibilities are endless, but consider incorporating natural elements for a touch of rustic charm. Collect leaves in various shapes and sizes, and write the names of your guests using calligraphy or printed labels. Attach the labels to the leaves with twine or raffia for a simple yet stunning place card that reflects the season's beauty.
Customized Napkin Rings: Adding Elegance, One Ring at a Time
Napkin rings are not just practical; they're an opportunity to add a dash of creativity to your table decor. For a Thanksgiving theme, consider crafting DIY napkin rings using elements that echo the season. Cinnamon sticks tied with twine create a fragrant and visually appealing ring. Alternatively, small decorative items like miniature pumpkins or acorns can be affixed to simple napkin rings, transforming them into charming accents that tie the entire table together.
Family Recipe Cards as Decor: A Feast for the Palate and the Eyes
Take a stroll down memory lane and celebrate your family's culinary traditions by incorporating family recipe cards into your table decor. Create stylish cards featuring cherished recipes, either handwritten or printed. Place these cards strategically on the table, perhaps at each setting or as a part of the centerpiece. Not only does this add a personal touch, but it also sparks conversations about family traditions and encourages guests to share their own favorite Thanksgiving recipes.
Tips for Effortless Table Cleanup and Storage
As the last notes of laughter fade and the echoes of gratitude linger, cleaning up after a Thanksgiving feast can be daunting. Fear not! We have curated practical tips to ensure the post-celebration cleanup is as effortless as your planned Thanksgiving table decor.
Disposable Table Coverings: A Cleanup Game-Changer
Bid farewell to the days of laborious scrubbing and washing linens. Opting for disposable table coverings is a strategic move that simplifies cleanup and offers a range of benefits. These coverings come in various colors and patterns, adding an extra layer of style to your table. Plus, when the feasting is done, simply gather the disposable coverings and revel in the ease of a swift and stress-free cleanup.
Easy Cleanup Options for Post-Celebration Convenience
The advantages of disposable table coverings extend beyond the environmental benefits. After an indulgent Thanksgiving feast, the last thing you want to worry about is stubborn stains on your tablecloth. Disposable coverings eliminate this concern, allowing you to focus on the joy of the celebration rather than the impending cleanup. You can bid farewell to post-dinner cleanup stress with a simple gather-and-toss approach.
Organized Storage Solutions: Preserving the Beauty for Future Celebrations
Efficient storage is the unsung hero of a well-prepared host or hostess. As you dismantle the remnants of your Thanksgiving table decor, consider implementing a system for organized storage. Group similar items together, such as charger plates, napkin rings, and decorative elements, and pack them in labeled containers. This streamlines the process of setting up for future gatherings and ensures that each item remains pristine, ready to grace your table with elegance once more.
Suggested Storage Containers: Keep Your Treasures Safe
Investing in the proper storage containers is the final step in preserving the beauty of your Thanksgiving table decor. Choose containers that are sturdy, stackable, and transparent. This way, you can quickly identify the contents of each container without the need to open it. Consider specialized storage options for delicate items, ensuring your cherished decor pieces are safeguarded until the next celebration.
Frequently Asked Questions (FAQ)
1. Can I create an elegant Thanksgiving table on a budget?
Absolutely! Elevating your Thanksgiving table doesn't have to break the bank. Embrace the beauty of simplicity by incorporating natural elements like leaves, pinecones, or affordable seasonal flowers. DIY projects like handmade place cards or napkin rings add a personalized touch without straining your budget. 
2. Are Smarty Had A Party's plastic party supplies durable?
Certainly, Smarty Had A Party is dedicated to providing plastic party supplies that not only boast elegance but are also built to withstand the demands of your celebration. These products are designed with style and durability, from charger plates to drinkware glasses. 
3. How can I adapt the decor for a smaller or larger table?
For a smaller table, choose petite centerpieces, embrace minimalism, and opt for compact place settings. Conversely, go for substantial centerpieces on a larger table, create decorative groupings, and play with varying heights to fill the visual space. Maintain balance, consider proportions, and adapt color schemes for both settings.
4. Can I mix and match Smarty's plastic dinnerware sets?
Certainly! Mixing and matching different sets of Smarty Had A Party's plastic dinnerware is a fantastic way to infuse creativity into your table setting. The curated designs and colors create a harmonious blend that enhances the overall aesthetic. 
May your Thanksgiving be a celebration of gratitude, elegance, and the simple joys found in the company of loved ones. Happy hosting!