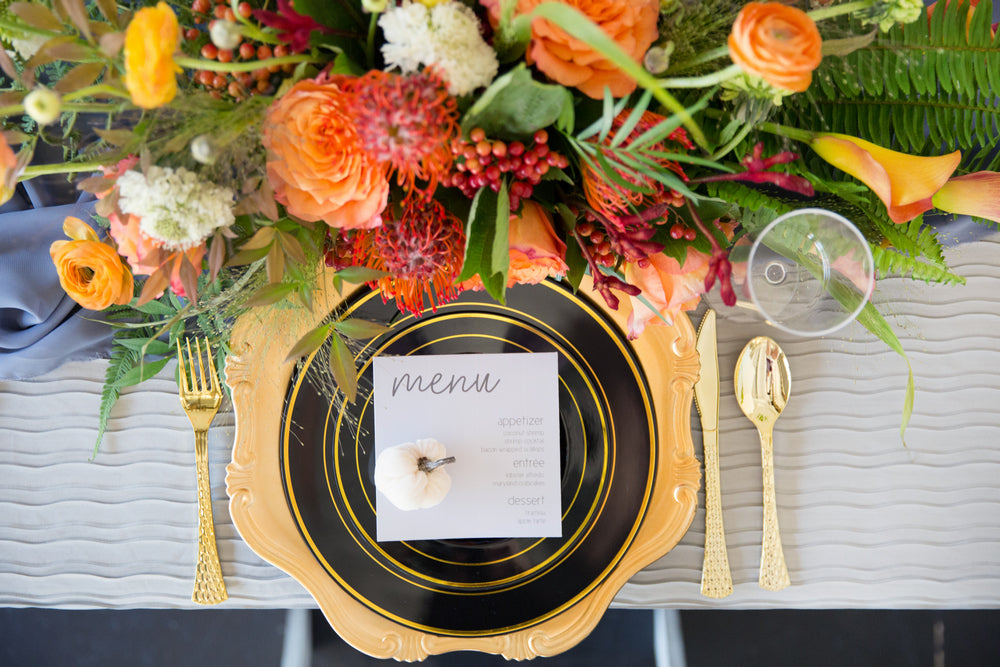 Tablescapes of Fall: Tips and Tricks for an Absolutely Gorgeous Tablescape
As the crisp autumn breeze sweeps through, it brings not only a change in the weather but also an opportunity to transform our homes into warm and inviting spaces. One of the most delightful ways to usher in the beauty of fall is by crafting a table setting that reflects the season's rich colors and cozy ambiance. In our latest blog post, we invite you on a journey of aesthetic delight and practical elegance.
Falling for Beauty: Decorating Ideas for an Exquisite Autumn Table Setting
Whether preparing for a festive Thanksgiving feast, an intimate autumn wedding, or a family gathering, these tips and tricks will guide you through curating a table that embodies the essence of fall.
Embark on this journey with us and discover the secrets to an absolutely gorgeous fall table setting that not only celebrates the season but also elevates your hosting prowess. Let's embrace the warmth, colors, and charm of fall, one carefully curated tablescape at a time.
Setting the Stage with Silk
Silk Tablecloths and Table Runners
Embrace the opulence of fall by introducing silk into your table decor. Silk tablecloths and runners boast a sumptuous sheen that enhances the overall ambiance, creating an inviting space for your guests. The smooth, flowing nature of silk adds a touch of sophistication, transforming an ordinary dining area into a haven of elegance.
Advantages of Using Silk for a Luxurious Look
What sets silk apart in the realm of tablescapes is its innate ability to exude luxury effortlessly. The natural luster of silk catches the light like no other fabric can, casting a soft glow across the table. Beyond its visual appeal, silk also offers a delightful tactile experience, inviting guests to run their fingers across its smooth surface. As a versatile fabric, silk complements various decor styles, from classic to contemporary, making it a timeless choice for fall-inspired table settings.
Tips on Selecting the Right Colors and Textures
Choosing the perfect silk tablecloth or runner involves thoughtful consideration of colors and textures that harmonize with the autumn season. Earthy tones such as deep reds, rich browns, and muted golds evoke the warmth of fall, while subtle textures like jacquard or embroidered silk add depth and interest to the table. Consider the overall theme of your event and the color palette you wish to highlight, ensuring that the silk elements seamlessly integrate into the visual narrative of your fall tablescape.
Blooms of Autumn: Creating a Vibrant Flower Centerpiece
Importance of a Stunning Centerpiece
A well-crafted centerpiece is the pièce de résistance of any table setting, and in fall, it takes on added significance. Beyond its aesthetic appeal, a stunning centerpiece sets the tone for the dining experience. It draws the eye, sparks conversation, and anchors the theme of your fall tablescape. From intimate gatherings to grand celebrations, the centerpiece is a captivating focal point that captures the season's essence.
Flower Options in Shades of Orange, Burgundy, and Yellow
Embrace the autumn palette with flowers in rich and warm hues. Opt for blossoms that mirror the changing leaves, such as deep oranges, velvety burgundies, and sun-kissed yellows. Sunflowers, dahlias, and roses are excellent choices, each contributing to the vibrant tapestry of fall. By incorporating these seasonal blooms, you infuse your table setting with the natural beauty of the outdoors, creating a connection between the indoors and the changing landscape.
Arrangement Tips for a Visually Appealing Centerpiece
Crafting a visually appealing centerpiece requires a thoughtful approach to arrangement. Begin by selecting a container that complements your table's aesthetic—consider rustic wooden boxes for a farmhouse feel or elegant glass vases for a more refined touch. Create depth by varying the heights of your flowers, allowing the centerpiece to cascade organically across the table. Intersperse the blooms with autumn foliage, such as eucalyptus or maple leaves, to add texture and a touch of seasonal authenticity.
Elegant Disposable Dinnerware: A Practical Touch
Disposable Charger Plates
Setting the stage for a luxurious dining experience, disposable charger plates add a touch of opulence without the hassle of cleanup. These stylish underplates create a sophisticated base for each place setting, enhancing the visual appeal of your fall tablescape. With various materials and finishes available, from metallic accents to textured designs, disposable charger plates provide an affordable yet chic solution for elevating your table decor.
Benefits of Using Plastic Dinnerware Sets
Gone are the days when elegance was synonymous with porcelain or glass. Modern plastic dinnerware sets offer a sleek and polished appearance without compromising convenience. Lightweight and durable, these sets are perfect for fall gatherings, striking the ideal balance between aesthetics and practicality. The wide array of available designs ensures that you can find a set that complements your chosen theme, whether rustic, contemporary, or traditional.
Choosing Disposable Silverware and Plastic Wine Glasses for Convenience
Extend the ease of your fall table setting by incorporating disposable silverware and plastic wine glasses. The advancements in design and manufacturing make it challenging to distinguish between disposable and traditional alternatives. Opt for silverware sets with metallic finishes for a touch of sophistication, and choose plastic wine glasses that mimic the clarity and sparkle of glass. The beauty of these disposable elements lies not just in their appearance but also in the hassle-free cleanup they offer, allowing you to focus on enjoying the company of your guests.
Personal Touch: Menu Cards and Pumpkins
Incorporating Menu Cards for a Sophisticated Touch
Elevate your fall dining experience by introducing menu cards to each place setting. Not only do they add a touch of refinement, they also serve as conversation starters and provide a preview of the culinary delights to come. Choose elegant cardstock or incorporate them into your existing theme with creative designs that echo the colors and motifs of the season. Whether handwritten or professionally printed, menu cards give a sense of occasion and thoughtful consideration.
Adding Mini Pumpkins as Decorative Elements
Celebrate the whimsy of fall by incorporating mini pumpkins into your table decor. These charming gourds are versatile and can be used in various ways—clustered at the center of the table, nestled among the flowers in the centerpiece, or individually placed at each setting. Choose pumpkins in a mix of sizes and colors, from deep oranges to muted whites, to add dimension and a touch of autumnal playfulness to your table setting.
Tips on Placement for a Cohesive Look
Achieving a cohesive look with menu cards and mini pumpkins involves strategic placement that complements the overall design. Position menu cards atop charger plates or beside each napkin for a polished appearance. When incorporating mini pumpkins, consider the balance of the table—avoid overcrowding and ensure that the placement enhances rather than distracts from the surrounding elements. A well-thought-out arrangement creates a harmonious tableau that captivates the eye without overwhelming the senses.
Occasions Worthy of Fall Tablescapes
Thanksgiving Feasts
Create a breathtaking fall tablescape for Thanksgiving. Use traditional autumn colors like orange, burgundy, and gold. Add high-quality elements like silk tablecloths, a beautiful flower centerpiece, and elegant disposable dinnerware. Make your table setting a visual representation of the warmth and abundance of the season.
Autumn Weddings and Receptions
Fall weddings offer a chance to showcase the enchanting side of the season. Decorate with silk, flowers, and elegant dinnerware. Customize the colors to match your theme. Add personal touches like mini pumpkins or themed menus for a magical reception.
Cozy Family Gatherings
For small gatherings, a fall tablescape creates warmth and charm. Mix textures and colors and add sentimental elements like heirlooms for togetherness. Fall creates a cozy atmosphere for heartfelt moments with loved ones.
Frequently Asked Questions (FAQs)
1. Where to buy elegant plastic partyware?
Discover a treasure trove of elegant plastic partyware at the Smarty Had A Party online store. Renowned for its curated selection of sophisticated disposable dinnerware, charger plates, silverware, and more, Smarty Had A Party is your go-to destination for combining convenience with style. Explore a range of options to elevate your fall table setting without the hassle of cleanup.
2. What are some tips for preserving flower centerpieces?
To keep your flower centerpiece fresh, trim the stems at an angle before placing them in water. Change the water every two days and remove submerged leaves to prevent bacterial growth. Keep the arrangement away from direct sunlight and drafts. Spritz the flowers with water daily and add floral preservatives in the water to extend their lifespan.
3. What are some creative ways to use mini pumpkins in decor?
Mini pumpkins are versatile! Scatter them on the table, use them as placeholders, or carve them out for tea-light candles. Paint or gild them in metallic hues for a rustic touch. Stack them in decorative bowls or weave them into the flower arrangement. Infuse your fall tablescape with a personalized touch!
4. How do you mix and match colors for a cohesive look?
To create a cohesive color scheme, balance warm tones and choose a dominant color with complementary accents. For fall, use earthy tones as a base and add pops of vibrant colors. Soften the palette with neutrals like cream or beige. Ensure consistency in various elements, from the tablecloth to menu cards. Strive for harmony among diverse tones.
May your fall table be not just a setting for meals but a stage for memories, a reflection of the season's abundance, and an expression of your unique style. Happy tablescaping!