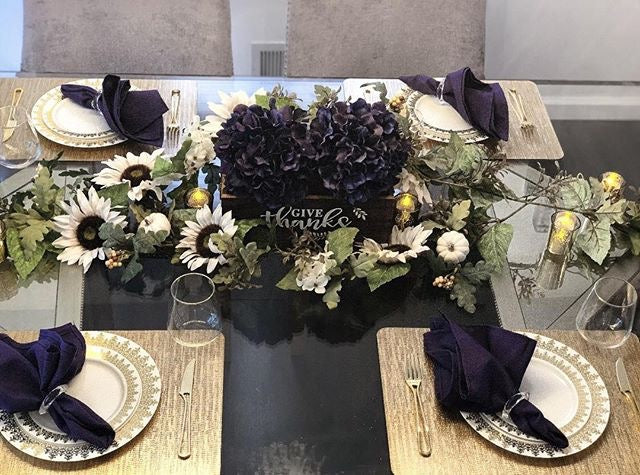 Table Talk: Ideas for a Simply Fabulous Thanksgiving Feast
As the crisp autumn breeze settles in and leaves transform into a vibrant tapestry of reds and gold, the season of gratitude is upon us. Thanksgiving is a time for cherished traditions and gathering with loved ones around a table adorned with warmth and elegance. In this blog post, we invite you to create a Thanksgiving feast that goes beyond the delectable dishes. We're diving into the art of tablescaping, exploring ideas to turn your dining space into a haven of sophistication and charm.
Elegance in Abundance: Thanksgiving Table Decor Ideas
Let the Table Talk begin! Join us in crafting a Thanksgiving feast that not only delights the palate but leaves a lasting impression on the eyes and hearts of your guests. Whether you're a seasoned host or a first-time entertainer, our ideas for a simply fabulous Thanksgiving feast are here to elevate your celebration to new heights.
Elegance in Abundance: Thanksgiving Table Decor Ideas
Wooden Box of Thanks
As the heart of your Thanksgiving table, the centerpiece should radiate gratitude and set the tone for the feast. Picture a charming wooden box proudly displaying a heartfelt "Give Thanks" sign. This rustic centerpiece captures the essence of the season and invites warmth and appreciation.
Floral Delight: Elevate the wooden box by filling it with an array of vibrant flowers. Think rich reds, oranges, and golds, mirroring the hues of autumn. The juxtaposition of the wooden textures and the softness of the blooms creates a visually captivating centerpiece.
Rustic Warmth: Beyond aesthetics, the wooden box adds rustic warmth to your table. Its earthy tones and natural textures bridge the gap between the grandeur of a Thanksgiving feast and the simplicity of the harvest season.
Floral Extravaganza
The magic doesn't stop with the centerpiece; let's spread the enchantment across the entire table. 
Scattered Splendor: Break away from tradition by scattering flowers along the length of the table. This adds a touch of luxury and creates a sense of abundance, mirroring the cornucopia of blessings we celebrate during Thanksgiving.
Harmony of Elements: Intertwine the flowers with seasonal elements like miniature pumpkins, vibrant leaves, and strategically placed candles. Combining these elements forms a harmonious tableau, each piece contributing to the visual symphony.
Creativity Unleashed: Encourage your inner artist by experimenting with diverse floral arrangements. Consider varying heights and textures, allowing creativity to flourish. Let your unique style shine through whether you opt for a single long garland or multiple smaller arrangements.
Place Setting Perfection
Chic Placemats
The foundation of an exquisite table setting lies in the details, and chic placemats serve as the canvas for your Thanksgiving feast masterpiece. Beyond mere practicality, these placemats contribute a touch of sophistication and structure to each place setting.
Elegance Unveiled

:

 Consider placemats crafted from luxurious materials such as linen, burlap, or intricately woven fabric. These choices add a layer of elegance and provide a tactile and visual richness that elevates the overall aesthetic.

Versatility in Style

: 

Placemats come in various shapes, sizes, and styles. The possibilities are endless, from classic rectangular mats to round options and even stylish asymmetrical designs. This flexibility allows hosts to tailor the table to match different aesthetics and preferences.
Elegant Plastic Dinnerware Set
In pursuing a fabulous Thanksgiving feast, choosing dinnerware plays a pivotal role. So, select the convenience and style of a high-quality plastic dinnerware set.
Convenience Meets Style

: 

Plastic dinnerware provides practicality, especially for large gatherings where ease of use and cleanup are paramount. The evolution of plastic dinnerware brings modern designs that effortlessly mimic the elegance of traditional china.

Design Variety

:

 A broad range of designs are available in plastic dinnerware sets. From intricate patterns to minimalist elegance, these sets can be tailored to suit any theme or color scheme. Emphasize that opting for plastic doesn't mean compromising on a sophisticated look.
Plastic Silverware
Explore the realm of practicality and elegance with the use of plastic silverware. These utensils can be indistinguishable from their metal counterparts while offering the added benefit of being eco-friendly.
Practical Elegance

:

 The sleek and polished appearance of disposable silverware adds a touch of elegance to any place setting. It can seamlessly integrate with various table settings, maintaining a sense of refinement.

Sustainability Matters

:

 Opting for recyclable plastic silverware options contributes to a sustainable and environmentally conscious Thanksgiving celebration.
Plastic Stemless Wine Glasses
As the clinking of glasses resonates through the air, add a touch of sophistication with plastic stemless wine glasses. These enhance the visual appeal and offer practical advantages for a stress-free gathering.
Sophistication Sans Fragility

: 

Plastic wine glasses provide a chic and shatterproof alternative to glass. They are ideal for a relaxed yet refined dining experience.

Safety and Cleanup

: 

Plastic wine glasses provide safety benefits and easy cleanup. Especially amid lively conversations and toasts, the durability of plastic ensures a worry-free celebration.
Party Napkins and Napkin Rings
Delve into the world of creative expression with party napkins, an often underestimated but impactful table decor element. Explore various options that complement the Thanksgiving theme, and remember the napkin rings to tie the entire setting together.
Napkin Elegance

: 

Explore creative options for party napkins at the 

Smarty Had A Party online store

, from traditional linen to thematic prints that echo the spirit of Thanksgiving. A well-chosen napkin can add a pop of color and texture to each place setting.

The Finishing Touch:

 Napkin rings are the finishing touch to the table setting. Choose creative and thematic options that enhance the visual appeal and cohesiveness of the Thanksgiving theme.
Dazzling Additional Decor Ideas
Festive Table Runners
As the foundation for your Thanksgiving feast tableau, the table runner is a powerful design element that can transform the entire aesthetic of your dining space. 
A Tapestry of Elegance

: 

A well-chosen table runner can act as a visual tapestry, tying together disparate elements and setting the stage for a feast. Choose patterns inspired by autumn foliage, gingham prints, or even subtle metallic accents for a touch of glamour.

Textures and Layers

: 

Consider runners made from rich fabrics like velvet or incorporating natural materials such as burlap for a tactile experience. Layering textures can add depth and visual interest to the table.
Seasonal Candle Holders
Let the warm glow of candles add an extra layer of enchantment to your Thanksgiving table. Choose unique candle holders that evoke autumn's spirit, bringing illumination and ambiance to your feast.
Autumnal Accents

: 

Explore candle holders shaped like pumpkins, acorns, or leaves, capturing the season's essence. These small yet impactful details can infuse the dining space with a cozy, autumnal atmosphere.

Scented Sensations

: 

Take the sensory experience to the next level with aromatic candles. Use fragrances like cinnamon, vanilla, or pumpkin spice to evoke the comforting aromas of fall. Scent can enhance the overall ambiance of the Thanksgiving feast.
Mini Pumpkin Place Cards
Personalize each guest's experience with a delightful DIY idea – mini pumpkin place cards. 
DIY Delight

:

 Turn miniature pumpkins into personalized place cards. Whether hand-lettering each guest's name or attaching a beautifully designed tag, this DIY project offers creative freedom.

Charming Keepsakes

: 

These mini pumpkin place cards can leave a lasting impression. Guests can take them home as adorable keepsakes, a reminder of the warmth and thoughtfulness that defined your Thanksgiving celebration.
Deliciously Decorative Dining
Festive Food Presentation
As we embark on the culinary journey of Thanksgiving, let's not overlook the presentation of our delectable creations. Embrace your inner food artist and explore creative ways to showcase Thanksgiving dishes. This goes beyond taste – it's about turning the dining table into a feast for the eyes.
Beyond Ordinary Plating

: 

Think outside the traditional plating box. Using 

decorative disposable platters and serving trays

 can elevate the visual appeal of each dish. Explore different materials, from classic plastic to rustic palm leaf trays, to match the overall theme.

Layering and Height

: 

Explore the concept of layering and height in food presentation. Place dishes on various levels using tiered serving stands or stacked crates to add dimension to the table. This showcases the variety of dishes and creates a dynamic and visually engaging spread.
Edible Centerpieces
Take the concept of centerpieces to a new level by introducing the delightful idea of edible centerpieces. Incorporate elements that are not only visually striking but also deliciously functional.
A Feast for the Senses

:

 Choose fruit or bread baskets as both functional and decorative additions to the table. The aroma of freshly baked bread or the vibrant colors of seasonal fruits enhance the ambiance and contribute to the overall sensory delight.

Fruitful Beauty

: 

Consider fruit baskets as centerpieces, combining the aesthetic appeal of colorful fruits with their practicality as palate cleansers between courses. A well-arranged fruit display can evoke a bountiful harvest, echoing the spirit of Thanksgiving.

Bread Baskets as Art

: 

Explore the idea of using bread baskets as edible art. Whether filled with freshly baked rolls or artisanal loaves, these baskets add a rustic charm to the table. Guests can enjoy the visual beauty of the bread before indulging in its deliciousness.
Frequently Asked Questions (FAQ)
1. Where to buy fancy party tableware?
Hosting a fabulous Thanksgiving feast requires the perfect tableware, and Smarty Had A Party is your go-to solution. Smarty Had A Party is a premier online store specializing in fancy tableware. Shopping online is incredibly convenient, enabling you to curate the perfect table setting from the comfort of your home. Smarty offers various options, ensuring that every host can find the ideal pieces to elevate their Thanksgiving table.
2. How do you mix and match different decor elements?
Creating a cohesive and visually appealing table involves the art of mixing and matching decor elements. One of the most important factors is to balance colors, textures, and patterns. It's also important to experiment with different materials while keeping a common theme. 
3. What size centerpiece is suitable for different table shapes?
Choosing the right-sized centerpiece is crucial for achieving a balanced and proportional table decor. Select an appropriate centerpiece based on the table shape. Consider the visual impact of different sizes and shapes of centerpieces on round, rectangular, or oval tables. Understanding the relationship between the centerpiece and table shape ensures that the focal point enhances rather than overwhelms the dining space.
4. How do you incorporate DIY elements into Thanksgiving table decor?
Personalize your Thanksgiving table with the charm of DIY elements. Infuse your creativity into the decor by adding a personal touch. Some easy and budget-friendly DIY decorations include handmade place cards, napkin rings, or even simple centerpieces. 
Let this Thanksgiving be more than a feast for the senses; let it be a celebration of gratitude, creativity, and togetherness. May your table talk echo with the laughter of loved ones and the warmth of shared moments. Here's to a Thanksgiving feast that is not only simply fabulous but also uniquely yours. Happy Thanksgiving!