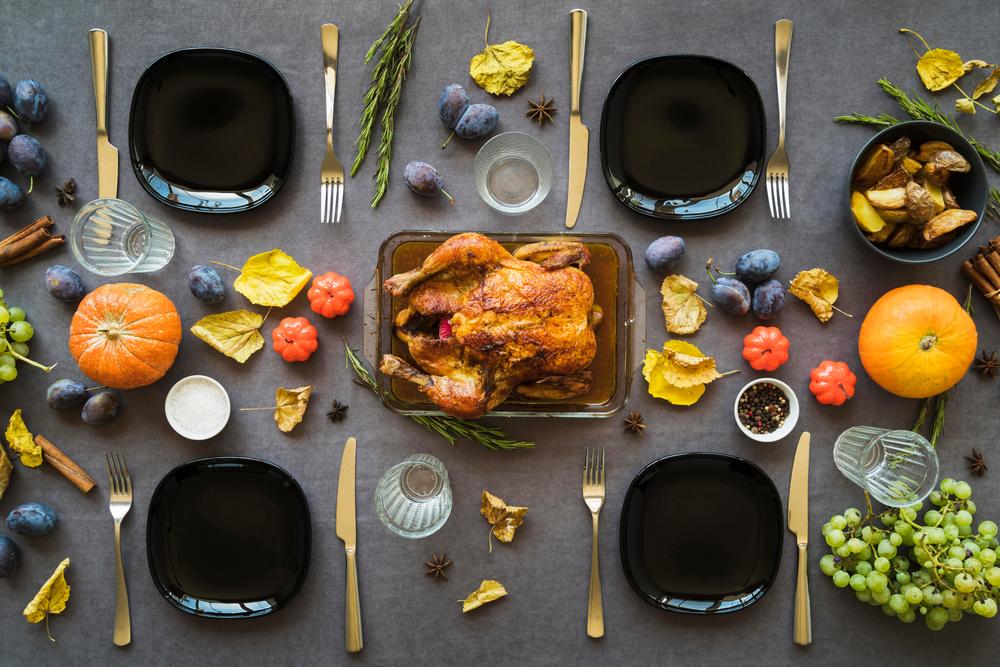 Feast Mode: Elevate Your Thanksgiving Dinner Game with These Tips
As the air crisps with the arrival of fall, our hearts and kitchens prepare for Thanksgiving's grandeur. A celebration of gratitude and togetherness, Thanksgiving invites us to partake in the art of feasting. It's a time to savor the delectable flavors of carefully crafted dishes and the warmth of shared moments around the dinner table.
Thanksgiving Mastery: How to Prepare a Dinner That Wows
This guide goes beyond the traditional turkey and stuffing, delving into the intricacies that transform a meal into a feast, a gathering into a memory. Join us on a journey to master the Thanksgiving feast, where each dish tells a story, and every detail contributes to creating lasting memories. Feast Mode: Engage!
Setting the Stage: The Foundation of a Great Thanksgiving Dinner
The anticipation of Thanksgiving begins long before the first slice of turkey graces the dinner table. It starts with thoughtful planning and consideration, laying the foundation for a feast that will linger in the hearts of your guests. 
Planning Ahead: Menu Selection and Dietary Considerations
Create a memorable Thanksgiving dinner with a thoughtfully crafted menu that blends tradition and innovation. Include classics like roasted turkey, mashed potatoes, and stuffing, and unique side dishes catering to diverse tastes. Plan ahead to accommodate dietary preferences, whether your guests are vegetarian, vegan, or gluten-free. You can ensure everyone at your table enjoys Thanksgiving without compromise by inquiring about their restrictions or preferences.
Importance of Creating a Welcoming Ambiance
Go beyond the food to shape a warm Thanksgiving experience. Transform your dining space with autumnal decor—earthy tones, seasonal centerpieces, and soft lighting. Details like table linens and dinnerware enhance the aesthetic, allowing your style to create a cozy and inviting atmosphere. Make your guests feel embraced by the spirit of the occasion in a haven of comfort and celebration.
Feast Mode Activated: Culinary Tips for Thanksgiving Mastery
With the foundation set, it's time to dive into the heart of Thanksgiving mastery— the culinary delights that will leave your guests in awe. 
Cooking Techniques for a Succulent Turkey
The centerpiece of any Thanksgiving dinner, the turkey, deserves special attention. To achieve a succulent and flavorful masterpiece, consider brining the turkey before roasting. A simple mixture of salt, sugar, and aromatics can work wonders, infusing the meat with moisture and enhancing its natural taste.
Roasting at a moderate temperature ensures even cooking, with the bird emerging from the oven golden brown and juicy. Remember to baste periodically to add an extra layer of flavor and keep the meat tender. For those seeking an adventurous twist, consider alternative cooking methods like deep-frying or smoking for a unique, mouthwatering experience.
Creative Side Dishes to Elevate the Feast
While the turkey claims the spotlight, memorable side dishes elevate the feast. Move beyond traditional mashed potatoes and stuffing and experiment with creative alternatives. Consider a roasted butternut squash risotto, Brussels sprouts with bacon and maple glaze, or sweet potato gratin for a delightful twist on classic favorites.
Explore the bounty of fall produce, infusing your sides with seasonal flavors. Combining textures and tastes will add depth to your Thanksgiving spread, ensuring each dish complements the others harmoniously.
Dessert Delights: Pies, Tarts, and Other Sweet Treats
No Thanksgiving feast is complete without a sweet finale. While the classic pumpkin pie is remarkable, consider expanding your dessert offerings with pies, tarts, and other indulgent treats. Experiment with flavors like pecan, apple-cranberry, or even a decadent chocolate tart to surprise and delight your guests.
For a personalized touch, set up a dessert station with an assortment of miniature treats, allowing guests to sample a bit of everything. Consider pairing desserts with coffee or dessert wines to round off the meal on a sweet note.
Smarty Had A Party's Disposable Partyware: Elevating Convenience and Elegance
As you embark on the journey to create the perfect Thanksgiving feast, one crucial element often overlooked is the presentation. Enter Smarty Had A Party, a game-changer in the world of disposable partyware, seamlessly combining style and practicality to elevate your dining experience.
Plastic Servingware: Stylish and Practical Options
Say goodbye to the days when disposable meant sacrificing elegance. Smarty Had A Party brings sophistication to convenience with its range of plastic servingware. These are not your typical flimsy options; instead, they are crafted to enhance the visual appeal of your table while maintaining the ease of disposable items.
Smarty's plastic serving ware includes a variety of trays, bowls, and serving flatware that serve their functional purpose and add a touch of flair to your presentation. From sleek modern designs to classic and timeless pieces, there's an option for every aesthetic. The durability of these items ensures they can easily handle everything from appetizers to the main course.
Plastic Drinkware for a Touch of Sophistication
Raise a glass to style and convenience with Smarty's plastic drinkware. Wine glasses, champagne flutes, and tumblers designed with elegance in mind bring a touch of sophistication to your table without the worry of breakage. Your guests will be pleasantly surprised at the quality and aesthetics of these disposable alternatives.
Plastic Dinnerware: Combine Elegance with Convenience
Complete the look with Smarty's disposable dinnerware, offering a range of options for every course. From dinner plates to salad and dessert plates, each piece is designed to mirror the elegance of traditional tableware. The convenience of disposable plates means you can focus on enjoying the company of your guests without the post-dinner cleanup stress.
The Art of Presentation: Styling Your Thanksgiving Table with Smarty Had A Party
Your Thanksgiving table isn't just a surface for serving food; it's a canvas awaiting your artistic touch. Smarty Had A Party's disposable tableware makes presentation effortless, combining creativity and practicality.
Creative Ways to Arrange and Display Smarty Had A Party's Disposable Partyware
Elevate your table setting with imaginative arrangements of Smarty Had A Party's disposable partyware. Consider layering different textures and colors to add depth to each place setting. Mix and match plates, bowls, and flatware to create a visually appealing ensemble that complements the theme of your gathering.
Experiment with unconventional placements and asymmetrical designs. Placing the flatware in a stylish arrangement or adding a sprig of fresh herbs to each plate can be subtle yet impactful touches. The versatility of Smarty's products allows you to let your creativity run wild while maintaining the convenience of disposable tableware.
Tips for Incorporating Seasonal Decor to Enhance the Overall Presentation
Enhance the festive atmosphere by incorporating seasonal decor into your table setting. Begin with a base of autumn-inspired table linens or a rustic table runner that complements the season's colors. Nestle Smarty's serving ware amidst decorative pumpkins, gourds, or seasonal flowers for a touch of nature.
Consider personalized place cards or napkin rings that add a thoughtful touch and serve as conversation starters. Candles or string lights can provide ambient lighting, creating a warm and inviting atmosphere. The goal is to create a cohesive and visually appealing tableau that reflects the warmth and abundance of the Thanksgiving season.
Post-Feast Cleanup Made Easy: The Benefits of Disposable Partyware
The joy of Thanksgiving is often accompanied by the impending reality of post-feast cleanup. But fear not—Smarty Had A Party's disposable party supplies are here to transform the after-dinner chores into a breeze, allowing you to savor the moments without the stress.
The Convenience of Using Disposable Partyware for Cleanup
Once the last bite of pumpkin pie has been savored, the last toast raised, and the laughter has echoed through your Thanksgiving gathering, the cleanup begins. This is where the convenience of Smarty Had A Party's disposable partyware truly shines. Say goodbye to the hours spent scrubbing dishes and the anxiety of potential breakages.
With Smarty Had A Party's products, cleanup is as simple as gathering and disposing of the used items responsibly. No more post-dinner fatigue; instead, relish in the ease of tidying up after a splendid feast.
Tips for Responsible Disposal or Recycling of Smarty Had A Party's Products
Smarty Had A Party is not just about convenience; it's also about responsible choices. While the partyware is disposable, it doesn't mean it has to contribute to environmental waste. Smarty Had A Party prioritizes sustainability, offering products that can be responsibly disposed of or recycled.
Take a moment to separate the items for recycling, ensuring that you contribute to eco-friendly practices. Smarty's commitment to the environment means you can enjoy the benefits of disposable partyware without compromising on your green values.
The Time and Stress Saved with a Hassle-Free Cleanup Process
The aftermath of a grand Thanksgiving feast is no longer daunting with Smarty Had A Party's disposable partyware. The time and stress saved in the cleanup process are invaluable, allowing you to linger at the table a little longer, enjoying the company of loved ones instead of being tied to the sink.
The convenience of Smarty Had A Party's products extends beyond the dinner table—it's a gift of time, ensuring you have more moments to create lasting memories rather than spending them on chores.
Frequently Asked Questions (FAQs)
1. Why choose disposable partyware for Thanksgiving?
Thanksgiving is a time to celebrate, not toil away with post-feast cleanup. Choosing disposable partyware for Thanksgiving ensures a seamless and stress-free hosting experience. Smarty Had A Party's products combine the convenience of disposable use with the elegance of traditional tableware, allowing you to focus on creating cherished moments with your loved ones rather than worrying about washing dishes.
2. Is Smarty's plastic dinnerware durable?
Absolutely. Smarty Had A Party's plastic dinnerware is crafted with durability in mind. Despite being disposable, these items are designed to withstand the demands of a hearty Thanksgiving feast. You can confidently serve your culinary masterpieces on Smarty's plates, knowing they are stylish and sturdy enough to handle a variety of dishes.
3. What design options are available for plastic dinnerware?
Smarty Had A Party understands that aesthetics are crucial in elevating your table setting. That's why Smarty's plastic dinnerware comes in diverse design options. From classic and timeless designs to contemporary and chic styles, a selection suits every taste and theme. Explore the variety and find the perfect match for your Thanksgiving celebration.
4. Are Smarty's products suitable for both casual and formal gatherings?
Indeed. One of the key advantages of Smarty Had A Party's products is versatility. Whether you're hosting an intimate family gathering or a formal dinner party, disposable partyware seamlessly transitions from casual to elegant affairs. You can curate a dining experience that matches the tone and ambiance you envision for your Thanksgiving celebration.s
May your table be abundant, your moments be cherished, and your memories be everlasting. Here's to mastering Thanksgiving with style, ease, and the enduring spirit of gratitude. Feast Mode: Engage!