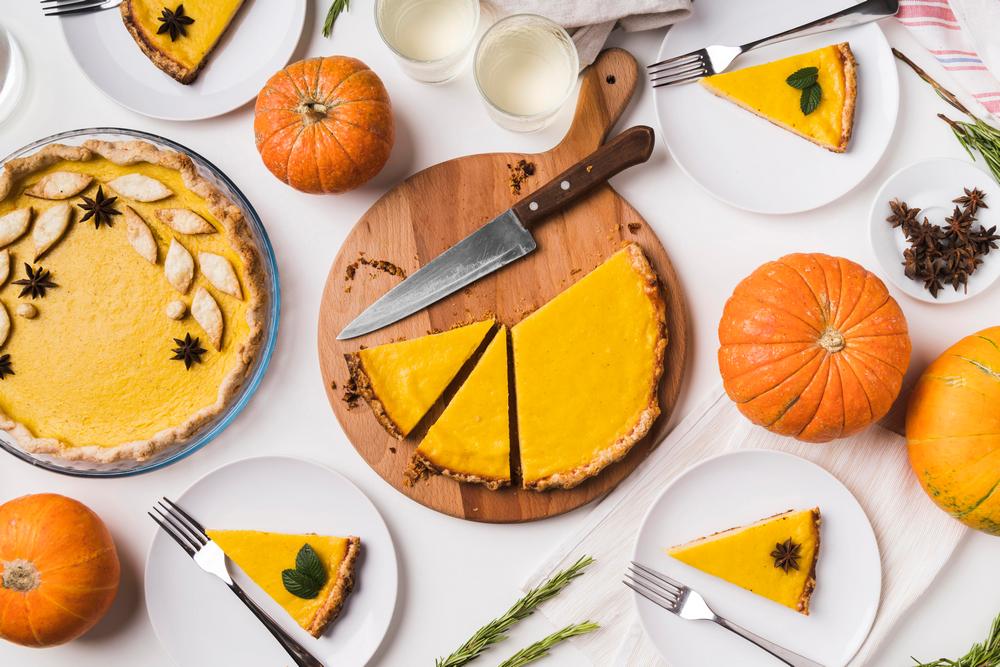 Thanksgiving's Sweetest Tradition: Pumpkin Pie Perfection
As autumn leaves paint the world in hues of gold and families gather around tables adorned with warmth and gratitude, one sweet tradition takes center stage in the heart of every Thanksgiving feast – the iconic Pumpkin Pie. With a rich history steeped in the season's flavors, this delectable dessert has become synonymous with giving thanks and indulging in the comforts of home. 
Savoring Gratitude: A Thanksgiving Pumpkin Pie Extravaganza
Join us on a culinary journey as we delve into the art of Pumpkin Pie perfection, exploring classic recipes, innovative variations, and the sweet satisfaction of creating a dessert that embodies the spirit of Thanksgiving. Let's savor the essence of Thanksgiving together, one delicious slice at a time.
The Art of Pumpkin Pie Preparation
Classic Pumpkin Pie Recipe
Ingredients and Measurements
Canned Pumpkin:

 1 and 3/4 cups of pure pumpkin puree.

Eggs:

 Two large eggs bind the filling together.

Sweetened Condensed Milk:

 A can of this sweet elixir, around 14 ounces, adds a luxurious sweetness to the pie.

Sugar:

 1/2 cup of granulated sugar complements the condensed milk, balancing the sweetness.

Spices:

 A teaspoon of ground cinnamon, half a teaspoon of ground ginger, and a quarter teaspoon of ground cloves bring the quintessential fall spice blend to life.

Salt:

 A pinch of salt enhances and rounds out the flavors.
Step-by-Step Instructions for the Perfect Pie Crust and Filling
The Crust:
Begin with a prepared pie crust, or make your own using a blend of flour, butter, and a touch of sugar.

Press the crust into a pie pan, crimping the edges for a rustic touch.

Pre-bake the crust slightly to ensure a golden and flaky foundation for our luscious filling.
The Filling:
Preheat your oven to 425°F (220°C).

In a large mixing bowl, whisk together the pumpkin puree, eggs, sweetened condensed milk, sugar, spices, and a pinch of salt until smooth and velvety.

Pour the filling into the pre-baked pie crust.
Baking:
Place the pie in the oven for 15 minutes to set the crust.

Reduce the oven temperature to 350°F (175°C) and continue baking for 40-50 minutes or until the center is set.
Cooling and Serving:
Allow the pie to cool completely before slicing.

For an extra indulgence, serve each slice with a dollop of freshly whipped cream.
Variations and Innovations
Unique Twists on the Classic Recipe
Pecan Streusel Topping:

 Elevate your pie with a crunchy pecan streusel for a delightful texture contrast.

Maple Bourbon Whipped Cream:

 Infuse your whipped cream with a hint of maple syrup and a splash of bourbon for an adult-friendly flavor boost.
Gluten-free and Vegan Options for Diverse Dietary Preferences
Thanksgiving is a time for everyone to savor the feast, regardless of dietary restrictions. Embrace inclusivity by exploring gluten-free and vegan variations of your favorite pumpkin pie. Substitute traditional ingredients with alternatives like almond flour or coconut milk to create a dessert that accommodates diverse tastes without compromising flavor. After all, the joy of Thanksgiving lies in sharing delicious moments with everyone at the table.
Savoring Gratitude: A Thanksgiving Pumpkin Pie Extravaganza
Creating an Atmosphere of Gratitude
Decorating Tips for a Warm and Inviting Thanksgiving Ambiance
Autumnal Palette:

 Embrace the warm hues of fall by incorporating a rich palette of oranges, reds, and browns. Tablecloths, napkins, and centerpieces in these colors can instantly infuse your space with a cozy ambiance.

Nature's Bounty:

 Utilize nature-inspired elements like acorns, pinecones, and seasonal flowers to add a touch of rustic charm to your table.

Candlelit Glow:

 Create a warm and intimate atmosphere with candles. Opt for scented candles that evoke the essence of autumn, such as cinnamon or vanilla.
Incorporating Gratitude-Themed Elements into Your Celebration
Thankful Place Cards:

 Assign guests a place card to jot down something they're grateful for. These cards can serve as both thoughtful keepsakes and conversation starters.

Gratitude Tree:

 Create a visual representation of gratitude by setting up a "gratitude tree" where guests can hang personalized notes expressing their thanks. This interactive element adds a touch of whimsy and meaning to your celebration.
Exquisite Serving Ideas from Smarty Had A Party
Elegant Plastic Plates for a Sophisticated Touch
Upgrade your Thanksgiving table with elegant plastic plates from Smarty Had A Party. These disposable plates offer the sophistication of fine china without the hassle of cleanup. Choose from a variety of styles and sizes to complement the aesthetic of your Pumpkin Pie Extravaganza. The lustrous finish and sturdy design make these plates a delightful addition to your holiday table.
Disposable Serving Ware for Convenience
Simplify your hosting duties without sacrificing style by opting for disposable serving ware. These items combine practicality with elegance, from sleek serving flatware to chic trays and bowls. Effortlessly serve slices of pumpkin pie, arrange appetizers, and present side dishes with the convenience of disposable serving ware, allowing you more time to savor the festivities.
Fancy Plastic Drinkware to Elevate the Dining Experience
Complete the dining experience with fancy plastic drinkware that adds a touch of glamour to your Pumpkin Pie Extravaganza. Smarty offers a range of stylish and durable plastic drinkware options, from classic tumblers to stemless wine glasses. Elevate your beverage service with these upscale disposable options, whether it's a sparkling cider toast or a paired wine selection.
Tips for Perfect Presentation: Creating a Beautiful Dessert Spread
Coordinating Dessert Table Decor
Color Coordination:

 Harmonize your dessert table by selecting a color palette that echoes the warm tones of autumn. Consider incorporating elements like seasonal flowers, table runners, and decorative accents that align with the hues of your pumpkin pie.

Elevated Displays:

 Use tiered dessert stands to create levels of interest. Elevate your pumpkin pie on a beautiful pedestal, allowing it to take center stage. Surround it with complementary desserts and treats for a visually appealing spread.
Incorporating Seasonal Elements for a Festive Look
Fall Foliage:

 Integrate autumn leaves, gourds, and small pumpkins into your decor for an authentic fall feel. These elements not only add visual interest but also tie in perfectly with the theme of your Pumpkin Pie Extravaganza.

Candlelit Warmth:

 Create an inviting atmosphere by adding candles to your dessert display. Opt for autumn-scented candles or rustic candle holders to infuse the space with warmth and coziness.
Sharing the Sweetness: Pumpkin Pie Recipes from Around the World
International Variations of Pumpkin Pie
French Tarte à la Citrouille:

 Experience the elegance of a French twist on pumpkin pie. The Tarte à la Citrouille combines creamy pumpkin filling with a delicate almond pastry crust, creating a dessert that captures the essence of French patisserie.

Italian Crostata di Zucca:

 In Italy, pumpkin pie takes on a rustic charm with Crostata di Zucca. This version often incorporates amaretto, giving the filling a distinct almond flavor. The result is a dessert that pays homage to the Italian love for simple yet flavorful treats.

Australian Pumpkin Scones:

 Down under, pumpkin pie takes a scone-shaped form. Popularized by an Australian icon, these scones blend pumpkin with flour and spices to create a handheld delight perfect for a Thanksgiving brunch or afternoon tea.
Trying Out Global Influences on a Thanksgiving Classic
Spices of the East:

 Infuse your pumpkin pie with the aromatic spices of the East. Experiment with cardamom, cloves, and nutmeg for a flavor profile that transports your taste buds to distant lands.

Tropical Twist:

 Add a touch of the tropics to your Thanksgiving spread. Consider incorporating coconut milk into your pumpkin filling for a creamy and exotic variation that brings a hint of the islands to your dessert table.

Latin American Dulce de Leche Fusion:

 Elevate your pumpkin pie with a Latin American flair by drizzling dulce de leche over the top. This beloved treat's sweet and caramelized notes complement the earthy pumpkin flavors, creating a delectable fusion.
Frequently Asked Questions (FAQ)
1. Can I make pumpkin pie ahead of time?
Make pumpkin pie ahead of time by preparing the filling but not pouring it into the crust until you're ready to bake. Assemble and bake the pie one or two days before Thanksgiving for maximum freshness. Reheat the pie at 350°F (175°C) for 15 minutes to revive the crust while retaining the filling's deliciousness.
2. Are Smarty's disposable servingware items durable enough for a Thanksgiving feast?
Certainly! Smarty takes pride in offering durable and stylish disposable serving ware that can withstand the grandeur of your Thanksgiving feast. Whether it's serving flatware, trays, or bowls, each item is crafted with elegance and durability. You can confidently present your pumpkin pie and other delectable dishes using Smarty's disposable serving ware, knowing that both convenience and sophistication are at your fingertips.
3. Can I freeze leftover pumpkin pie?
Freeze leftover pumpkin pie by wrapping it tightly with plastic wrap and aluminum foil. Label packaging with contents and date. Thaw in the refrigerator when ready to eat, and reheat if desired. Enjoy the sweet memories of Thanksgiving.
4. How can I choose the right disposable dinnerware to complement my Thanksgiving table decor?
Choose the perfect disposable dinnerware to match your Thanksgiving table decor with Smarty Had A Party. Opt for elegant plasticware or eco-friendly dinnerware that complements your table's color scheme and specific dishes. Select from various textures and finishes, from sleek and modern to intricate designs, to match your aesthetic. Set the stage for a stress-free and stylish Thanksgiving celebration with Smarty Had A Party's exquisite disposable dinnerware.
May your holiday reflect the warmth and joy in the heart of this beloved tradition. Here's to Pumpkin Pie Perfection and the sweet moments it brings to our Thanksgiving tables year after year.