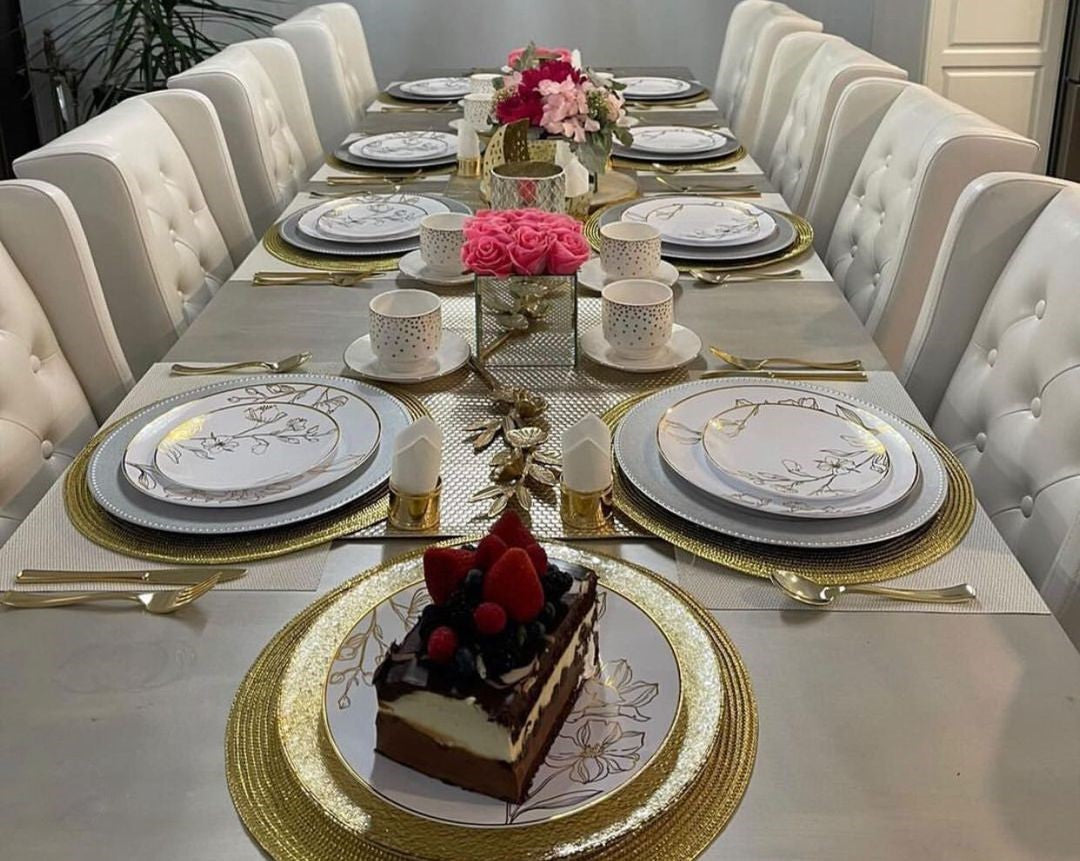 7 Techniques to Style Your Table Setting
You might be thinking, "Why make an effort to learn how to place party plates and flatware properly? When the only thing that matters is good food. Let us tell you the reason: Fine table settings communicate to guests that you value their feelings and concerns.
A nicely arranged table can also enhance the appearance of the food.
The way you set the table should reflect your great aesthetic sense. Even the most creative people, however, require guidance to get the most acceptable outcome. 
The table arrangements you select for your dinner party or other events convey a signal to your friends and family, indicating the level of service they may expect from you. The absence of beautiful table settings shows that the service will be amateur. You can enhance your hospitality experience by adding elegant disposable plates or a lovely centerpiece. 
Adding more elements to the table setting can make the dining table look more professional. 
You must know how to make your table look outstanding if you enjoy organizing different parties and entertaining people at home. And whether it be the lights, decor, candles, or the playlist you choose for your party, dinner parties are all about creating a chic ambiance for your guests.
Check out the following techniques to set the ideal table after you've agreed on the day, venue, guest list, and food. 
1. Things To Remember White Setting up a Formal Dinner Table
Don't sweat the details of placing the tableware if you have a basic idea of how things go at dinner. For each place setting, read the instructions:
Glasses must be placed to the exact right of disposable party plates.

Put the butter knife across some stunning 

palm leaf tableware

.  

Arrange the plates and cutlery so that the guests don't have to make much effort if they are serving themselves. Place salad fork outside and dinner fork on the inside. Knives go on the right and forks on the left. 

On top of dinner plates, place some mini salad plates.

If you're using a dessert cutlery set, the fork must be placed in the middle of the plate.

Table runners, tablecloths, napkins, and centerpieces will give a more formal look to your dining table.
2. An Elegant Theme Makes the Party Worth Remembering!
It's mandatory to set a theme for your party, no matter if it's only a gathering of 200 people or grand wedding reception. Setting a theme would mesmerize and fascinate your guests. From beginning to end, try to maintain a consistent look. 
Ensure that the invites, decor, and food all have the same color combination. Select a theme that reflects your enthusiasm. Garden themes, marine themes, and floral themes are always appealing. 
3. Summers Demand a Perfect Ocean Theme
A tablescape with an ocean theme is ideal for a seafood feast or a summer table setting.
Follow the following ideas for beautiful centerpieces:
Sand, pebbles, pearls, and candles in a tiny jar

Placing seashells on banana leaves and palm leaves. 

A small piece of wood with a few fastened tiny seashells encircled by other decorative elements. 

An extensive coral fragment at the center.
4. Choose The Best Dinnerware
There's no harm in using the old cutlery by adding your own creativity to it when presenting the food. If none of the latest cutlery seems to suit your budget, start with the most basic and work your way up. Whiteware is a tremendous essential because it looks elegant when placed on the table.
Alternatively, if you don't find the basics impressive enough, try something different. For some colorful, elegant table settings, mix and match complementary dishes, glasses, and trays with almost the same design, such as floral or striped.
Assorted cheeses and chocolates look lovely on decorative charger plates. Small finger meals can be served on your six-inch bread-and-butter plate. Attractive and multicolored cups can be used to serve dessert, chocolate fudge, frozen yogurt, and ice cream. 
5. Table Setting Ideas for an Informal Meal
Every party requires a different table setting, be it a wedding reception, baby shower, or birthday party. Following are some ideas for an informal table setting.
You must start by placing tiny round placemats on the dining table. 

Place the forks on the left side of the dining plate and spoons on the very right side. If you intend to serve salads, put salad plates on top of the dinner plates for a refined look.

Place wine glasses on the right corner and water glass on the left. 
6. Placemats and Tablecloths - Must Have
A spotless white tablecloth slays the dinner parties like nothing else. Hang the tablecloth at least an inch below the table's top and no lower than 15cm above the floor. It's wise to drape a sheet over the table before spreading the tablecloth to avoid spills or hot meals from staining it.
Arrange some placemats in front of each dining chair for the party.
To give your traditional dining table a new dynamic, use a combination of cloth and floral fabric chargers. 
7. Excess of Everything is Bad
Just because something looks good, don't set extra dishes, flatware, or food containers. Instead, only place those items on the table that your guests will be using while having dinner, or else, your guests will stay confused, and you will have some extra dishes to clean up at the end. 
The key to a successful party is to be well-organized so that you feel less stressed on the event day and welcome your guests with a smile. Clean your dishes before the party begins to minimize any stains or breakage of the dinnerware.  

With our collection of lovely and 

fancy disposable plates

, you can be more artistic with your food presentation while also adding a sense of elegance and refinement to your table setting. Any ordinary meal will look fantastic with our bright and sparkling rustic gold-colored eco-friendly plates.