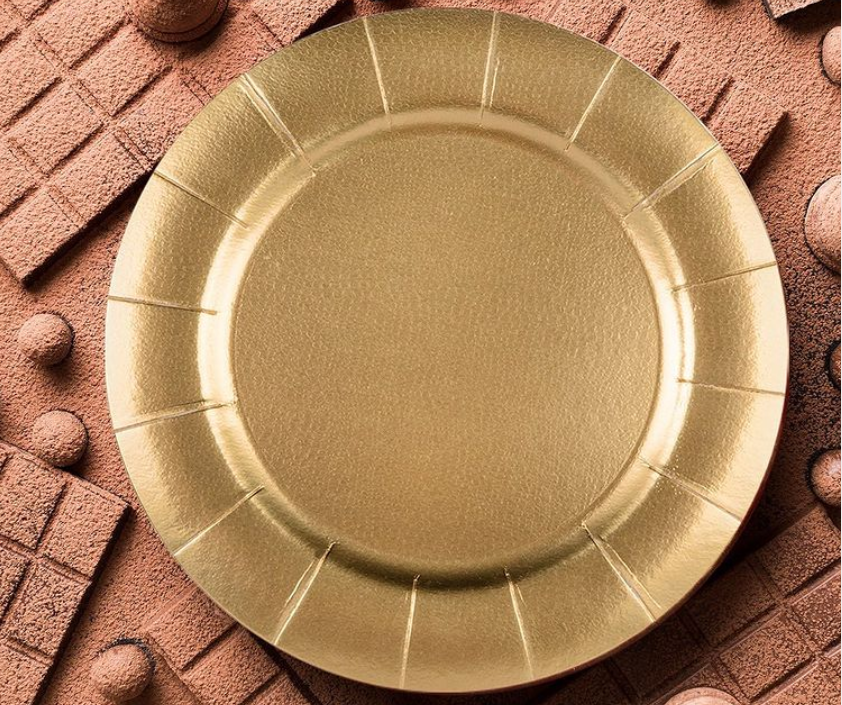 Charger Plates: How & Why We Use Them?
If you've ever been to a formal fancy party, you might have seen large fancy plates underneath the regular/dinner plates. And these are called charger plates that add a unique touch and bring practicality to the tablescape. 
They are pretty popular, and a formal tablescape isn't complete without them. Charger plates don't only provide your regular plates a frame but also enable you to have your fancy tablecloth be neat and clean throughout the party.
If you are still confused about them or can't figure a way to incorporate them in your following party settings. Here's a complete guide on how and why to add charger plates to your tablescape. 
What Is a Charger Plate?
Before we get into further details about the charger plates, like how you should use them and why you should consider them while setting a tablescape, it's essential to describe what they are. 
Charger plates should be placed underneath the dinner/regular plates and don't come in direct contact with food. In addition, they provide aesthetics to the formal tablescape by adding a background frame to the dinner plates. 
Apart from the physical appearance they enhance, charger plates also have practical purposes. For example, they prevent food spills and crumbs from falling on the tablecloth, so your formal tablescape is neat and clean throughout the event. 
How to Use Charger Plates? 
When creating a tablescape for a formal event, it's essential to know how you should use the serving ware appropriately. The same goes for the charger plates before you leave the shopping to buy the charger plates for your next party. 
Make sure to know how to add them to your tablescape appropriately so guests don't have to whisper at the table in each other's ears while having the meal. 
While setting a tablescape, charger plates should be laid first after covering the table with linen. Then, they should be placed individually in front of the guests' sitting arrangements. 
The etiquette to incorporate the charger plate in the tablescape are; that a charger plate should be placed an inch away from the table edge, below the drinkware glasses, and between the spoons, forks, and knives, which are placed left and right sides.
You can place the napkins on the charger plates to give them the final touches. Moreover, note that the charger plates aren't for the desserts. Remove them after the first course has been served, or wipe them to give them a clean look again. Then, you can use them as a tray to serve the sweet treats. 
How to Use Charger Plates Aesthetically?
When setting up a tablescape, everything present on the table must communicate formally and coordinates to bring glow and aesthetics to the scene. 
When it comes to the charger plates, take the hint from your table's theme, the color scheme you want to incorporate throughout your tablescape, the tablecloth you will use, and serving wares like flatware and, most importantly, the dinner plates you will pair them with.
Can't figure out a better idea to incorporate them in your next tablescape? Google up the things to find the inspirations. Pinterest is flooded with decor ideas, and you can easily find the motivation to style your tablescape. 
How to Choose Charger Plates? 
The charger plates are widely used for upscale parties, weddings, birthday parties, and any special occasions where the ambiance and aesthetics are desired. Since they are widely used, they come in different materials, shapes, colors, and designs. 
If we talk about the material, they are widely available in glass, ceramic, wood, rattan, paper, and plastic. However, different designs and shapes are also available, but it depends on the market trends. 
Glass & Ceramic Charger Plates
The glass and ceramics are known for their quality features, making them the best fit for fancy, upscale, and special occasions. However, the wood plates are also best for formal settings, but they are mostly preferred for casual settings, but the choice is all yours. 
Plastic & Paper Charger Plates
Moreover, when it comes to plastic charger plates, they are widely used in formal settings for casual family dinner parties. However, they are pretty famous for the price tag they come at as compared to expensive materials like ceramic and glass. 
Elegant paper charger plates are the best option when you are focused on having a budget-friendly event. Also one more benefit of using the plastic charger plate is the hassle-free clean-up. 
Disposable charger plates made of paper provide the ease of hassle-free cleaning, as they are supposed to be discarded like tissue paper. They are best for the scenario when you can't afford to spend hours in the kitchen performing dishwashing duty after a hardcore party.
Get disposable paper charger plates from the "Smarty Had a Party" at a fraction of the cost. We have a wide range of elegant charger plates that come in different shapes and designs so that you can style your tablescape according to your imagination. 
Wood Charger Plates
Wooden charger plates are mostly made of palm leaves and bamboo. The palm leaves are pressed, compressed, and then molded to shape them as plates. They are organic plates, and no chemical substances are used in manufacturing. 
Why Use the Charger Plates?
There are multiple reasons to consider styling your tablescape with charger plates. First, they uplift the tablescape decor and its color variation and, most importantly, provide an elegant frame for the dinner plates.
At formal events, where elegance and aesthetics are desired, the chargers work like a charm to fill that gap and complete your tablescape profile look. 
Apart from uplifting your table's appearance and decor, charger plates kill the hassle of using placemats. The placemats are the thing of the old era, and the charger plates are the modern way to provide the base to the regular/dinner plates. 
Moreover, chargers are also good at retaining the heat of the food. Since they are supposed to be underneath the dinner plates, they do an excellent job of preventing the heat from transferring to the table cloth.