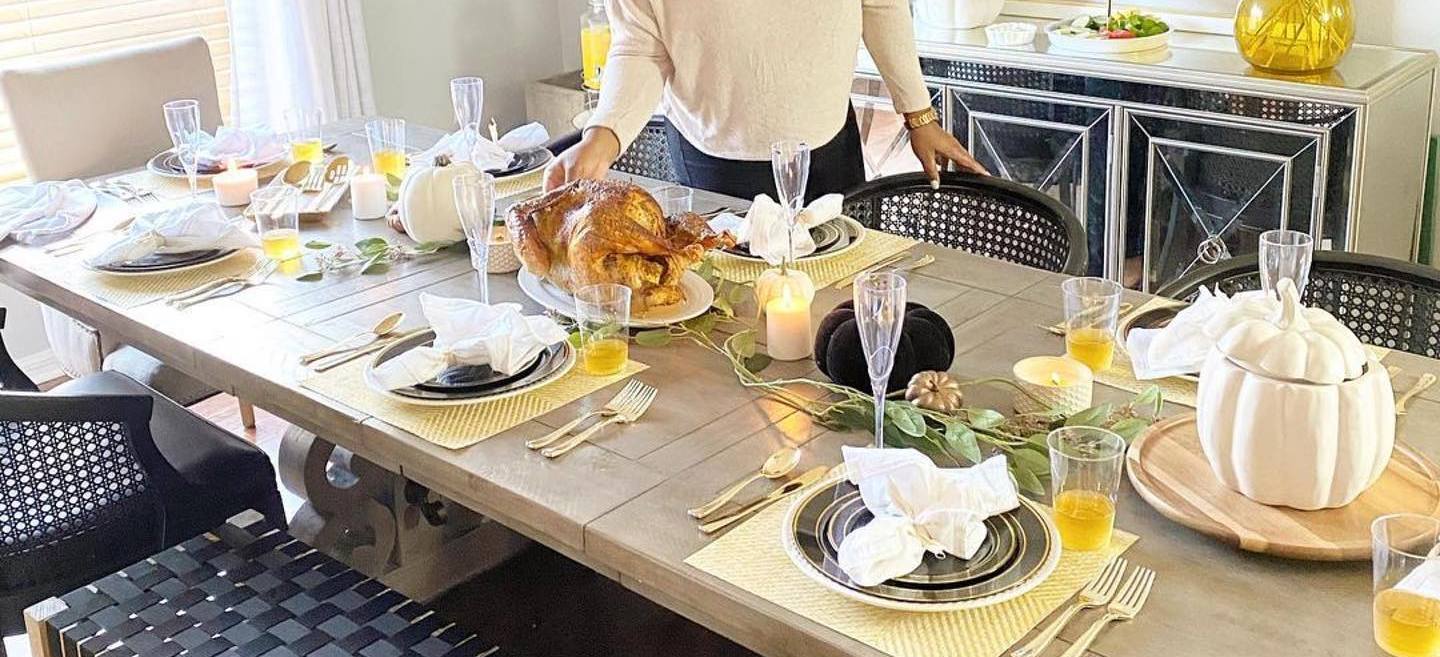 Top 8 Table Setting Ideas for Thanksgiving
When planning a fantastic thanksgiving party, there's a lot one needs to mind to make it a success story, from the door decor to dressing up the entire venue, walkway, and of course, the most sophisticated one, the party table. 
A great party has a great table that doesn't only keep up with the theme's vibe but enhances the decor's overall look. However, when setting up an outstanding thanksgiving table, you don't need to break the bank; instead need to think creatively. 
Whether you're having a hard time matching the table's decor with the party theme, or couldn't come up with any unique centerpiece ideas, here's the list of top handpicked 10 table-setting ideas for Thanksgiving. 
1. Keep it Simple
The Party table doesn't always need to be fancy and loaded with overwhelming decoration to look elegant. Simplicity is beauty and a great way to make things stand out with less effort. 
Keep it simple. When it comes to Thanksgiving dinner, less is more. Skip the fussy centerpieces and placemats and opt for a clean, minimalistic look. This will let your guests focus on what's important: the food!
Keep the table's top bare, and add a bunch of natural elements such as leaves, flowers, and homemade wreaths. 
2. Set Rustic Vibe
Get crafty with fall leaves. One of the best things about Thanksgiving is all the gorgeous fall foliage. Put it to good use by incorporating leaves into your table setting. For example, you can use them as place cards or a base for your centerpiece.
Adding them to the chairs is also a great way to make them adorable and connected with the table's decor. 
3. Fill it with Candles
Set the mood with candles. There's nothing that says "festive" quite like candles—lots of them! Candles will not only give your table a warm and inviting glow, but they'll also make your whole house smell amazing. 
We recommend using pillar candles at different heights for an elegant look sure to impress. They'll create an incredible centerpiece for your thanksgiving table settings. All you need to do is to play with their placement on the table. 
4. Add Flowers
Add some color with flowers. Flowers are always a welcome addition to any table setting, and they're especially perfect for Thanksgiving because they come in all sorts of beautiful Fall colors. 
They're the perfect piece of decor for all-season table settings. All you need to do is to play with their colors to coordinate with the season vine. So for the thanksgiving table setting, think of deep reds, oranges, and yellow for a cheerful pop of color that will brighten up your whole house. 
Think about deep reds, oranges, and yellows for a cheerful pop of color that will brighten up your whole house. Creating contrast of the flowers with the table's decor can also create a mesmerizing look. 
5. Get Advantage of Seasonal Offerings
As Thanksgiving falls in November, besides the changing nature of the fall seasons, it's full of fruits too. Pumpkins and apples are the heart and soul of the fall season. So consider incorporating pumpkins and apples in your decor for a beautiful fall tablescape. 
You can make stunning table centerpieces with these delicious fruits. You can take a dough bowl or a fruit basket and fill it with pumpkins and apples, along with some green leaves and vegetables. 
You can also use other fruits as decoration and as part of your place setting. Place apples or pears at each person's place setting as a fun and unique way to dress up your table. Plus, they make nutritious snacks if anyone gets peckish before dinner is served!
Last but not least, to bring your entire decoration together, fancy disposable plates are a must. For disposable party plates, it is better to go with the color of your table decor so that it doesn't look like a blend of mismatched items. 
6. Play with the Napkins' Elegance
Your thanksgiving tablescape would be incomplete without the napkins. You must add them to your table settings for a traditional look but less conventional. Think creatively and create something unique that instantly makes the table's setting stand out. 
Think of shaping the napkins as turkeys, leaves, pumpkins, or anything that'll elevate your tablescape. First, look for online tutorials to learn napkin folding techniques. There are plenty of them. Then, to pull everything together, finish it off by layering your table with elegant disposable plates to pull everything together. 
7. Use Ambient Lights
If you're considering planning a Thanksgiving event after the evening, you could only have one with the lights. They would be the star of your decor, lighting up every inch from your entire dressed-up home to the table settings. 
Consider incorporating the lights into the table settings. However, you would need to be picky about the LED lights, as not all decorative lights can fit in the table settings. 
We suggest incorporating lanterns into your Thanksgiving table decor for perfect illumination. You can use different types of lanterns depending on the theme of your table. Pumpkin lanterns are the best as they perfectly fit into your table decor. 
On the other hand, if you want to add a rustic touch to your Thanksgiving table, consider including some brass lanterns in your decor. To enhance the look of brass lanterns, fill them with beautiful candles and, in the end, adorn them with leaves, petals, and fall foliage. Fantastic! 
8. Pine Cones and Acorns 
Pine cones and acorns are the ideal decorations for a Thanksgiving table. They look classy and give off a rustic vibe. You will need a couple of glass jars or glass bottles of different sizes, some artificial faux acorns, and a few pine cones. 
Put faux acorns and pine cones in these glass jars. To add some lighting effect, you can fix string or fairy lights inside these jars and decorate them on your table. They will just look like lanterns. You may wow everyone with your table decoration talents if you add some candles to this lovely table decor. Finish off this unique look by setting your Thanksgiving table with fancy disposable plates and dinnerware.