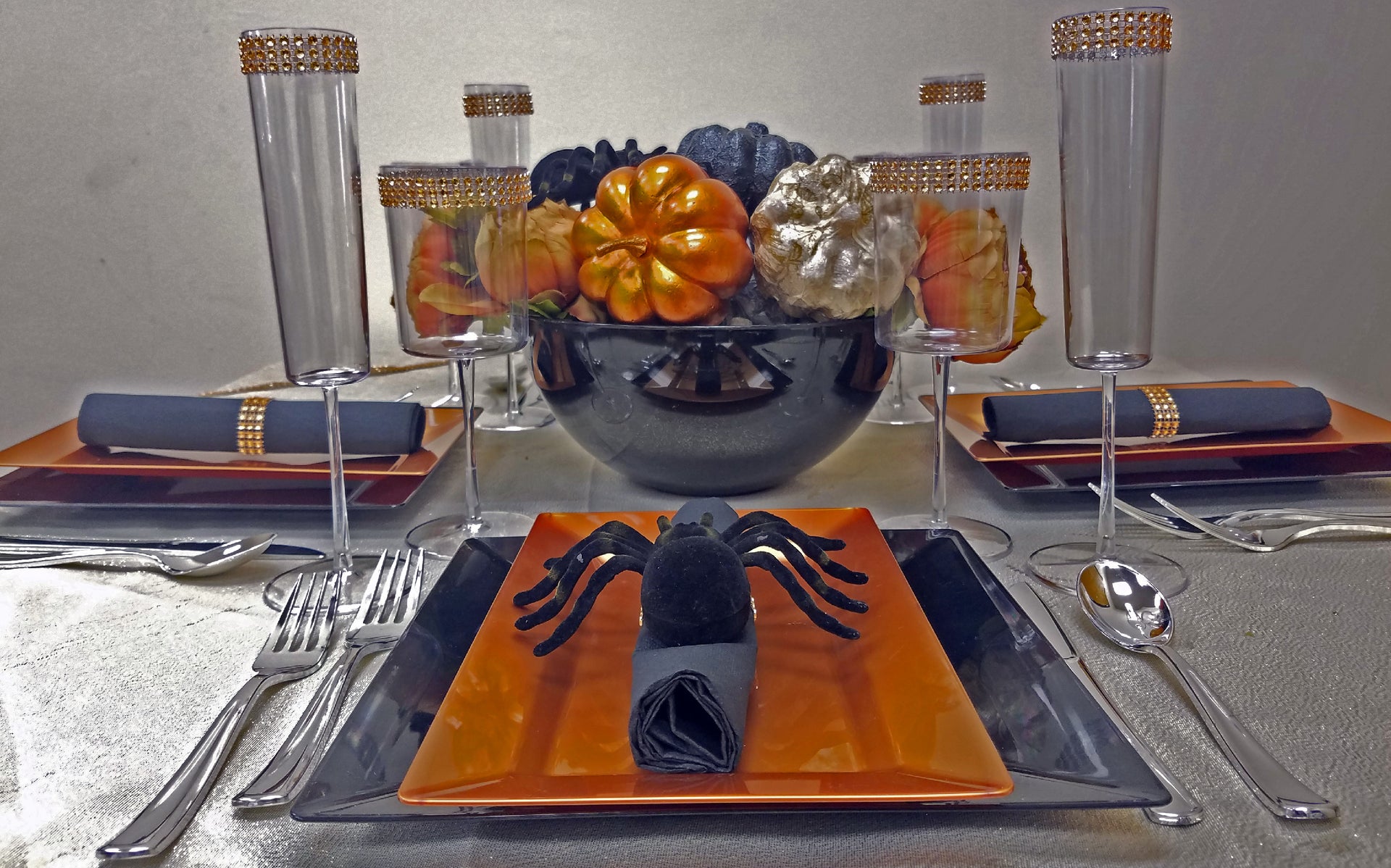 How to Fold Napkins for Halloween?
Napkins are necessary and part of every dining table, but their application isn't just confined to dining tables. Napkins can do a lot more than that like. They can be used to make creative stuff to enhance your themed party. Although you must be creative to make room for napkins to get stunning party looks, that's a cinch. We have some fabulous ideas for you to do more in your party decorations by creatively folding the napkins.
Elevate your Dining Table Decor 
Napkins can come in handy in table decor, and they are fun to fold and create different shapes and patterns to elevate the overall look of your table. At the start, folding napkins to make crafts might seem complicated, but once you start doing it, it won't be more than a minute to fold them and take your table decor up a notch. Firstly, you will need elegant-looking napkins that match your Halloween theme, like Smarty's black velvet paper disposable stylish napkins.
Although you may not think so, Halloween has no age limit. Every big gathering must have a fantastic table, whether a coffee table or a long dining table with seats for each guest. Traditional orange and black decorations are always festive, but opting for a more elegant look is equally attractive. From dark and creepy to bright and cheerful, you will not regret any look you choose for Halloween.
Halloween Bat Napkins
As it's the fall, and If you are planning a batman themed party with black velvet paper disposable stylish napkins, you can make bat napkins to enhance and elevate the party theme. 
Step 1: Firstly, unfold the napkin and get rid of all wrinkles to get perfect results.
Step 2: Once you are done ironing it, place it in a square shape.
Step 3: Grab the napkin's bottom right corner, bring it to the top left corner, and lay on it.
Step 4: Now, bring the bottom corner of the napkin to the right top corner until you get the triangle shape.
Step 5: Grab the bottom corner of the triangle-shaped napkin and place it between the corners to transform it into a boat shape. 
Step 6: Place your finger on the middle bottom of the napkins and fold the right corner upward. Repeat this step with the left side until you get a scary napkin fold.
Step 7: Finally, you have a bat napkin for your Halloween-themed party.
Repeat these steps and make bat folding napkins to decorate your Halloween party. There are a lot of shapes and patterns you try to enhance your dining table presentation for formal dinners, birthdays, wedding anniversaries, and more. 
Ghost Napkin Fold
Materials:
Classic Lunch white Napkins
Directions:
Step 1: Fold Chinet Classic White Lunch Napkin in half to create a triangle shape.
Step 2: Unfold and smooth out the napkin. Next, fold the left and right sides of the triangle into the middle line. Your napkin will look like a kite.
Step 3: Take the top left corner of the folded kite and fold it back. Repeat on the right side, showing two smaller triangles that open up on your kite-shaped fold.
Step 4: Flip the napkin over and fold the flaps of the triangles, so they lay flat against the sides of the ghost.
Step 5: Now fold the left and right corners into the middle line of the ghost.
Step 6: Take the point of the top triangle and fold it down slightly to make the ghost's head.
Step 7: Flip the napkin back over and make a fold for the neck, slightly above the ghost's folded arms.
Step 8: Take the bottom point and fold it along the edge, forming a tail.
Step 9: Use a black marker to draw the eyes and mouth on your ghost.
Stuffed Napkin Pumpkins
Materials:
Orange napkins

Green yarn

Chocolate dragées

Black cardboard

Silicone gun

Transparent silicone rods

Scissors
Directions:
Step 1: Take a napkin and place it in the center of your hand. Close your hand a little bit to make a hole. Put a handful of chocolate degrees, type M&M'S, in the hole.
Step 2: Close the napkin, being careful not to tear it. Then, tie a knot with the yarn so it doesn't open. All the napkins left over, above the worsted knot, must be wrinkled, shaping it from the pumpkin's stem.
Step 3: When you feel satisfied with the shape of the stem, use the worsted to give it the final finish. Give it as many turns as necessary to cover the entire napkin stem with the green yarn. If the stem is too big and you feel you must use a lot of material, cut it out a little with the scissors.
Step 4: Cut out the eyes and mouth of a typical Halloween pumpkin on the black cardboard. It should be proportional to the chocolate dagger pumpkin. This will make the effect more realistic. Next, heat the silicone gun and stick the pieces of cardboard on your pumpkin when it is at the ideal temperature.
Step 5: Arrange each of the Halloween napkins on your table. Besides helping with the decoration, it will be an excellent gift for your guests.
You can also make Cardboard rings, Punpkin rings, Paper pumpkins, etc.
Most of these folds can be made with cloth or paper napkins.
Napkins for Halloween
Buying napkins is easy, but when it comes to buying them for a specific event, like paper napkins for Halloween, it gets a little tricky like a puzzle as there are plenty of options available. Smarty's has some out-of-class and elegant collections of paper napkins for Halloween to cover up your Halloween parties and other events. These are disposable, so no more napkins laundry after a party is over. Moreover, stylish disposable napkins are made up of the best quality material to absorb liquids efficiently. These are a perfect choice if you want the event to be budget-friendly.
Eat, drink & be scary, Smarties! 
With love 
Smarty had a Party
!