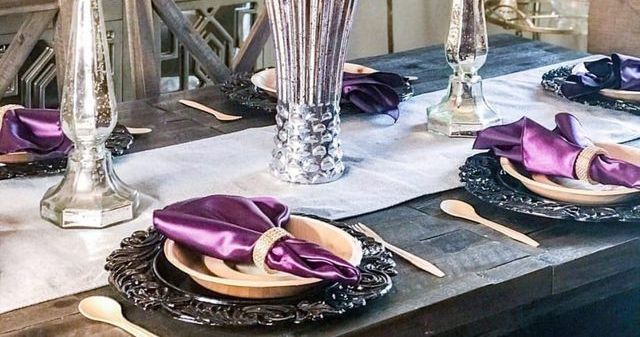 Top 10 Fall Party Table-Setting Decorations
Seasonal elements are considered key to any party or celebration as decor ideas and themes are assumed to be in coordination and relation to the respective season. The ideas trend depending on the colors and seasonal elements
Neutral colors and earthy tones for fall wedding decor are getting an edge over the bold and rich shades which were previously considered to be the only fits for the parties. 
As the table is the center of attraction for every party, let's walk you through some easy ideas to make your fall party table look chic.
1. Planning Your Tablescapes
Planning is the most crucial element of your table. The essentials of tablescapes for fall are tablecloths, table spreads, napkins, crockery-like plates, and glassware. Dining is impossible without these essentials. 
The well-established seasonal touches for fall party table settings include wooden items, pumpkins, sunflowers, and dried leaves, which relate the theme with the season and give an earthy, rustic touch to the decor and event.
2. Table Linens 
Tablecloths and linens are - and should be - your first and foremost task for decorating a table for a party. After that, you may choose a table spread or even just a table runner will go. 
For fall party tablescapes, the simpler you go, the more whimsical and classy it ends up. 
The main focus is the color of linens for fall decor; earthy and wooden vibes are considered a good match. It also gives an edge for a more harvest look from the get-go. 
3. Napkins
Napkins are considered the need for table linens. Therefore, the color scheme and designs mainly focus on dining and parties. 
You can also use embroiled and floral pastel-painted napkins. Mostly napkins are folded into different designs fitting into the themes, linens, and backgrounds.
4. Pumpkins
The use of pumpkins ranks at the top for both party and tablescapes ideas, and it symbolizes the very season and gives a more relatable vibe to your decorations. 
One of the most promising features of pumpkin for decoration is that it is used in different forms with different decorations. 
5. Fall Foliage 
With the change in demand for a variety of table setting ideas and the acceptance and appreciation for previously avoided themes and colors, these have earned a place in giving a more magical and romantic touch to your table decor.
With this change, the fall foliage has gained an immense and modern appeal for party decor. The dried leaf is now considered a more glamorous, royal, and whimsical touch to your tablescapes than the other colorful ideas. 
Foliage is even used as a monochrome touch for parties. These manage as a stand-alone element for party decor as it is visually appealing and gives a more contemporary and modern look to your table decorations. 
6. Wooden Elements
Wooden table essentials are gaining popularity firstly because of their budget-friendly cost and secondly for their intimate and cozy look, especially for fall parties. 
Wooden rounds are pretty in for the fall table setting. These give your table a more rustic and natural look and give it a touch like a pro.
If you are pressed for time and want to cut expenses, simply take a wooden base, and put components like guards and wheat on it, giving it a harvest look. Adding flowers like sunflowers can give it a brighter, more catchy, and accentual look. 
7. Leaves And Greenery
If you want to stay in the traditional colorful ways of decorating and setting the party tables, here is another excellent idea for you.
Pick some plants of your liking with colorful leaves and petals, pluck these and sprinkle them on the tablecloth. 
When guests sit at the tables, the first thing they encounter is the beautiful, classy smell of fresh flowers brightens the mood, the whole aura, and the environment. 
8. Pinecones 
Pine cones are one of the eye-catching ideas for table settings. Like pumpkins, pine cones make a variety of ideas for tablescapes. 
These can either replace the table's centerpiece or give a more accentual and natural look to your platters when placed with these. 
The contrast of pine cones varies depending upon your cling for the look and overall view of the holiday hall. Using these with the distinction of green leaves or grass gives your table a unique look. 
You can make the most superficial and minimal effort for table decor by taking a platter, sprinkling pine cones and berries, and placing candle jars in between.
9. Crockery and Drinkware
The plates and glass selection for any table decoration correlated with the second theme of the dining pastel-painted themes of crock can be either nodded or selected relating to the season. Having eco-friendly dinnerware can increase the beauty of this close-to-nature season. 
The wares for fall tables are usually simple and plain as the focus is given more to the floral decoration. Your disposable eco dinnerware will enhance all the flora you have adorned your venue. 
The glasses are usually transparent, but you can match them with the plates. Natural partyware like palm leaf plates, eco-friendly palm leaf bowls, and biodegradable serving ware looks stunning.
10. Food 
Your choice of food must complement the overall themes. Therefore, you should only display food that matches the season and color. For instance, if you have chosen pink, try to select food of the same color. 
Displaying too many green items with an orange theme might look odd unless you try to display orange food like tangerines and pumpkins on your table. 
Wrapping Up
All these ideas for accessories starting from table linens and moving on to plates, glass, napkins, and majorly the decoration, have established themselves as a must-have for any fall decoration table setting ideas rather than have hit the spotlight for all-harvest season dining. 
If you are looking for insanely good ideas to make your partyware, you can access all the natural options, like our high-selling square palm leaf collection. Whether you need eco-plates or eco-bowls, you'll get everything on Smarty had a party. Make your serving ware look elegant and sophisticated.