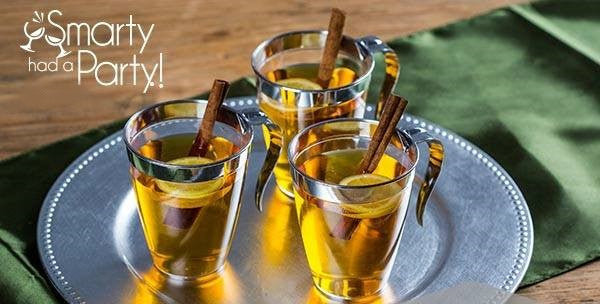 Fall Afternoon Tea Party: Ideas for Your Next Get Together
Fall brings you a lot of reasons to celebrate. First, it fills your table with different colors and flavors. Fall gives you an excuse to set your chairs and table outside and enjoy the lovely season while having tea and munching on snacks.
Teatime gives you an excellent opportunity to get together and help you spend time with your favorite people. An afternoon tea party is a charming and elegant way to gather your closest friends for a catch-up or a big celebration. 
This fall, do something different and decorate your table with your favorite fall theme to add some oomph to your next gathering. Then, prepare for a lovely afternoon by setting out your favorite dishes and the most comfortable chairs. So let's get into the season with some of the best fall tea party ideas.
Decorating Your Table
Decor always sets the mood for an afternoon tea party. These afternoon tea party suggestions can spice up your event, from the table settings to the linens and beyond.
Of course, your tea party is incomplete without your table, as it is the center of any tea party. The actual table setup is essential, but you cannot ignore its surrounding elements. Rustic wood tables are the best choice to go with when you want to create an autumn look for your tea party because wood brings nature indoors. You can also choose a floral table runner.
Since fall is incomplete without leaves and foliage, why not add seasonal touches to your table? Add your favorite orange, red, or brown leaves to your tea party table. You can also put these leaves and flowers in vases. To elevate your tablescape, choose fancy disposable cups and plates with floral designs that go well with your decoration.
Food Stands
Feel free to use your cherished collection of cake stands to showcase your pastries and sandwiches if you already have them. Consider creating temporary dessert stands by placing attractive plates on turned-over glasses. For more visual appeal, use bases with various heights, designs, and plates of different sizes and patterns.
Tableware
Pay great attention to the teacups, saucers, plates, serving platters, napkins, and linens you choose. Coordination is essential, even though they don't all have to match. Your choice of tableware will take your decoration to the next level. For ease, we recommend using disposable tea cups, which come in rich and vibrant colors. You don't have to wash them after the party is over. Instead, you can just get rid of them by throwing them in the dustbin and making yourself comfortable.
Centerpieces
Obviously, a tea party without decorative centerpieces would be boring. Even with just one table, placing something attractive in the middle gives the space a polished appearance. Instead of using vases, think about using an old teapot or large teacups. Your preferred floral arrangements should be placed inside the vase. Consider keeping the decoration low so those seated across the table can see one another.
Food, Delicious Food
Tea tastes the most delicious when accompanied by cakes, pastries, and biscuits. It's always a good idea to inform visitors in advance if there are any foods they can't eat, given the increase in vegetarianism and other issues like food intolerances.
It's best to combine sweet and salty flavors for your guests and fill their plates. We have compiled some of the best afternoon tea party desserts and snacks you can enjoy with your tea.
Scones
Scones are simple to make. These pastries are frequently served with clotted cream and jam. They are just like thick biscuits. Adding fruit and nuts to the dough before baking them or coating them with lemon syrup may also intensify the taste. Serve your guest's scones and tea in disposable plastic tea cups.
Tea Sandwiches
Tea sandwiches, commonly referred to as finger sandwiches, are tiny, little sandwiches. Cucumber tea sandwiches prepared with white bread, butter, cream cheese, and cucumber are a classic meal for your afternoon tea party.
Sweets
A delectable addition to your exquisite tea party includes teacakes, shortbreads, cookies, and pastries like tiny éclairs and cream puffs. 
Persimmon Bread
A sweet and sour reminder that fall has arrived is persimmon bread. Serve this tender bread with ginger butter, thinly sliced and flavored with honey and juicy persimmon pulp.
Pumpkin Cream Tartlets
These little pastries are prepared in muffin tins. The ideal time to display gorgeous fall muffin sheets is now. On the bottom of a two-tiered tray, these little tarts would look lovely with Cinnamon Icebox Cookies on top.
Simple Beef Sandwiches
You may prepare these simple yet tasty sandwiches if you have leftover corned beef in your refrigerator. Some people enjoy serving corned beef with a bit of mustard. So why not prepare some of them with butter, salt, and pepper and delight your guests at the tea party?
Chicken Nuggets
You cannot forget chicken nuggets when eating your favorite snacks with tea. Both kids and adults love the tasty appetizer known as chicken nuggets. They are a common item on restaurant menus because of their light, crispy and crunchy exterior. 
The reality is that you can simply make them at home, they'll be healthier and less expensive, or you can buy them from the market.
The Star of the Show: The Tea
All over the world, there are approximately 20,000 types of teas but we will only discuss some essential types of teas here. Since fall brings cold and chilly winds with it, your guests will prefer hot tea rather than iced one.
Milk Tea
Any tea drink with milk added to it is referred to as milk tea. A regular cup of black tea is topped with milk to make milk tea. In the end, you can also add sugar in it according to your taste. It has excellent taste. Delight your guests by serving them milk tea in elegant plastic tea cups.
Green Tea
Green tea is derived from the leaves of the tea plant. It is grown mainly in China and Japan, where it is also very much liked. Green tea doesn't require milk, sugar, or other additions, unlike black tea, which may even lessen the health advantages. You can squeeze some lemon into green tea to enhance its flavor. 
Pink Tea
This stunningly pink beverage is prepared from the same tea leaves as green tea but has a very different flavor and pink color as the name suggests. This tea which is a little salty and wonderfully creamy is as distinctive in flavor as it is in look. Serve your guests pink tea in disposable tea cups and add some flavor to your tea party.