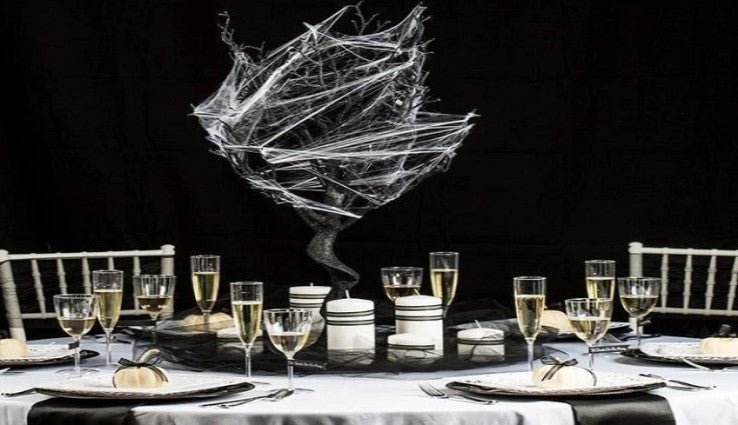 Til Death Do Us Party: A Spooktacular Halloween Wedding Celebration
In the mystical embrace of autumn, where the crisp breeze carries the scent of fallen leaves, and the moon casts an ethereal glow, love finds its way into the most enchanting celebrations. Imagine saying "I do" amidst the haunting allure of Halloween – a day traditionally reserved for ghosts and ghouls, but now, a canvas for an extraordinary love story.
Haunted Happily Ever After: A Halloween Wedding Bash to Remember
In this thrilling tale of love and eerie elegance, we'll dive into the world of a wedding where the vows are exchanged in the presence of ghosts, and the reception dances to the rhythm of spookiness. Join us as we unravel the secrets behind creating an otherworldly celebration that will leave guests and newlyweds spellbound. Prepare yourself for a journey into the heart of a Halloween wedding bash that promises to be a haunted happily ever after!
Setting the Scene: Decor Elements
Black and White Elegance
The first brushstroke on the canvas of our Spooktacular Halloween Wedding Celebration is the carefully chosen black and white color scheme. These contrasting hues evoke a timeless combination of sophistication and mystery, setting the stage for a celebration that transcends the ordinary. Picture a landscape bathed in monochrome enchantment, where every detail, from the bride's gown to the table linens, dances in harmony with the shades of night.
Enchanting Centerpiece
At the heart of this hauntingly beautiful tableau is a centerpiece that captures the essence of our Halloween love story. Like a shadowy river, a black tulle runner weaves its way across tables, creating an ethereal path for the celebration. Adorning the center stage is a decorative black tree, its branches embracing delicate spiderwebs like ghostly whispers in the night. The flicker of white candles, decorated with black satin ribbons, casts a bewitching glow—conjuring an atmosphere that straddles the line between romance and the supernatural.
The Perfect Halloween Wedding Place Setting
Fancy in Black
Every detail of a wedding celebration contributes to the overarching narrative, and the place setting is no exception. Our Spooktacular Halloween Wedding takes dining to a new level with fancy black disposable charger plates. These sleek, dark canvases serve as the foundation for the culinary delights that await, adding an element of mystery to each course.
Elegance in White
Contrasting against the dark allure of the charger plates are the elegant white plastic dinnerware sets specifically designed for weddings. Each piece carries a touch of sophistication, ensuring that the dining experience is memorable and a visual feast. The purity of white against the brooding backdrop of black creates a striking tableau, symbolizing the union of opposites in a celebration of love.
Glimmers of Silver and Plastic
In this unconventional symphony of elegance and spookiness, disposable silverware and plastic drinkware take center stage. Though crafted from plastic, wine glasses, and champagne flutes exude the same air of refinement as their traditional counterparts. The clinking of these glasses resonates with the echoes of love, promising a toast to a future as enduring as Halloween's spirit.
Napkins and Rings in Ebony
Completing this meticulously curated place setting are disposable black linen napkins and napkin rings. Adorned with subtle textures, the dark fabric serves both form and function, adding a touch of opulence to the setting while ensuring every guest can partake in the revelry without fear of a midnight mess.
Additional Decorations
Creative Seating Alchemy: Black and White Chair Decor
Add magic to your Halloween-themed wedding by incorporating black and white colors into the chairs. From elegant chair covers to ribbons and sashes, let the monochromatic magic extend to every venue corner. Adorn the chairs with alternating black and white fabric covers and tie black satin ribbons around the backs of white chairs and vice versa. This will enhance the visual appeal and symbolize the harmony of two lives in a dance of contrasts.
DIY Mini Pumpkin Place Cards
Mini pumpkins are perfect for Halloween-inspired place cards. They make for charming decorative elements and personalized seating markers. To create bespoke keepsakes, you can use metallic markers or elegant calligraphy to inscribe guests' names on the pumpkins. It's a creative way to add a personal touch to your celebration and invite guests to take home a tangible piece of the enchanted evening.
Source: Crafting Autumn Magic with Smarty Had a Party: For a detailed guide on bringing this autumnal magic to life, head to the Smarty Had a Party blog. Smarty's expertise in crafting unforgettable moments aligns perfectly with our vision for a Halloween wedding that transcends the ordinary. 
Link to the Smarty Had a Party Blog for Mini Pumpkin Decor
Till Death Do Us Party Wine Glass Labels
Elevate the sophistication of your seating further by attaching custom "Till Death Do Us Party" labels to the wine glasses. This personal touch adds a thematic element and serves as a charming keepsake for guests to commemorate the magical evening.
Menu and Drinks
No Spooktacular Halloween Wedding Celebration is complete without a feast that tantalizes the taste buds and intrigues the senses. Dive into the world of creative and spooky menu ideas that bring a touch of the extraordinary to the dining experience.
Halloween-Inspired Cuisine
Creative and Spooky Menu Ideas
Imagine savoring "Witch's Brew" soup or "Graveyard Goulash" as a nod to the supernatural. Incorporate dark and light elements into the menu, such as "Batwing Chicken" skewers paired with "Cauldron Mac 'n' Cheese." For dessert, delight your guests with "Haunted Black Forest Cake" or "Ghostly White Chocolate Mousse." The culinary possibilities are as endless as the mysteries that unfold on Halloween night.
Incorporating the Black and White Theme into Food Presentation
Elevate the dining experience by seamlessly weaving the black and white theme into the presentation of each dish. From monochromatic plating to creatively arranged charcuterie boards featuring dark cheeses and light crackers, let the color scheme extend to the culinary realm. Even the desserts can be adorned with edible silver and black accents, ensuring every bite is a visual and flavorful delight.
Signature Cocktails
Crafting Unique Halloween-themed Drinks
Shake things up with "Midnight Elixirs" or "Ghoulish Gimlets" that play with dark spirits and mysterious flavors. Consider concoctions with activated charcoal for a bewitching black hue or garnish with edible flowers for an ethereal touch. Let your imagination run wild, creating drinks that are as captivating as the love story being celebrated.
Serving in the Chosen Disposable Drinkware
Carry the theme to the bar by serving these enchanting elixirs in the chosen disposable drinkware. Picture guests sipping from elegant plastic wine glasses and champagne flutes, their drinks adorned with black satin ribbons. The juxtaposition of disposable and sophisticated adds modern flair to the Halloween festivities.
Frequently Asked Questions (FAQ)
1. Where can I find elegant disposable dinnerware for weddings?
Look no further than Smarty Had A Party's online store for those seeking the perfect blend of elegance and convenience. Smarty's curated selection of disposable dinnerware sets for weddings ensures that your celebration is stylish and hassle-free. Explore Smarty's range to discover the ideal pieces that seamlessly fit into the enchanting narrative of your Spooktacular Halloween Wedding Celebration.
2. How can I personalize seating with mini pumpkins as place cards?
Mini pumpkins make charming place cards when personalized with your guests' names. Get creative with metallic markers or elegant calligraphy to inscribe each pumpkin. This DIY approach adds a personal touch and doubles as a unique keepsake for your guests to remember the magical evening.
3. How can I ensure my Halloween wedding is family-friendly while maintaining a spooky atmosphere?
Balancing a spooky atmosphere with family-friendly elements is vital for a Halloween wedding. Opt for fun and whimsical decorations rather than frightening ones, and consider having a designated area for children with age-appropriate activities. Incorporate playful themes like friendly ghosts or smiling pumpkins to ensure everyone, from the youngest to the oldest guest, feels included in the celebration.
4. How can I ensure a seamless online shopping experience for wedding supplies?
Plan ahead and choose reputable online stores to ensure a seamless online shopping experience for wedding supplies. Smarty Had A Party stands out for its user-friendly interface and a wide array of elegant disposable party tableware, making it a reliable source for all your wedding needs. Browse their collection, place your order confidently, and focus on enjoying your Spooktacular Halloween Wedding Celebration.
In the dance between the ordinary and the extraordinary, love finds its most beautiful rhythm, which resonates far beyond the hauntingly beautiful night when two souls say, "I do."