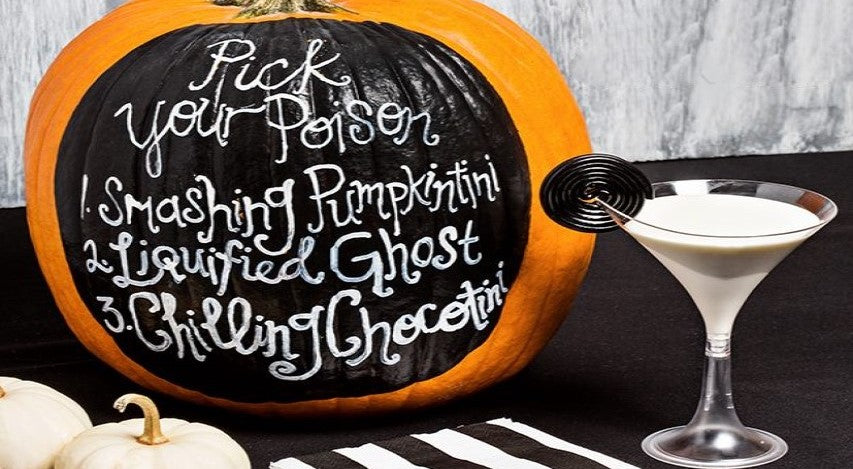 Boo-zy Elixirs: Crafting the Perfect Halloween Cocktails
Gather round, Halloween enthusiasts and cocktail connoisseurs for a spine-chilling journey into the world of bewitching beverages! As the witching hour approaches and jack-o'-lanterns flicker with an otherworldly glow, it's time to elevate your Halloween festivities with a touch of mixology magic. Welcome to our fantastic blog post, where we embark on a thrilling adventure to concoct drinks that are not only delicious but hauntingly spectacular.
Spooky Spirits: Hauntingly Delicious Halloween Cocktails
In this eerie elixir escapade, we'll dive into the art of crafting cocktails that embody the spirit of All Hallows' Eve. Whether hosting a hauntingly elegant soiree or a spooktacular family gathering, join us as we unlock the secrets to crafting the perfect Halloween cocktails. Let the cauldron bubble, the potions flow, and the good times roll – for a night that promises to be both eerie and intoxicating. Cheers to "Boo-zy Elixirs," where every sip is a taste of the supernatural!
Smashing Pumpkintini: A Potion of Pumpkin Perfection
Recipe Unveiled: A Pumpkin Twist to Classic Martini
This Smashing Pumpkintini is a symphony of autumnal flavors, seamlessly blending the warmth of pumpkin spice with the velvety smoothness of vanilla. It's a potion that captures the essence of fall in every sip, making it the perfect elixir to kick off your Halloween celebration.
Ingredients:
2 oz pumpkin spice-infused vodka

1 oz vanilla liqueur

1/2 oz simple syrup

1/2 oz heavy cream

Ice
Instructions:
Combine the pumpkin spice-infused vodka, vanilla liqueur, simple syrup, and heavy cream in a cocktail shaker filled with ice.

Shake vigorously until the mixture is well-chilled and frothy.

Strain the potion into a chilled martini glass.

Optional: Garnish with a sprinkle of cinnamon or a miniature pumpkin spice rim for an extra touch of magic.
Garnishing for Ghouls: How to Perfectly Decorate Your Pumpkintini
Cinnamon Swirl Magic:

 Add a whimsical touch by swirling a cinnamon stick in the glass. Not only does it enhance the aroma, but it also adds a subtle hint of spice to each sip.

Pumpkin Spice Rim:

 Create an enchanting rim by dipping the glass in a sugar and pumpkin spice mixture. It adds a visual element and introduces an extra layer of flavor with every sip.

Mini Pumpkin Garnish:

 Float a small, edible pumpkin atop your Smashing Pumpkintini. It's a charming detail that brings the Halloween spirit to life and makes for an Instagram-worthy moment.
Liquified Ghost: Sipping on Ethereal Elegance
Ethereal Elegance: A Ghostly White Cocktail
The Liquified Ghost is a hauntingly beautiful creation with a pale hue that mirrors the ghostly apparitions of Halloween lore. It's a velvety concoction that dances on the palate, delivering a symphony of flavors that linger like a mysterious whisper in the night.
Ingredients:
1 1/2 oz vodka

1 oz white chocolate liqueur

1/2 oz crème de cacao

1 oz heavy cream

Ice
Instructions:
Combine vodka, white chocolate liqueur, crème de cacao, and heavy cream in a shaker filled with ice.

Shake vigorously until well-chilled and frothy.

Strain the elixir into a chilled glass.
Presentation Matters: Serving the Ghost in Style
Chilled Glassware:

 Use frosted or chilled plastic glassware to enhance the ghostly ambiance. The contrast of the cold glass against the velvety cocktail adds to the overall mystique.

Ghostly Garnish:

 Float a thin slice of pear or apple on the surface of the cocktail, creating a ghostly silhouette. It not only adds visual appeal but also introduces a subtle fruity note to the drink.

Haunted Glass Rims:

 Dip the rim of the glass in edible silver or pearl dust for a hauntingly beautiful effect. A slight touch adds a magical shimmer to your ghostly libation.
Chilling Chocotini: A Sinful Symphony of Decadent Delights
Decadent Delights: The Chocolate-Infused Halloween Indulgence
The Chilling Chocotini is a rich symphony that tantalizes taste buds with layers of chocolatey bliss. It's a potion that invites you to embrace the darker side of indulgence, making it the perfect libation for a Halloween night of sweet mischief.
Ingredients:
1 1/2 oz chocolate-flavored vodka

1 oz crème de cacao

1 oz chocolate liqueur

1 oz half-and-half

Ice
Instructions:
Combine chocolate-flavored vodka, crème de cacao, chocolate liqueur, and half-and-half in a shaker filled with ice.

Shake vigorously until the mixture is well-chilled and velvety.

Strain the elixir into a chilled martini glass.
Adding a Spooky Touch: Creative Garnishing Ideas
Chocolate Drizzle:

 Coat the inner walls of the glass with a swirl of chocolate syrup before pouring in the Chocotini. It not only adds a visual treat but also introduces an extra layer of chocolatey goodness.

Ghastly Ghosts:

 Create ghost-shaped marshmallow garnishes to float on the surface of the cocktail. They add a whimsical touch and a hint of sweetness to each sip.

Dark Magic Dust:

 Sprinkle a pinch of edible dark glitter or cocoa powder on top of the Chocotini for a mysterious, bewitching shimmer.
Pick a Poison: Creative Display Ideas
DIY Pumpkin Menu: Inscribing Your Choices on a Jack-o'-Lantern
Add an interactive and visually striking element to your Halloween soirée by creating a DIY Pumpkin Menu. Turn a jack-o'-lantern into your beverage maestro, proudly displaying your cocktail choices for the evening:
Choose a Big Pumpkin:

 Opt for a giant pumpkin to ensure there's enough space for inscriptions and to catch the eye of your guests.

Carve Clever Labels:

 Carefully carve the names of your featured cocktails onto the pumpkin's surface. Use creative fonts and spooky embellishments to evoke the Halloween spirit.

Illuminate the Choices:

 Place a small light or candle inside the pumpkin to illuminate your choices, creating an eerie yet inviting glow. This adds an extra layer of ambiance to your drink selection.
Smarty Party Tip: Enhancing the Atmosphere with Themed Decor
Ghostly Garlands:

 String ghost-shaped garlands across your party area for a whimsical touch. You can even add miniature pumpkins or witches' hats to the mix.

Sinister Silhouettes:

 Cut out spooky silhouettes of bats, witches, or black cats and place them strategically around the room. Attach them to walls windows, or even dangle them from the ceiling for an immersive effect.

Candlelit Cauldrons:

 Place LED candles inside cauldrons or witch's pots to cast a warm, flickering glow. This adds an enchanting and mysterious ambiance to your space.

Black Tree Mystique: 

As a final touch, position a small black tree adorned with fairy lights or spiderwebs in a corner, creating an eerie yet enchanting focal point. The bewitching silhouette adds an extra layer of mystique to your Halloween decor.
Serving with Style: Fancy Plastic Drinkware
In the realm of Halloween revelry, presentation is paramount. Elevate your Boo-zy Elixirs to a new level with the elegance and practicality of fancy plastic drinkware by Smarty Had A Party. 
The Rise of Elegance: High-Quality Disposable Martini Glasses
Bid farewell to the ordinary and embrace the extraordinary with high-quality disposable martini glasses. These vessels exude elegance while offering the convenience of disposable use. Crafted with attention to detail, they mimic the sophistication of traditional glassware, ensuring that your cocktails are presented in a manner befitting its allure. The rise of elegance is at your fingertips, sans the worry of breakage or cleanup.
Plastic Wine Glasses: Balancing Class and Convenience
For those who appreciate the delicate bouquet of a Chilling Chocotini or the subtle notes of a Liquified Ghost, plastic wine glasses provide the perfect balance of class and convenience. The clear, stemware-inspired design adds a touch of refinement to your Halloween gathering, allowing guests to savor every sip without compromising style.
Disposable Champagne Flutes: Effervescence Meets Practicality
Toast to the spooky season with effervescence and practicality in mind. Disposable champagne flutes bring a touch of glamour to your Halloween soirée, ensuring that the sparkle of your elixirs is complemented by the glint of elegant drinkware. Celebrate without worry, as these flutes are designed to capture the spirit of the moment without the fragility of traditional glass.
Plastic Tumblers: Sipping in Style, Without the Fragility
For a versatile and stylish serving option, turn to plastic tumblers that allow your guests to sip in style without the fragility of glass. Whether it's the warmth of a Smashing Pumpkintini or the richness of a Chilling Chocotini, these tumblers offer a sturdy and chic vessel for your Boo-zy Elixirs.
Don't Forget: Choosing the Right Disposable Paper Cocktail Napkins
In the pursuit of serving with style, attention to detail is vital. Don't overlook the importance of choosing the proper disposable paper cocktail napkins. Opt for designs that complement your Halloween theme, adding a finishing touch to your beverage presentation. These napkins serve a practical purpose and contribute to the overall aesthetic of your Boo-zy Elixir experience.
As the witching hour approaches and the shadows lengthen, may your cauldron of creativity bubble over, and may your Halloween celebration be a hauntingly memorable affair. Cheers to the magic, the mixology, and the moments that make this season spooktacular. Until next Halloween, keep crafting and sipping those elixirs with the perfect touch of boo! 🎃👻🍹