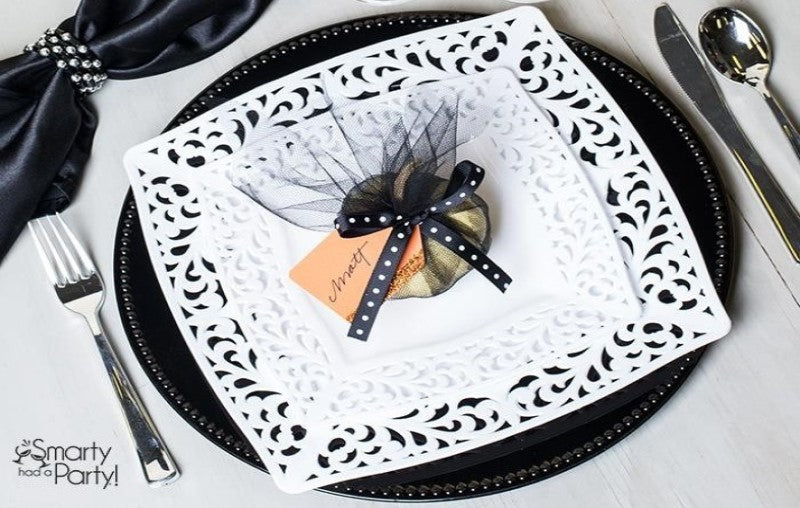 Crafting Autumn Magic: DIY Mini Pumpkin Decor for Stylish Fall Parties
As the vibrant hues of autumn paint the world in warm tones, it's time to usher in the season of celebration and gatherings. Whether planning an intimate Thanksgiving feast, a spooky Halloween soirée, or a romantic fall wedding, infusing your event with DIY charm can elevate the ambiance to new heights. In this blog post, we embark on a creative journey, exploring the enchanting world of DIY Mini Pumpkin Decor.
Tiny Treats for Big Celebrations: DIY Mini Pumpkins for Fall Parties
As we embark on this creative journey, prepare to be inspired by the magic of autumn and the art of crafting. Join us in transforming ordinary gatherings into extraordinary events, where every detail, no matter how small, contributes to an unforgettable experience. Let's dive into the enchantment of autumn and the beauty of DIY mini pumpkin decor for the most stylish fall parties.
Tiny Treasures: DIY Mini Pumpkins as Table Decor and Place Cards
In the realm of autumn enchantment, there's something truly magical about the simplicity of small pumpkins. The charm lies in their petite size and the natural warmth they bring to any setting. Small pumpkins effortlessly capture the essence of fall, making them the perfect canvas for creative expression. Whether clustered as a centerpiece or scattered along the table, their versatility adds a touch of rustic elegance to your event.
Gather Your Materials
Small white pumpkins
Black tulle fabric
Paper for name tags
Black tulle ribbon
Step-by-Step Guide
Wrapping Small White Pumpkins in Black Tulle
Wrap in Elegance:
Cut squares of black tulle large enough to cover each pumpkin.
Gently drape the tulle over the pumpkin, ensuring a snug fit.
Secure and Shape:
Secure the tulle at the base of the pumpkin with a twist tie or a small piece of ribbon.
Trim any excess tulle to create a neat, tailored look.
Attaching a Paper with the Guest's Name and Tying a Bow with a Black Tulle Ribbon
Personalize with Precision:
Write each guest's name on a small piece of paper, selecting fonts and colors that complement your theme.
Attach the name tag to the pumpkin using a dab of glue or by tucking it under the tulle.
Tie the Bow:
Add a touch of sophistication by tying a bow around the pumpkin stem using a black tulle ribbon.
Adjust the size and shape of the bow to suit your aesthetic preferences.
Versatility for Various Autumn Celebrations
As we continue our journey into crafting autumn magic, one of the captivating aspects of our DIY mini pumpkin decor is its versatility. These tiny treasures aren't confined to a single celebration—they're the chameleons of fall decor, seamlessly adapting to the unique spirit of different autumn occasions. 
Thanksgiving: Enhancing the Festive Atmosphere
Thanksgiving, a time of gratitude and gathering, is the perfect canvas for our mini pumpkin place cards. Picture a table adorned with these personalized tokens of appreciation, each marking a guest's seat and adding an extra layer of warmth and festivity to the atmosphere. The white pumpkins, elegantly wrapped in black tulle, bring a touch of sophistication to your Thanksgiving spread. Your guests will not only give thanks for the delicious food but also for the thoughtful details that make your gathering truly special.
Halloween: Spooky or Themed Variations
As the crisp autumn air takes on a hint of spookiness, our mini pumpkins are ready to embrace the Halloween spirit. Consider playful variations, including miniature witches' hats, ghostly faces, or even tiny painted pumpkins in traditional Halloween colors. These imaginative touches transform your DIY mini pumpkin decor into bewitching elements that seamlessly blend with the eerie ambiance of a Halloween party. Whether placed on a haunted dessert table or as part of a mysterious centerpiece, these pumpkins will be a beautiful addition to your celebration.
Weddings: Incorporating Mini Pumpkins into Wedding Decor
For those planning a fall wedding, our DIY mini pumpkins become elegant accents that complement the season's romance. Consider incorporating them into your wedding decor by placing them along the aisle, adorning reception tables, or even as unique placeholders for guests. The simplicity of the white pumpkins wrapped in black tulle allows them to effortlessly blend into various wedding color palettes, adding a touch of rustic charm to the sophisticated ambiance. The result? An unforgettable celebration infused with the magic of autumn.
Completing the Look: Party Supplies for Stylish Fall Parties
As we venture further into crafting autumn magic with our DIY mini pumpkin decor, let's focus on the finer details that elevate your fall party from delightful to truly stylish. While the mini pumpkins steal the show, the importance of cohesive party supplies cannot be overstated. A carefully curated selection of tableware can turn a gathering into a sophisticated soiree that lingers in the memories of your guests.
Fancy Plastic Dinnerware: Stylish Options for a Sophisticated Table Setting
Bid farewell to the notion that disposable dinnerware must sacrifice style for convenience. Fancy plastic dinnerware has undergone a renaissance, offering an array of stylish options that mimic the elegance of traditional china. Opt for plates adorned with intricate patterns or subtle metallic accents, adding a touch of opulence to your table setting. Your guests will appreciate the attention to detail as they dine in style, and you'll enjoy the easy cleanup.
Elegant Plastic Drinkware: Choosing Glass-Like Alternatives for a Touch of Class
Raise a toast to sophistication with elegant plastic drinkware that mirrors the appearance of delicate glass. From stemless wine glasses to highball tumblers, these alternatives exude class without the fragility of their glass counterparts. The crystal-clear finish allows the rich hues of fall beverages to shine through, enhancing the visual allure of your drink station. Guests can sip in style while you enjoy the practicality of disposable yet chic drinkware.
Disposable Silverware: Convenience Without Sacrificing Elegance
No need to compromise on elegance when it comes to utensils. Disposable silverware crafted from durable materials provides a gleaming finish that rivals traditional silver cutlery. The weight and sheen of these utensils add a touch of sophistication to your table settings, ensuring that every aspect of your fall party exudes a refined charm. Plus, the convenience of disposable silverware means you can enjoy the festivities without worrying about post-party cleanup.
How These Supplies Complement the DIY Mini Pumpkin Decor?
Now, let's tie it all together. Imagine your elegantly set table adorned with our DIY mini pumpkins—each one a small masterpiece that doubles as a place card. The black-tulle-wrapped white pumpkins harmonize beautifully with the sophistication of fancy plastic dinnerware. The gleaming surfaces of elegant plastic drinkware reflect the warm glow of autumn candles, while the disposable silverware glistens beside carefully folded napkins.
Tips and Tricks for a Seamless Celebration
Preserving the Pumpkins Until the Event
Store in a Cool, Dry Place: 

Once your mini pumpkins are crafted, store them in a cool, dry place to prevent premature aging or molding. A cardboard box in a temperature-controlled room is an ideal option.

Avoid Direct Sunlight: 

Exposure to direct sunlight can cause the pumpkins to lose their vibrancy. Keep them away from windows or other sources of intense light.

Last-Minute Touch-ups: 

Consider applying a light coat of clear varnish or sealant to the pumpkins just before the event to enhance their longevity and preserve their aesthetic appeal.
Complementary Color Schemes for Table Settings
Harmonize with Nature: 

Draw inspiration from the autumn landscape by incorporating warm, earthy tones. Consider pairing the black and white of the mini pumpkins with deep burgundies, rich oranges, and muted greens.

Metallic Accents: 

Introduce metallic accents like gold or copper to add a touch of glamour. Consider metallic charger plates or napkin rings to elevate the overall sophistication of your table setting.

Neutral Elegance: 

For a timeless and elegant look, pair the mini pumpkins with neutral tones such as beige, ivory, or soft greys. This allows the pumpkins to stand out while maintaining a refined aesthetic.
Ideas for Incorporating Autumnal Elements 
Fall Foliage Table Runners: 

Craft a table runner using colorful autumn leaves. This simple yet impactful addition can complement the mini pumpkins, creating a cohesive and nature-inspired table setting.

Candlelit Ambiance: 

Illuminate your celebration with the warm glow of candles. Choose candle holders or lanterns in metallic finishes to tie in with the overall theme. The flickering candlelight will create a cozy and inviting atmosphere.

Seasonal Centerpieces: 

Integrate larger pumpkins, gourds, or seasonal flowers as centerpieces. This adds dimension to your table and reinforces the autumn theme.
Frequently Asked Questions (FAQs)
1. Can I use different colored pumpkins for this DIY project, or is white the best choice?
Absolutely! While the tutorial focuses on white pumpkins wrapped in black tulle, you can experiment with various pumpkin colors. Consider shades like orange, green, or a mix for a diverse and visually striking table decor.
2. How far in advance can I create and store these mini pumpkins before my fall party?
You can create and store these mini pumpkins a few days before for optimal freshness and vibrancy. Ensure they are stored in a cool, dry place away from direct sunlight to maintain their aesthetic appeal until the event.
3. Are there alternative materials I can use instead of tulle for wrapping the pumpkins?
Certainly! Get creative with alternative materials such as lace, burlap, or patterned fabric to add a unique touch to your mini pumpkin decor. Experimenting with different textures can result in diverse and personalized aesthetics.
4. Can I personalize the name tags on the pumpkins with something other than paper?
Absolutely! The name tags offer an excellent opportunity for personalization. Consider using small chalkboard tags, wooden tags, or mini decorative banners for a more eclectic look that aligns with your party theme.
May your fall parties be filled with warmth, laughter, and the unmistakable magic of infusing your celebrations with a touch of your creativity. Here's to crafting autumn magic that lingers in the hearts and memories of your guests, making your stylish fall parties truly extraordinary.