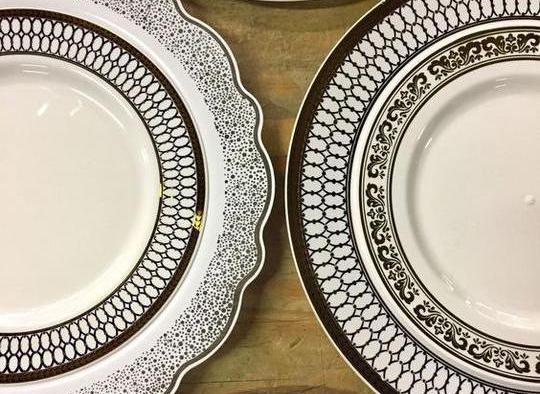 The Ultimate Guide to the Different Types of Dinnerware
As culinary experts always say, the taste of your food and its presentation play equal parts in making your party be on everyone's lips. And it is always better to trust the experts. That statement motivated us to create new designs for the dinnerware sets. That is why in the battle of the taste and the presentation, Smarty Had a Party gives you the most joyous experience in presenting your food at all your events. 
With our vast range of plastic party dinnerware, you can make your party table look absolutely fascinating. The designs and textures of elegant disposable dinnerware sets are ideal for any of your special events to make them extra special. And these sets are made to fit both a traditional table setting and a contemporary table setting. Tired of the table being filled with the same colors of plates? Go ahead and mix and match two sets of our plates. 
Plastic Marble Design
When your table is set with elegant plastic party dinnerware, your party looks perfect altogether. But, of course, the most beautiful dinnerware among all is the plastic marble dinnerware due to its chic and contemporary looks. Our plastic marble dinnerware has a refined, geometric approach that makes your party table stand out. Be it a bridal shower, an engagement party, a fun-filled birthday party, or your wedding - the plastic marble dinnerware is everything you need and look for in dinnerware. 
Fall in love with our Black with Silver Marble Disposable Plastic Wedding Value Set due to its dazzling appearance and premium quality. We believe style is not equivalent to expensive. That is why even our premium disposable plates come at an economical price. Another perk of choosing our plastic marble dinnerware is that it is disposable and will save you energy and time spent washing and cleaning soiled tableware. In addition, you can use these plates and simply put them up for recycling. And unlike China, these marble-designed plates aren't going to shatter upon dropping. Did you drop one of our plates? Laugh it off without stress and pick it up, drop it in a bin, and pick a new plate! 
Eco-Friendly Dinnerware Collection
'Go Green' is becoming a trend in the past few years. The eco-friendly dinnerware collection is the perfect most amongst all. Disposable eco-friendly plates and serving ware are made of 100% natural materials. So yes, these plates are compostable and biodegradable. And we take pride in saying that these plates are not coated or laminated with toxic chemicals. Our disposable eco-friendly plates don't bend or leave toxins in the food when served. Another advantage of our plates is that they can handle hot food. Plus, these eco-friendly disposables are microwavable. Also, these compostable plates do not splinter or flop when met with force, so you need not worry about using force to cut your steaks.
Our eco-friendly plates are made from materials such as palm leaves that are rich in carbon, so they will do great in your compost pile, which usually has a lot of waste materials rich in nitrogen. Adding our biodegradable plates will balance out the nitrogen levels. 
Despite using natural materials in the production, our plates are not rough on the hands. All of them are designed to have a smooth finish and are lightweight, making your dining experience luxurious. And, of course, the natural pattern on each pattern is unique. 
Disposable Royal Dinnerware
The best way to celebrate a wedding is by pulling off a royal theme. Give your wedding tables a classic look with our disposable royal dinnerware. And is it even royal-themed if metallic color patterns are not involved? Choose your favorite color pattern and accentuate it with metallic to augment the vibe. Of course, since these are royal dinnerware, the price must be royally expensive, too, right? Wrong! These disposables available to you are a value that won't leave a dent in your wallet. 
Square Plastic Dinnerware
Next on the list of our elegant disposable dinnerware sets is the square plastic dinnerware. The best part of this dinnerware is its geometry, as you get to define the rules. Choose from our wide collection of square plastic dinnerware according to what suits your requirements. The shape of the plate will definitely bring all eyes to your food. In addition, the depth in the plate works to reduce accidental spilling. 
Vintage Floral Design
Vintage dinnerware is making a comeback in parties and restaurants due to its elegance and antique design that takes you back in the times. The vibe a vintage-themed party can create is priceless, making people love every bit of the party. Our antique floral dinnerware brings you elegance at a reasonable price, and the supremacy it will have at your event is indescribable. Although the plates are of vintage style, they are not fragile by any means. These vintage floral plates are made using quality materials to ensure durability. So you don't have to worry about handing a plate over to a child and them breaking the plate or getting hurt. 
Shopping is easier when you can sort through colors. So, do we offer that as an option? The answer to that is yes. 
Shop by Color Option
In hopes of making things more accessible and more pleasant for you, we offer a Shop by Color option, in which our elegant disposable dinnerware sets are available in various colors, matching perfectly with any of your themes. When celebrating your daughter's first birthday, opt for the sweet pink dinnerware or even baby blue, and for the events where you can't decide between colors, go for the black or white dinnerware as they work best in any event.
The list doesn't end here. We got a variety of other elegant plastic party dinnerware collections for a perfect event. Check them out and pick your favorite one for those fabulous parties.
And for those who want suggestions on mixing and matching, check our page to find out the tips we came up with.