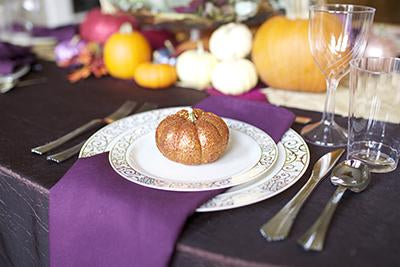 "Fall" In Love with Smarty's Fabulous Autumn Party
As the fall arrives, days become shorter and summer days seem to be leaving, but if you are a party lover, you will find an excuse to invite your friends and family over for a fall party. But, of course, with every season comes a different way of welcoming it. So let's get into the ideas of a fall party to celebrate it with your friends and family.
Autumn is one of the most beautiful seasons when it comes to decoration. It provides everything we need: bright colored leaves, all kinds of ripe fruits, beautiful flowers, and plants.
You do not need to buy anything to allow autumn to enter your home. Bouquets of autumn leaves, fruits, berries, and scented candles can be used in many exciting ways. Try to turn on your imagination and use nature's gifts to decorate the house.
The 70s Party Theme
The playful seventies brought us macrame, rattan, and a mixture of brown and orange tones, and this year they are settling on the tables as an unavoidable trend in decorating. The emphasis is on warm colors, soft geometric shapes, and swirling patterns.
Pumpkins Theme
First of all, you will need to decide on a theme that your guests will love and enjoy around in that environment. With pumpkins, you can do plenty of creative things to decorate your party venue, but don't forget to have many pumpkins in stock. Then, use the pumpkins to set a perfect theme for a fall party.
If you are creative enough, carve the pumpkins in different patterns and place them on different table settings. Use beautiful disposable charger plates and disposable plastic bowls to display carved pumpkins.
An arbor is a great way to welcome guests. Arrange a simple gazebo that matches your space and decorate it with pumpkins and autumn leaves. You can hang small apple pumpkins on it and make it welcoming. Cover up the surroundings with flowers to enhance the look even more.
You can also play with the lights, carve the pumpkins and put some ambient lights in them. Finally, wrap up the trees with simple white lighting - they not only add the subtle sparkle but help with lighting once the sunsets.
Instead of a Pumpkin - APPLE! 
Miniature apples are often used for decorative purposes. These tiny fruits are light enough to be safely hung on a chandelier and elegant enough to be a stand-alone decoration on the dining table. Using apples or any fruit, you can make autumn compositions and combine them with other seasonal fruits. There are no restrictions for decorating: any autumn fruits you like will be suitable for decorations.
You can use apples to make decorative candles for the table. Cut a small part of the bottom with more giant apples. Cut a groove the size of a small candle. Insert a candle into the resulting recess. Make a few mini candle holders on the table, and you will create a charming, magical autumn atmosphere. Sweet little things are becoming more and more popular at feasts - personalized gifts for guests. Prepare delicious sweets or small chocolates and mini-bouquets. Take as many apples as you expect. Make leaflets out of paper, write the names of the guests and tie them to the handle of an apple with raffia or twine. Place on a plate for each guest. Your guests will be pleasantly surprised.
Chestnuts and Walnuts
When walking in the woods or park, watch carefully because there you can find the most exciting elements for your decoration. For example, chestnuts can be used to decorate a holiday table. They can be painted in gold or silver. Acorns or walnuts can find their place in a glass jar or candlestick or become part of the decor. 
Partridge and Berries 
Red partridge is an excellent "material" for autumn decor. You can make small wreaths for decorating candles or add a few branches to an autumn bouquet, which will later decorate your table. 
Cereals
A few sheaves of wheat or other cereals collected in a bouquet will be a natural decoration for the holiday table. This version of the interior decor symbolizes a good harvest and has long been used to decorate houses.
Corn
In autumn, corn is dried and used to decorate the interior. This can be a decoration on the door and on the chairs and can be painted in different colors.
Table Decor
Your table decor represents your style and choice, so try to make it look splendid for your guests. When it's about table decor, go with your creative instincts and see how it comes up.
Use Smarty's fancy mini partyware to help you with the table decor. There are a bunch of Smarty's partywares available to help you do your table decor with perfect art of arrangements.
Dinner at a Fall Party
Dinner arrangements should be pre-planned - so you don't end up in the kitchen, and most guests at parties like lighter food. Cook dishes that shouldn't take your whole day, so you feel fresh when guests arrive.
Moreover, for dinnerware choice, go with Smarty's disposable party dinnerware. These are lightweight and not as expensive as other materials. Plus, the bonus is you won't be left with a pile of unwashed dishes after your guests go home. Instead, you can dispose of disposable plastic drinkware and disposable plastic plates.
With Smarty's plastic flatware for parties and disposable serving partyware, you can easily throw an epic party hassle-free. Moreover, your table set up for dinner will look professional and perfect for impressing guests.
Partying Gifts
Once night winds down, say goodbye to your guests with some partying gifts. This will surely leave a good impression on them. Apple butter is an excellent choice for this themed party, and the bonus is it's a super easy make-ahead recipe using a slow cooker.