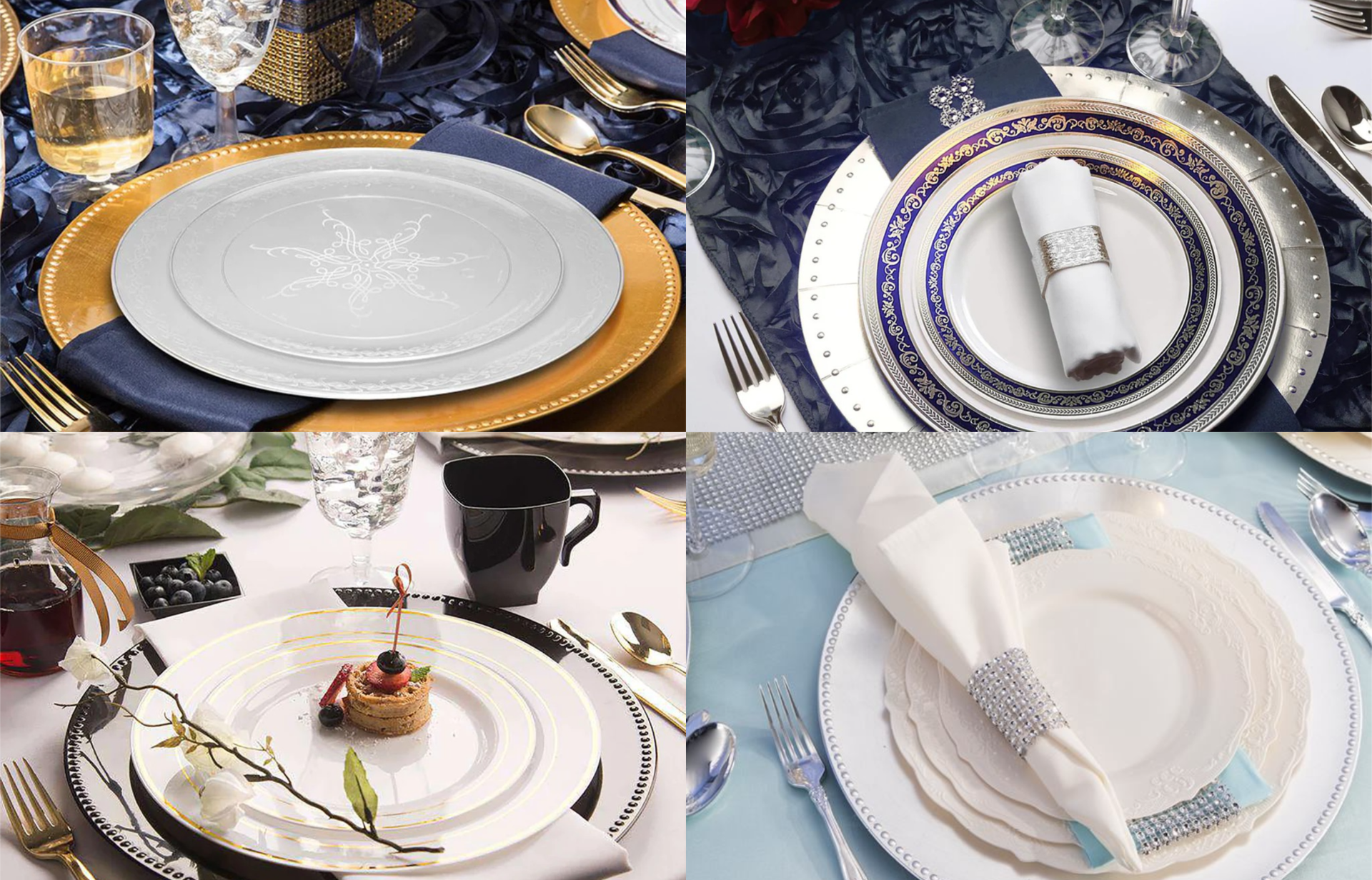 The Top 4 Place Setting Looks for a Sophisticated Table
When it comes to hosting a sophisticated dinner party or a special occasion, setting an exquisite table can elevate the entire dining experience. The way a table is arranged reflects your attention to detail and sets the ambiance for the event. Whether planning a formal gathering or a casual get-together, the right place setting can make all the difference.
This blog post will explore the top five place setting looks for a sophisticated table. Get ready to explore the world of place-setting looks that will impress. It's time to host your most sophisticated gathering yet!
1. Classic Elegance: Traditional Formal Setting
The concept of an elegant, formal place setting goes beyond mere aesthetics. It reflects an appreciation for tradition, attention to detail, and a desire to create a memorable dining experience for guests. 
While traditional formal settings have traditionally relied on fine china and crystal glassware, the emergence of high-quality fancy plastic tableware offers an excellent solution for achieving elegance and convenience simultaneously. 
Tips for creating a traditional formal setting
2. Modern Minimalism: Sleek and Contemporary Setting
Modern minimalism is popular in home decor, fashion, and table settings. It emphasizes simplicity, clean lines, and a clutter-free approach for a sleek and contemporary look. In table settings, it creates a sophisticated and stylish atmosphere with ease.
Disposable dinnerware sets are remarkably versatile to achieve a modern minimalist table setting. Choose from various colors, finishes, and materials to create a modern and convenient table setting with disposable dinnerware.
Ideas for incorporating clean lines, monochromatic color schemes, and simple yet stylish table decor
Clean Lines: 

Select disposable dinnerware with clean lines and minimalistic designs. Opt for square or rectangular plates and bowls rather than traditional round ones. This geometric approach adds an interesting visual element to the table setting.

Monochromatic Color Schemes:

 Embrace a monochromatic color palette to create a sense of harmony and simplicity. Choose a single color or a combination of shades within the same color family. For example, an all-white table setting exudes elegance and minimalism, while muted earth tones provide a warm and contemporary feel.

Minimalist Table Linens: 

Opt for 

plastic tablecloths

 in neutral tones or crisp white to maintain a clean and minimalist look. For a subtle textural element, consider using table runners or placemats in natural fibers such as linen or cotton.

Contemporary Flatware: 

Choose 

disposable flatware sets

 with sleek and modern designs. Look for options with streamlined handles and minimalist shapes. Matte black or metallic finishes can add a touch of sophistication to the table.

Glassware and Stemware: 

Select simple and elegant 

plastic drinkware

 with clean silhouettes. Clear glass or crystal-like disposable options work well in a modern minimalist setting. Keep the glassware design consistent throughout the table to maintain a cohesive look.
3. Vintage Charm: Refined and Warm Setting
Set a vintage-inspired table for a charming and nostalgic atmosphere. Combine antique-style tableware with modern touches for a perfect balance.
Achieving a vintage charm doesn't mean relying on fragile antique china. Plastic plates and disposable vintage dinnerware sets offer a practical solution that can emulate the beauty and allure of antique tableware. These high-quality alternatives are designed to mimic the intricate details and patterns found in antique china while being lightweight, durable, and easily disposable.
Suggestions for incorporating vintage-inspired accents to enhance the theme
Lace Accents: 

Incorporate lace elements into your vintage-inspired table setting to add a touch of refinement. Use lace table runners or doilies as an overlay on the tablecloth. Alternatively, wrap lace ribbons around napkins or create lace-inspired napkin rings for intricate and romantic detail.

Floral Patterns:

 Embrace the beauty of floral patterns to enhance the vintage theme. Look for fancy plastic dinnerware sets that feature delicate floral designs. Floral patterned plates, bowls, or 

disposable teacups

 add an elegant and nostalgic touch to the table. Coordinate the theme with floral centerpieces or small bouquets of fresh flowers in vintage-style vases.

Vintage-Inspired Glassware: 

Select glassware with a vintage feel to complement your table setting. Look for glasses with etched designs, cut glass patterns, or 

delicate plastic stemware

. Elegant plastic options that mimic the appearance of vintage glassware are an excellent choice for aesthetics and practicality.

Antique-Inspired Flatware: 

Choose flatware with vintage-inspired designs to complete the refined look. Look for disposable options that resemble antique silverware, featuring intricate handles and ornate details. These add an extra layer of elegance to your vintage-themed table setting.

Accessories and Decor:

 Enhance the vintage charm with carefully chosen accessories and decor. Incorporate antique-inspired candle holders, vintage-style salt and pepper shakers, or vintage 

disposable trays

 for displaying appetizers or desserts. These small details elevate the overall ambiance and create a cohesive vintage look.
4. Glamorous Affair: Luxurious and Opulent Setting
Create an opulent and glamorous table setting to impress your guests. Radiate grandeur and sophistication with a hint of extravagance for an unforgettable dining experience.
Upgrade your event with fancy disposable party supplies that offer style and practicality. Achieve the elegance and opulence of fine dining without the hassle of cleanup.
Tips for incorporating metallic accents, crystal details, and rich color palettes to elevate the glamour:
Metallic Accents:

 Introduce metallic accents into your table setting to create a glamorous atmosphere. Consider using gold or silver disposable cutlery, chargers, or rimmed plates to add a touch of luxury. Metallic accents instantly elevate the overall aesthetic and bring a sense of opulence.

Crystal Details: 

Incorporate crystal-like disposable glassware or sparkling crystal accents to enhance the glamorous theme. Crystal goblets and 

champagne flutes

 can create a dazzling effect and add an element of sophistication and elegance to the table.

Rich Color Palettes:

 Choose rich jewel tones for a luxurious feel. Match the tablecloth, 

paper napkins

, and florals for coordination. A monochromatic or complementary palette can add depth.

Luxurious Textures: 

Incorporate luxurious textures into your table setting for added visual interest. Consider using velvet or satin table runners, textured chargers, or napkins with intricate patterns. These textures create a tactile experience and elevate the overall lavishness of the table.

Statement Centerpieces: 

Create eye-catching centerpieces that become the focal point of your glamorous table setting. Incorporate tall, elegant floral arrangements, ornate candelabras, or decorative sculptures. These statement pieces add drama and extravagance, capturing the attention of your guests.
Embrace the art of table setting, and may your table always reflect your unique style and hospitality. Cheers to sophistication and memorable gatherings!