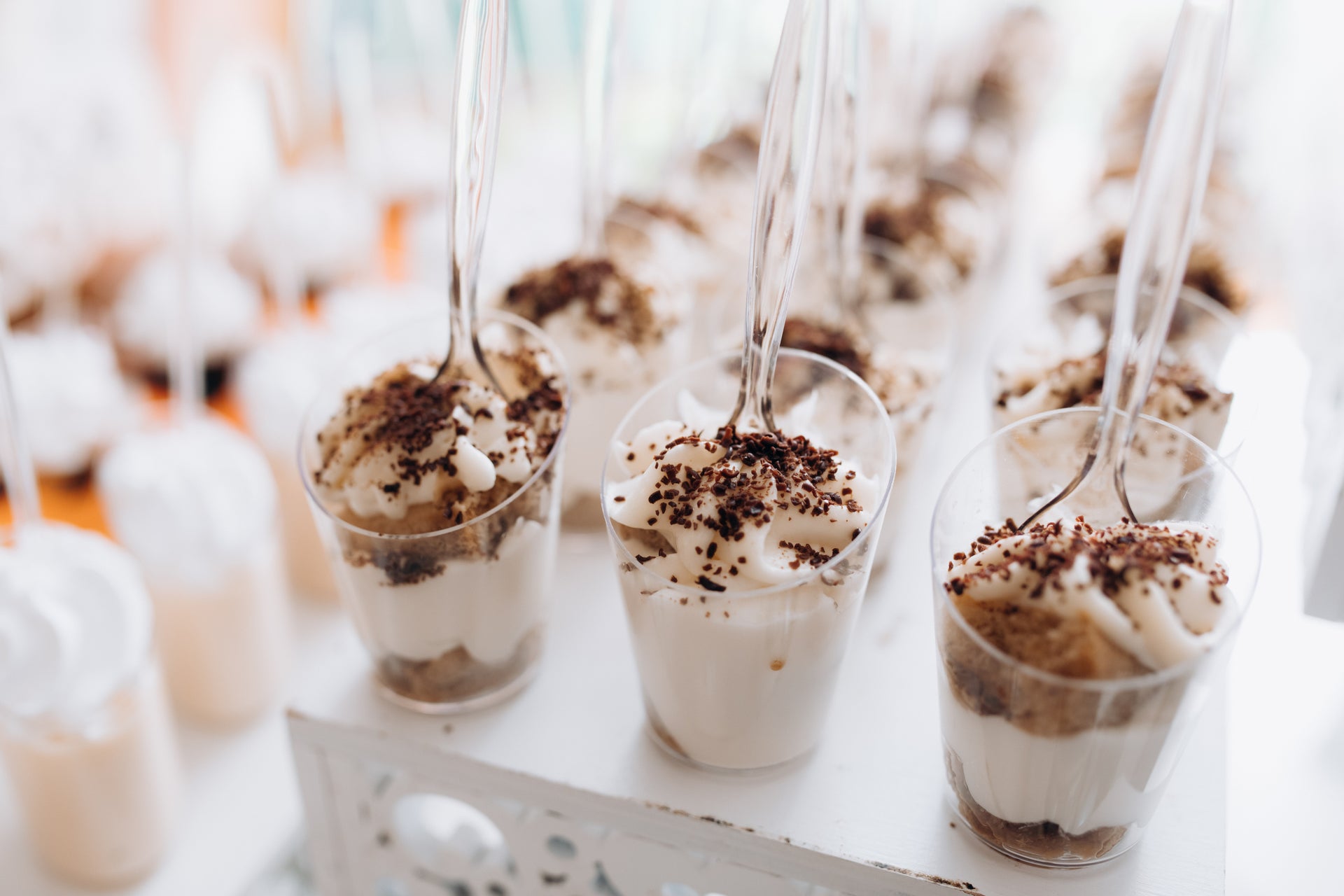 The Best Small Portion Desserts to Elevate Your Party Experience
Are you ready to take your party experience to the next level? Imagine a gathering where every bite is a delightful explosion of flavors, where each dessert is a work of art in miniature form. Welcome to the world of small-portion desserts, where indulgence meets elegance, and presentation is key. 
The trend of small-portion desserts has been steadily gaining popularity and for good reason. These dainty treats offer a multitude of benefits that go beyond their size. From their visual appeal to the ability to sample a variety of flavors without overindulging, small-portion desserts are revolutionizing how we celebrate and savor sweet endings.
How to Elevate Your Party Experience with Irresistible Small Portion Desserts?
This blog post will explore the enchanting realm of small-portion desserts and discover the best options to elevate your party experience.
Whether hosting a birthday celebration, a bridal shower, or gathering loved ones for a delightful soirée, get ready to elevate your party experience with these irresistible small-portion desserts. 
Selection of Delectable Small Portion Desserts
1. Miniature Cheesecake Bites: Creamy, Bite-sized Indulgence for Cheesecake Lovers
Indulge in small yet satisfying cheesecake bites with a creamy filling and buttery crust. Try traditional or experimental flavors like salted caramel or raspberry swirl. Perfect for any taste buds.
2. Petit fours: Delicate, Decorative Cakes with Layers of Flavors
Petit fours are small, elegant cakes with layers of sponge cake, buttercream, fruit preserves, ganache, and a thin layer of fondant. They come in intricate designs and taste delicious.
3. Mini Fruit Tarts: Refreshing and Colorful Treats for Fruit Enthusiasts
Mini fruit tarts are small pastries with a buttery crust, filled with custard, and topped with seasonal fruits. They're sweet and refreshing.
4. Macarons: Elegant French Delicacies Available in an Array of Flavors
Macarons are delicious French cookies with a crispy exterior, a soft and chewy interior, and a flavorful filling. They come in various colors and flavors, making them perfect for any occasion.
5. Chocolate Truffles: Rich and Decadent Bites for Chocolate Aficionados
Indulge in bite-sized chocolate truffles with a velvety texture and flavors like coffee, caramel, or raspberry. Perfect for any chocolate lover.
6. Mini Cupcakes: Cute and Flavorful Miniature Versions of Classic Cupcakes
Mini cupcakes are a delightful addition to any dessert spread. They come in various classic and unique flavors and are topped with beautiful decorations.
Adorable Serving Techniques: Mini Disposable Partyware
When elevating your party experience with small-portion desserts, the proper serving techniques can make all the difference. Enter the world of mini disposable partyware, where charming and convenient options await to showcase your delectable treats. 
The Benefits of Using Mini Disposable Partyware for Small Portion Desserts
Mini disposable partyware offers multiple benefits for your dessert table. These cute serving options add whimsy and playfulness to your presentation, instantly delighting guests and inviting them to indulge in the tiny treasures before them.
Mini plastic party supplies also provide convenience and ease of use. They save you time and effort with no washing or heavy cleanup required, allowing you to enjoy the party with your guests fully. They are also lightweight and portable, ideal for outdoor gatherings, picnics, or any mobile event.
1. Mini Plastic Bowls: Advantages and Creative Uses for Serving Individual Desserts
Mini disposable bowls are ideal for serving individual desserts, allowing for portion control and catering to different preferences. They can be used for fruit salads, parfaits, mousse, or pudding, giving guests a personalized dessert experience.
2. Mini Plastic Cups: Versatile Options for Elegant and Portable Dessert Presentations
These cute mini-plastic cups can be used for serving a range of desserts, like mini trifles or tiramisu shots. Their clear design shows off the layers and textures of the treats, and their small size makes them easy to carry around.
3. Mini Plastic Flatware: Convenient and Stylish Utensils for Enjoying Bite-Sized Treats
Mini plastic flatware is perfect for enjoying small desserts. They add sophistication and make it easier to relish every bite. Use miniature spoons to scoop up mousses and fruit tarts or miniature forks for bite-sized cheesecake or petits fours.
4. Mini Plastic Plates: Ideal for Displaying a Variety of Small-Portion Desserts
Mini plastic plates are perfect for showcasing small desserts. They create an organized and visually appealing display for treats like mini cupcakes, macarons, or chocolate truffles.
Tips for Creating Eye-Catching Dessert Displays
Presentation is critical when serving small desserts. A visually pleasing display improves the experience and leaves a lasting impression on guests. A well-curated spread encourages guests to try the delicious treats.
Use Tiered Stands or Cake Stands to Create Height and Visual Interest
Use plastic cake stands to create an eye-catching dessert display. Arrange desserts carefully to showcase a variety of small-portion desserts at different levels. Place visually stunning desserts in the center for maximum impact and easy viewing by guests.
Incorporate Colorful Garnishes, Edible Flowers, or Powdered Sugar for Added Flair
Enhance small desserts with colorful garnishes like sliced strawberries or blueberries, edible flowers, or a sprinkle of powdered sugar. Edible flowers like pansies or violets add natural beauty and a delicate floral aroma, while powdered sugar can create an elegant and whimsical effect on miniature cakes and pastries.
Arrange Desserts in a Visually Pleasing Pattern or Design
Create a visually pleasing dessert display by arranging small portions in a pattern or design. Try using symmetry, alternating colors or flavors, or a gradient effect. Add decorative elements like ribbons or signage for extra appeal.
Experiment with Different Textures and Shapes to Create a Diverse Dessert Spread
Mix up textures and shapes for an appealing dessert display. Include smooth and creamy treats, as well as crispy and crunchy options. Vary shapes with rounds, squares, or intricate designs. This adds visual interest and ensures a variety of flavors.
Frequently Asked Questions (FAQ)
What are the advantages of serving small portions of desserts at parties?
Small dessert portions at parties allow guests to try multiple flavors without feeling too full, showcase creativity in presentation, and encourage socializing among guests.
Can I make small dessert portions ahead of time?
Absolutely! Small desserts like cheesecake bites, petit fours, and mini cupcakes are easy to make ahead of time and stored in airtight containers or the fridge. This saves time and reduces stress on the day of your event, letting you enjoy the party without worrying about dessert preparations.
How can I accommodate dietary restrictions with small portion desserts?
To accommodate guests with dietary restrictions, provide small desserts tailored to their needs. Offer gluten-free, vegan, or nut-free options labeled with dietary information. Ask guests to inform you of any restrictions in advance for better planning.
Where can I find mini disposable partyware for serving small portions of desserts?
Find stylish mini plastic bowls, cups, flatware, and plates to serve small desserts at Smarty Had A Party online store. Create an impressive dessert spread with their convenient selection. Browse Smarty's collection now.
Cheers to the best small-portion desserts and a truly memorable celebration!