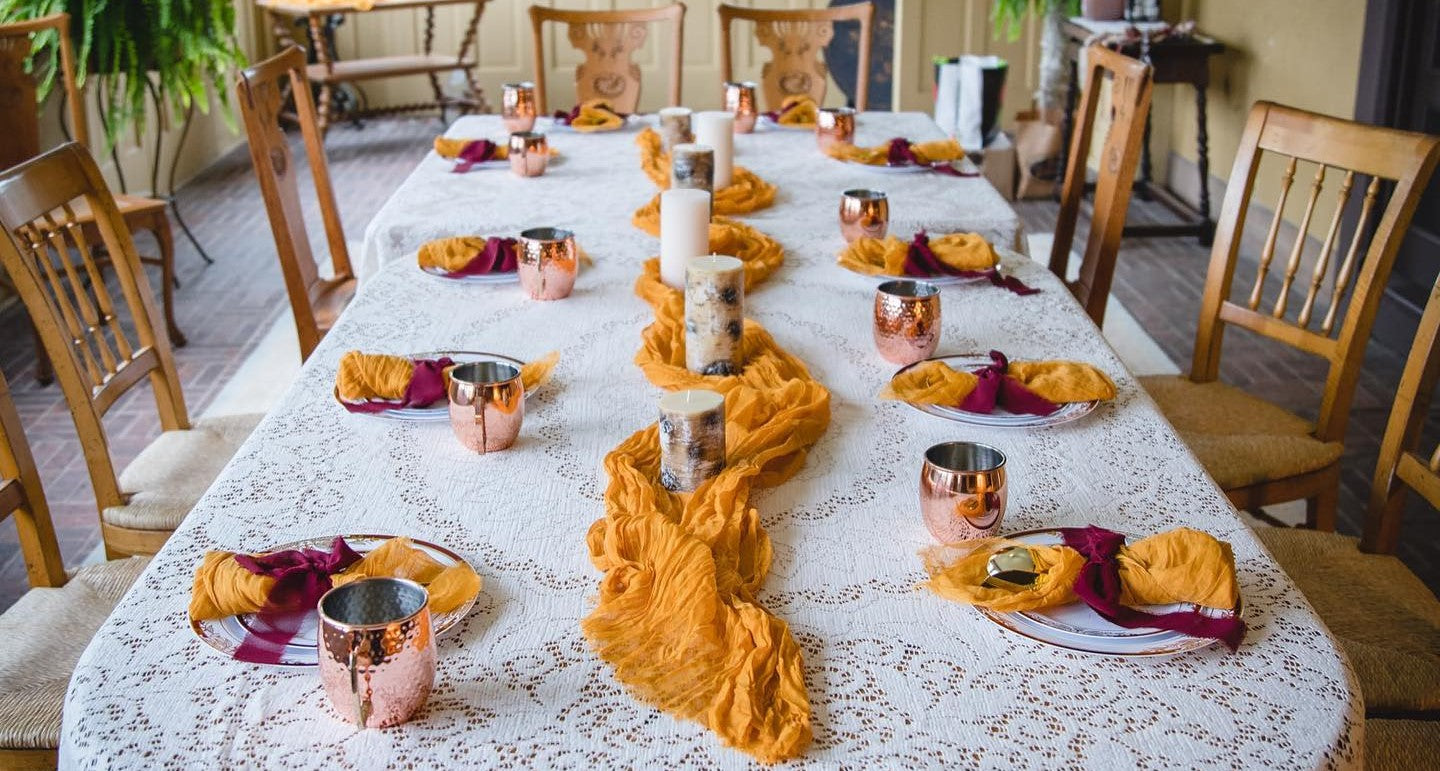 Spice Things Up with Elegant Fall Table Decor!
The changing seasons mark new beginnings and a reason to celebrate. So, as fall is around the corner, it is time to welcome the season by having a gathering with our loved ones and a good excuse to decorate our house.
Table decoration is a focal point of everyone's attention at the party. Hence, proper attention should be given to table décor.
What Are the Essentials of Table Decoration?
There are a few essentials of table decoration, and if any of them is being avoided, the table is incomplete. These compulsory things include the most important of all: The Theme. The rest is according to that theme.
Then comes the centerpiece; the more unique your centerpiece is, the more beautiful and customized look it will give to the table, the next are the tablecloths and table runners, and lastly, the glassware. Your table décor will be incomplete without using our fancy disposable plates.
Some of the other components of table decoration include floral decor, placement of menu cards on the table, and seating arrangements. You can style these components according to your choice. Your table decoration will make your guests feel special and loved.
Decorative Ideas to Setup an Elegant Fall Table
Whether you are deciding to have a small pumpkin party at your house or an outdoor party in your garden to welcome the autumn season, we have got you covered with some unique and elegant ideas to decorate your dinner tables and spend quality time with your family and friends.
Choose an Appropriate Theme
Multiple themes can look beautiful for the fall party decor. You can choose a dark color palate like rust or copper. If you are in the mood for a bright theme, try an orange and powder pink color combination. Besides, you can choose an all-white elegant theme. You can also try shades of brown or yellow to give your table a warm effect.
You can also try using an unexpected combination, like a color that depicts femininity and a texture that shows the masculinity. This way, you can amaze your guests just by the colors you choose for the decoration.
Eco-friendly themes are in full swing worldwide, whatsoever the party type. If you choose an environment-friendly theme, ensure that everything you use is eco-friendly, even the party plates. Don't forget to try our eco-friendly palm leaf plates and be ready to amaze your guests.
Centerpiece Ideas that Will Make Your Autumn Table Look Outstanding
The fall season has an abundance of pumpkins, which themself can prove to be a wonderful centerpiece if used artistically. They can work with almost every fall theme. Your centerpiece can be as simple as a painted pumpkin and exquisite as a pumpkin filled with colorful flowers.
Another idea can be using fall fruits and pumpkins, which can be placed in a beautiful ceramic dish or a bowl. If you want to give your fall table a contemporary centerpiece, you can try using transparent geometrical objects with fall leaves placed between them. If you want to maximize the lighting on your table, use a bulk of candles as a centerpiece.
If you want a simple centerpiece, take two to three jars, fill them with seasonal fruits and place them in the center of the table. On the other hand, if you are looking for a budget-friendly centerpiece, go out in nature, look for a fallen tree branch, some pinecones, and fall leaves and decorate your table with them.
Add a Touch of Elegance to Your Table with Flowers
Floral decoration is for every season. You can add any flower to your table to make it look elegant and classy. You can try using dark-colored flowers when the overall theme is soft. Fall decoration is all about being natural, and nothing exudes more warmth than fall leaves.
So, if you love being minimalist and want to give your table vintage and poetic feeling, use dried flowers like roses and fall leaves as floral decoration.
If the overall theme of your table is dark and dull and you want to add a pop of color to it, don't shy away from the sunflowers! They will immediately brighten up the look of your table.
Choose a Perfect Tablecloth
If you really want your table colors to pop up, you should try using contrasting colors. Like if you are using orange, try to contrast it with blue table runners. Use high-quality linen tablecloths.
In case the decor of your table is for a Halloween party, just go according to the theme and use black and orange table runners with Halloween patterns. On the other hand, if you are a minimalist and love simple stuff, go with a check design tablecloth and ensure that the color of the checks is according to the color palette of your whole table.
Your Fall Table Décor Would Be Incomplete Without Candles!
One of the most important things that improve the ambiance of your table decoration is candles. You should choose the color of the candles according to your selected color palate. If the overall look of your table is light, like if you are using a smooth white tabletop, try using black candles placed on golden stands, the class your table will exude will not go unnoticed.
You should also try using uniquely designed candle holders, which give a vintage and classic look. Another idea is to use scented candles because a beautiful smell can enhance your guest's mood.
Amaze Your Guests with Elegant Tableware
The cutlery you use on the table speaks volumes about your choice. Most of us want cutlery that looks good on the table. But many of us don't want to invest in expensive tableware that is easily breakable. Using disposable plates is an option that is light on the pocket and beautiful on the table. 
Your tableware should be elegant, classy, and affordable. These traits are difficult to be found in one place, but what if you get these qualities at a budget-friendly price? First, you must try our elegant disposable plates.
Our disposable party plates are environmentally friendly. They come in unique and elegant designs and would look good with your fall party décor themes.