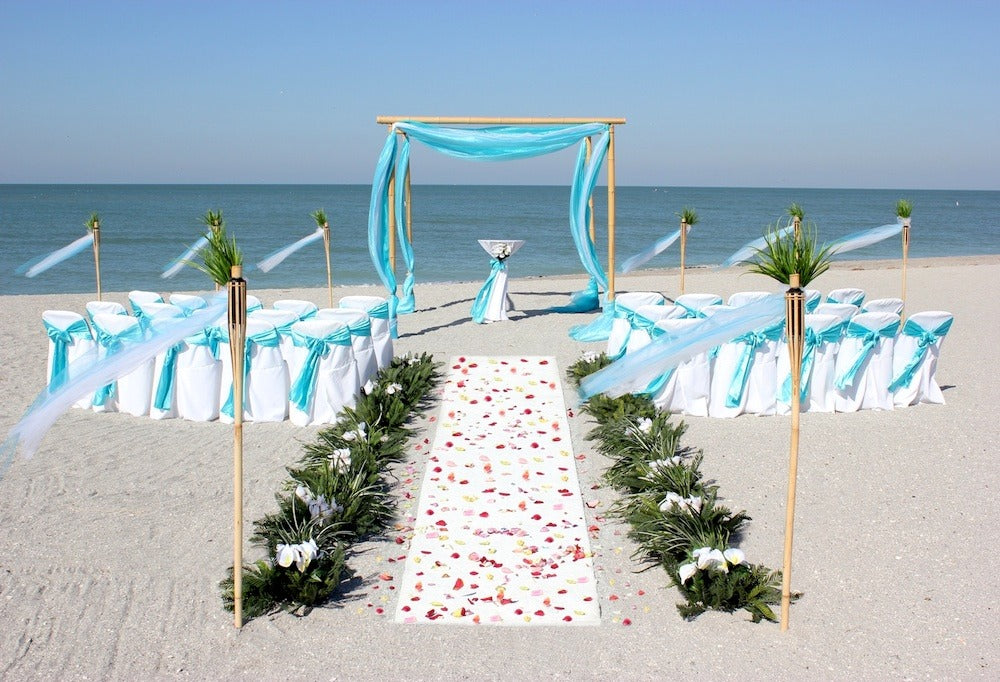 How to Plan a Beach Wedding?
A wedding is the big day of anyone's life. And, if you add a beach to it, it gets even more exciting. So, whether you are on a budget or enjoy the vibes of a sunny day where a fresh breeze hits your face, the beach is the ultimate venue to get married. 
Getting your knot tied is normal, but doing something unique can make a huge difference. The beach wedding is considered the most enjoyable and budget-free option for couples to get their ceremonies arranged.
You don't require traditional decoration to set the scene; nature, ocean, water, and sand will do it for you. However, there are a few other things that you would need to take care of to make it an epic beach wedding, whether you are doing it on a private lake or in Hawaii. 
When Do You Send Out the Invites for the Beach Weddings?
As long as you don't imagine a destination beach wedding, you can send out the invites to the guests one or two months ago, and it'll be enough time for your guests to get their wedding preparations as the guests are done and plan their schedule accordingly. 
However, if you are planning a destination beach wedding, where you would be taking a flight a hundred miles away, you should be extra careful while deciding the wedding dates. You may want to send out the invites to the guests one year ago so that they can request leave at work. 
How to Choose a Beach Wedding Location?
The beaches are worldwide, and each has its beauty and significance. However, you should choose the one in your and your guests' interest.
You may want to choose the wedding beach location, where you have memorable vacation days, or you might go for the one where your relatives are located. 
Whatever location you pick for your beach wedding, you must prioritize guests' comfort, like if there are any direct flights for the destination so each guest can fly quickly. 
Get the Permit for Beach Wedding
Unless it's not the private property where you are planning your wedding on the seaside, make sure to get the permit for the beach wedding from the local authorities. 
Also, you should read the local ordinance to ensure you wouldn't violate any strict rules that can create problems for you at the wedding. 
Check the Weather Forecast
Is the weather too hot or dry? Or is it dry? You must plan your wedding according to the weather forecast as long as you aren't planning indoor weddings. 
Plan your wedding events by checking on the weather forecast of the area, and if you see anything ambiguous, make sure to have plan B ready to move guests indoors if things go south. Also, check if there are any hurricane warnings in the area. 
Provide Your Guests with Essentials
If your wedding date's forecast tells you it's sunny, you must stock up on sunscreen. Your guests might be unable to arrange it on the spot. To save them from any such hassle, provide them with sunscreen cream. 
Also, if it's too hot, ensure that patios are installed outdoors, so the guests aren't under direct sunlight. 
Play Smartly with Your Wedding Decor
When it comes to beach wedding decor, you don't have to do much, as the water backdrop will get half the job done for you. Still, you might add lavish flowers, streamers, and other decorative pieces to set the scene. However, the wind at the shore might blow them away, and to avoid it, use sturdy decor at your wedding.
Don't use any fragile item that wouldn't stand. Instead, use adhesive and duct taps to make the decoration windproof. 
Use Disposable Serving Wares That Offer Hassle-Free Cleanup
When it comes to the serving part of your wedding, the serving ware you'll use is likely to affect your way of cleanup. 
You should use the serving ware to serve your guests at the party, which would make it easily transportable and offers hassle-free cleanup, and you shouldn't look further than disposable dinnerware for weddings. 
The elegant disposable dinnerware for the wedding by the Smarty Had a Party is a perfect choice for beach weddings, as you wouldn't have to be extra careful to move them safely since they're durable. Also, you won't have to wash or clean them up after your guests use them; you can easily throw them away. 
Smarty Had a Party is the ultimate place to get fancy plastic dinnerware sets for the wedding. We have a wide range of disposable wedding dinnerware sets that come in different designs and styles to help you set up an elegant table at your wedding. 
Look around and get the best disposable dinnerware for weddings at a fraction of the cost.
Should I Bear the Travel Expenses for the Guests at the Beach wedding?
If you're flying to another part of the country or world, you and your guests would need proper accommodation to stay that feels not precisely like home but comfortable enough for a few days' stay. 
You aren't supposed to bear your guests' travel and other expenses for destination weddings. The guests must spend on traveling and accommodation by themselves. However, as a host, you should facilitate them in selecting the right hotel nearest to the beach where your wedding ceremony takes place and guide them through as it would be a new place for them. 
What Should Be the Dress Code for the Beach Wedding? 
When it comes to the dress code for beach weddings, they're more like casual ones. However, it doesn't mean you should go in your pajamas, but rather decide on a proper dress code that you would mention in the invitation cards for the guests.
Whatever dress code you choose for your beach wedding, consider guests' comfort the top priority, as they would be setting their feet on the sand and salt water. Make sure to mention it in the invitation card if your wedding ceremony is happening on the sand.