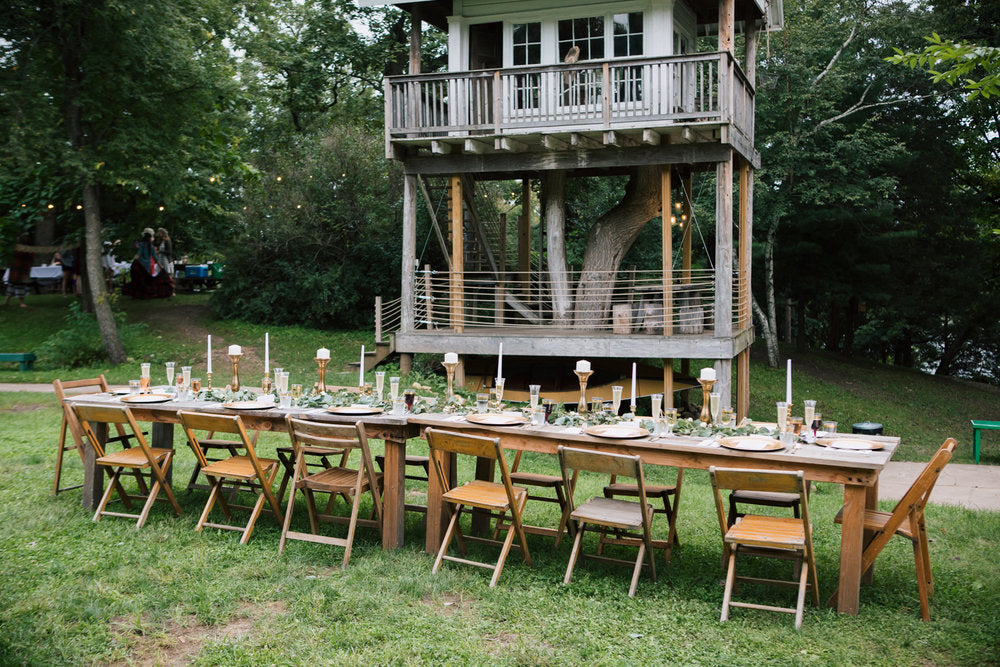 Rustic Romance: Creating a Perfectly Chic Outdoor Spring Wedding
Spring is in the air, and what better way to celebrate the season of new beginnings than with a beautiful outdoor wedding? Rustic weddings have been growing in popularity over the years, and for good reason - they offer a timeless, classic aesthetic that never goes out of style. But how do you turn that rustic charm into a chic, sophisticated event that will impress your guests? This blog post will explore tips and tricks for creating a perfectly chic outdoor spring wedding. Whether you're planning a small, intimate gathering or a grand affair, we've got you covered with all the inspiration you need to make your special day unforgettable. So, let's get started!
Selecting a Wooden Table and Chairs 
When it comes to a rustic wedding, there's nothing more fitting than a wooden table and chairs. The natural look and feel of wood bring a warm and cozy vibe to any outdoor event, especially during spring. Here are some ideas for selecting the perfect wooden tables and chairs for your rustic wedding and how to decorate them to fit the theme.
Types of Wooden Tables and Chairs
Farmhouse Tables:

 These tables are the perfect option for a rustic wedding. Their distressed look and simple design make them ideal for a rustic outdoor event.

Cross-Back Chairs:

 These chairs are a popular choice for rustic weddings. Their unique design combines modern and rustic elements, and their sturdy build makes them ideal for outdoor events.

Wooden Folding Chairs:

 If you're looking for a more budget-friendly option, wooden folding chairs are great. They're easy to set up and can be decorated to match the theme of the wedding.
Ways to Decorate Wooden Tables
Table Runners:

 A simple table runner can go a long way in tying in the rustic theme of your wedding. Consider using burlap or lace runners for a rustic touch.

Centerpieces: 

For a rustic centerpiece, consider using mason jars filled with wildflowers, lanterns, or wooden crates with candles and greenery.

Lighting:

 String lights, candles, and lanterns can create a cozy and romantic atmosphere at your outdoor wedding. Hang them from nearby trees or wrap them around wooden beams to warm the space.
Choosing Fancy Dinnerware
When it comes to creating a perfectly chic outdoor spring wedding, every detail counts. Each element should contribute to the overall ambiance and aesthetic, from the decor to the table settings. For example, charger plates are a crucial component of any table setting, and they can add a touch of elegance and sophistication to the rustic charm of an outdoor wedding.
Charger plates are large decorative plates typically placed beneath the dinner plates in a formal setting. They are designed to add visual interest and texture to the table, and they can be made from various materials, including glass, metal, and porcelain. Consider using disposable charger plates made from paper, acrylic, or wood for a rustic, chic outdoor wedding. These materials will complement the natural beauty of the outdoor setting while still adding a touch of elegance to the table.
In addition to choosing the proper charger plates, selecting modern plastic dinner and salad plates that fit the rustic chic theme is also important. While traditional china or porcelain plates may be too formal for an outdoor wedding, plastic plates can be an excellent option for a more casual yet stylish look. Look for plates that feature a simple yet elegant design that complements the overall aesthetic of the wedding.
Furthermore, when choosing the perfect charger plates and dinner and salad plates for your outdoor spring wedding, don't be afraid to get creative and think outside the box. With the right combination of textures, colors, and materials, you can create a tablescape that perfectly captures the rustic romance of your special day.
Using Elegant Disposable Drinkware 
When planning an outdoor spring wedding, it's important to consider the practicalities of serving drinks to your guests. While glassware may look elegant, it can be challenging to transport and clean up in an outdoor setting. That's where elegant disposable drinkware comes in.
Using disposable drinkware offers many benefits for an outdoor wedding. For one, it eliminates the risk of broken glass, which can be a safety hazard for your guests. It also makes cleanup a breeze, as you can simply toss the used cups and glasses in the trash.
When choosing elegant disposable drinkware, there are various options to consider. Disposable tumblers are an excellent choice for serving cocktails, beer, or soda. They come in multiple styles, from clear and simple to more ornate designs that mimic real glass's look.
Plastic wine glasses are another popular option. They provide the elegance of a real wine glass but are much more durable and lightweight. You can also find fancy disposable party stemware in various colors and designs, adding a refined and festive touch to your wedding décor.
For a truly special touch, consider using fancy disposable champagne flutes. These disposable flutes are perfect for serving champagne or sparkling wine during your wedding toasts. They are available in a range of designs, including clear plastic with gold or silver accents, as well as more ornate patterns that can add a touch of elegance to your wedding reception.
When choosing disposable drinkware, it's essential to consider the overall aesthetic of your wedding. Look for designs and colors that complement your décor and add to the ambiance of your outdoor spring wedding. With the right disposable drinkware, you can serve your guests in style without sacrificing practicality or safety.
Opting for Disposable Silverware 
When it comes to planning an outdoor wedding, there are many factors to consider, and one of them is the choice of dinnerware. While traditional silverware may seem like the go-to option, opting for disposable silverware can actually be a practical and chic solution.
Disposable silverware has come a long way in recent years, and many brands offer durable, environmentally friendly, stylish, and elegant options. One of the main advantages of using disposable silverware for an outdoor wedding is the convenience factor. It eliminates the need for washing and transporting a large amount of traditional silverware, which can be time-consuming and costly.
Another advantage is the flexibility in terms of design and style. Disposable silverware is available in various colors, styles, and finishes, allowing you to choose the perfect complement to your rustic chic theme. For example, you can opt for wooden cutlery for a natural and organic look or pick metallic disposable silverware with a vintage or rustic finish for a more polished and refined aesthetic.
How to Arrange the Tablescape?
When creating a perfectly chic outdoor spring wedding, the tablescape is an important aspect that should not be overlooked. A well-designed tablescape can set the mood for the entire event and add to the overall ambiance. Here are some tips for arranging a rustic chic tablescape for your outdoor spring wedding.
Start with a Neutral Palette: 

When choosing your table linens, use neutral colors such as ivory, cream, or light gray. This will allow your centerpieces and other decor to stand out and create a rustic vibe.

Incorporate Natural Elements: 

To add to the rustic charm, incorporate natural elements into your tablescape, such as wood slices, greenery, and flowers. These elements will bring a touch of the outdoors to your table and create a warm and inviting atmosphere.

Mix and Match Textures: 

For a rustic chic look, mix and match different textures such as burlap, lace, and linen. This will add visual interest to your tablescape and give it a cozy and inviting feel.

Keep it Simple:

 Remember, less is often more regarding rustic chic decor. Instead of going overboard with elaborate centerpieces and decorations, opt for simple and understated pieces that highlight the natural beauty of your surroundings.
With careful planning and attention to detail, couples can bring their vision of a rustic outdoor wedding to life and create a celebration that will be cherished for years to come. So embrace the beauty of nature, let your creativity flow, and enjoy every moment of your special day!