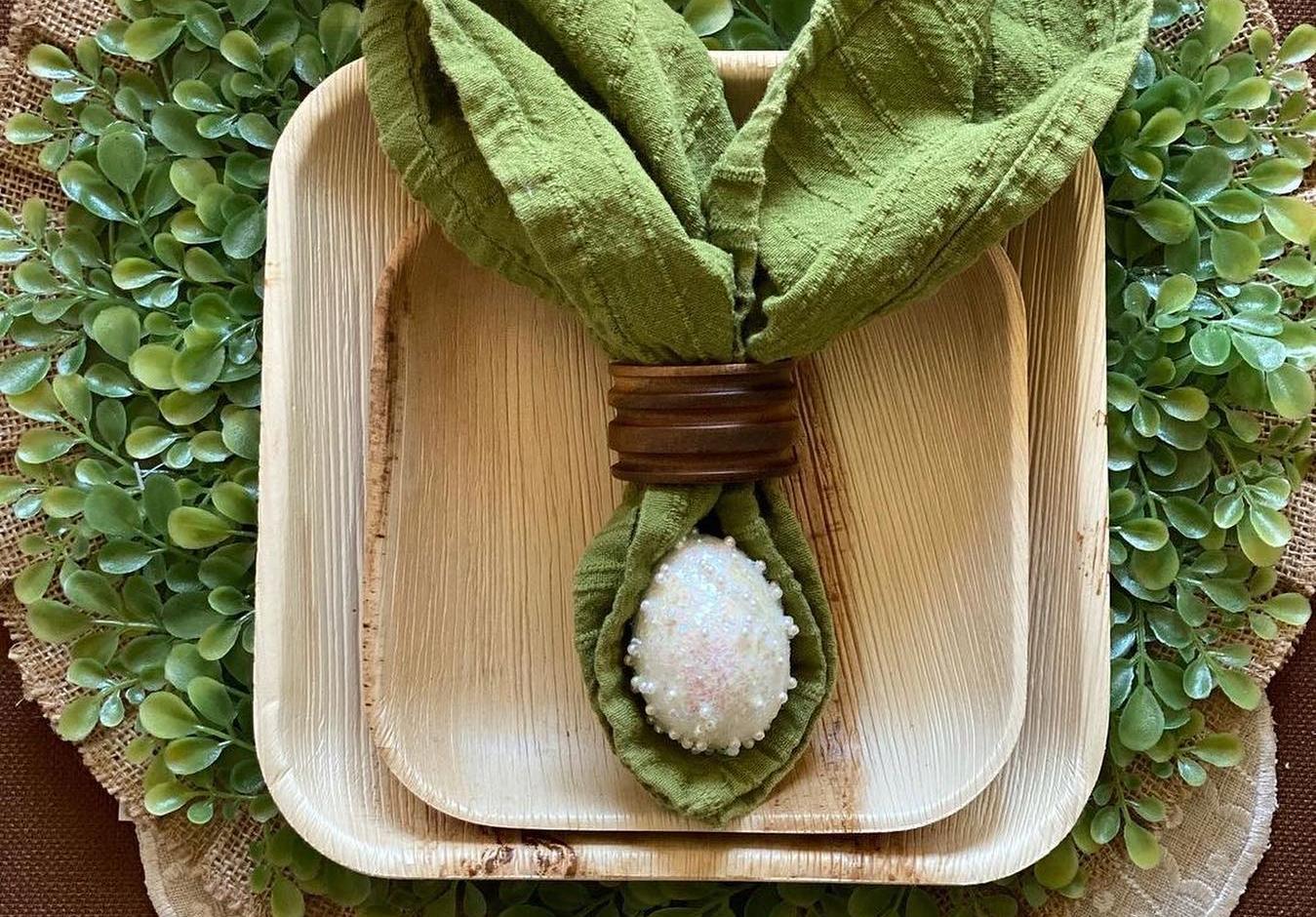 Egg-citing, Eco-friendly Ideas for a Lovely Easter Bash
Easter is a time for celebration and joy, where families come together to mark the occasion with delicious food, fun activities, and colorful decorations. This blog post will share some egg-citing, eco-friendly ideas for a lovely Easter bash. From sustainable decorations to locally sourced ingredients, we will show you how to make your Easter celebration beautiful and environmentally conscious. So let's hop right into it!
Eco-Friendly Easter Decorations
Easter is all about vibrant colors, playful designs, and joyful symbols. But unfortunately, many traditional Easter decorations are made with synthetic dyes and other non-biodegradable materials that harm the environment. Fortunately, there are many creative ways to decorate your home and table for Easter while being eco-friendly.
DIY Easter Decorations Using Recycled Materials
One of the best ways to reduce waste and save money is to make your own Easter decorations using recycled materials. For instance, you can make a wreath using old newspapers, cardboard boxes, or wine corks. You can also create colorful bunting using scraps of fabric, old t-shirts, or paper bags. DIY Easter decorations help you avoid buying new items and showcase your creativity and personality.
Eco-Friendly Easter Eggs
Easter eggs are a must-have decoration for any Easter celebration. However, many traditional dyeing kits contain synthetic dyes and harsh chemicals that harm the environment. Instead, you can use natural dyes made from food items like beets, turmeric, or spinach to color your eggs. You can also opt for biodegradable eggs made from plant-based materials that decompose naturally without waste.
Eco-Friendly Easter Bunny Decorations
Easter bunnies are another famous symbol of Easter, but most bunny decorations in stores are made with non-biodegradable materials. However, you can make your own Easter bunny decorations using natural materials like cotton balls, felt, or burlap. Alternatively, you can purchase eco-friendly bunny decorations from recycled or sustainably sourced materials.
Flowers
Spring flowers are a perfect addition to any Easter decoration. However, instead of buying flowers flown in from far away, you can choose locally grown flowers that support your community and reduce your carbon footprint. You can also use wildflowers or flowers from your garden to create beautiful arrangements for your Easter table.
Candies
Easter candies are a treat for kids and adults alike. You can choose candies packaged in recyclable materials or make treats using natural ingredients like honey, nuts, or dried fruits.
Eco-Friendly Easter Menu
Easter is a time for indulging in delicious food and drinks with family and friends. However, traditional Easter menus can be heavy on meat, dairy, and processed foods, which have a significant environmental impact. You can create a delicious Easter menu that is kind to the planet by choosing sustainable and eco-friendly options.
Sustainable Easter Recipes
Plenty of sustainable and vegetarian/vegan Easter recipes are delicious and eco-friendly. For example, you can serve roasted vegetables like carrots, asparagus, or cauliflower, as a side dish. You can also make a delicious quinoa salad with fresh herbs and seasonal vegetables or try a plant-based shepherd's pie made with lentils and sweet potatoes. Choosing plant-based recipes not only helps to reduce your carbon footprint but also promotes better health.
Eco-Friendly Easter Treats and Desserts
Easter treats and desserts are a highlight of the holiday season. However, most store Easter treats are wrapped in non-recyclable plastic or made with artificial colors and flavors. Instead, you can choose eco-friendly Easter treats and desserts by making them at home using natural ingredients. For example, you can make a delicious fruit salad using locally grown fruits or bake your Easter cookies using organic flour and natural sweeteners.
Importance of Using Locally Sourced Ingredients
Using locally sourced ingredients is one of the most essential aspects of eco-friendly cooking. Buying locally grown produce and products supports your local economy, reduces your carbon footprint, and gets fresh and nutritious ingredients. Look for farmer's markets, co-ops, or community-supported agriculture (CSA) programs in your area to find locally sourced ingredients for your Easter menu.
How to Set a Lovely Easter Tablescape?
Setting a beautiful table is essential to hosting a lovely Easter party. Incorporating eco-friendly and sustainable elements can create a stunning and unique tablescape that reflects your values and style.
The first step to creating a lovely Easter tablescape is to set the place settings. You can use natural materials such as rustic placemats, palm leaf square plates, eco-friendly serving ware, and birchwood flatware to give your table an eco-friendly and rustic touch.
1. Rustic Placemats
Use rustic placemats made of natural fibers such as jute, hemp, or bamboo to add texture and warmth to your table. These materials are sustainable and biodegradable, making them an excellent choice for an eco-friendly tablescape.
2. Palm Leaf Square Plates
Palm leaf plates are an eco-friendly alternative to traditional paper plates. These plates are made from fallen palm leaves, which are collected, sanitized, and pressed into shape. They are sturdy, biodegradable, and compostable, making them a sustainable choice for your Easter table.
3. Eco-Friendly Serving Ware
Instead of traditional serving ware, opt for eco-friendly serving ware made from sustainable materials such as palm leaves or recycled plastic. These options are durable and kind to the planet.
4. Birchwood Flatware
Birchwood flatware is an elegant and eco-friendly alternative to traditional cutlery. These utensils are biodegradable and are made from renewable birchwood, making them an excellent choice for an eco-friendly Easter tablescape.
Eco-Friendly Easter Activities for Kids
Easter is a fun holiday for kids, and there are many eco-friendly activities that you can do with them to celebrate the season. These activities promote creativity and imagination and teach children about sustainability and environmental responsibility.
Egg Decorating using Natural Dyes
Egg decorating is a classic Easter activity that children love. Instead of using artificial dyes that can harm the environment, try using natural dyes made from fruits, vegetables, and spices. For example, you can use red cabbage to create blue eggs, beetroot to create pink eggs, and turmeric to create yellow eggs. These natural dyes are safe and eco-friendly and create beautiful, unique colors.
Easter Egg Hunt with Biodegradable Eggs
An Easter egg hunt is a fun activity for children of all ages. However, traditional plastic eggs can harm the environment and take years to decompose. Instead, try using biodegradable eggs made from cornstarch or rice flour. These eggs are biodegradable, compostable, and can be reused year after year.
Easter Crafts Using Recycled Materials
Easter crafts are a great way to get kids involved in the holiday spirit while teaching them about sustainability. You can use recycled materials such as cardboard, paper, and fabric to create Easter-themed crafts such as bunny ears, egg carton flower wreaths, and cardboard egg stands. These crafts are not only eco-friendly but also encourage creativity and imagination.
Easter is a beautiful holiday that brings families together to celebrate the joy of spring and new beginnings. By incorporating eco-friendly ideas into your Easter celebrations, you can create a lovely, sustainable gathering that honors the holiday traditions and promotes a healthier planet. So, this Easter, let's celebrate in a way that honors our traditions while protecting our planet.