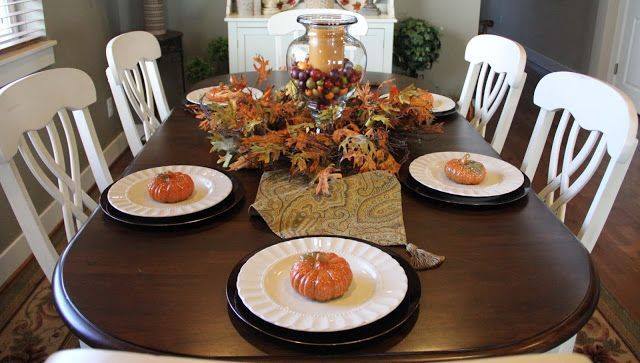 Elegant Fall Centerpieces to Beautify Your Dining Table
Elegant fall centerpieces are a great way to add some lovely fall flair to your dining party table. They can be as simple as a few pumpkins or apples in a basket, or they can be elaborate and decorated with fruits and flowers. Either way, they will make any meal more enjoyable! 
Here are some ideas for beautiful yet easy-to-make elegant fall centerpieces:
1. Fruit Centerpieces
Fall is a time of year when we get to enjoy some of the most amazing seasonal fruits. It's also a time when we get to host parties and celebrations, and we want to make sure you have everything you need to make those occasions as lovely as possible.
Yes! Fall is a truly magical time of year—and if you're throwing a party to celebrate the season, then it's only fitting that you decorate your table with some festive fall-flavored fruits. 
Here are some of our favorite ideas for how to do just that:
Grapes (green grapes or red) make great little pumpkins! Just place them in a bowl and add a few leaves around them.

Apples (any kind) can be used as acorns! Just cut an apple in half, slice off any seeds, then use toothpicks or skewers to spear pieces of fruit onto them.

Pineapples make perfect apples! Just cut them into slices and arrange them on plates. If you want to take this idea one step further, try adding sliced almonds to make leaf shapes (or even peeling off the skin of each slice).

Mandarin Table Centerpiece: This elegant centerpiece is a great option to be used on your dining table during fall. The simplicity of this centerpiece makes it very versatile. You can use any type of fruit or vegetable, but mandarins would be my top choice because they are so juicy and look beautiful. You can also use flowers, herbs, and other types of greenery, like olive leaves.
2. Pumpkins Centerpiece
The pumpkin centerpieces will make a great addition to your dining room. You can use different sizes, shapes, colors, and textures for the best effect. If you have pumpkins with stems still attached, it is best to cut them off before placing them in the water. However, if you prefer not to chop up your pumpkin, then feel free to leave them attached at the base of each pumpkin!
I also recommend using different patterns on your pumpkins as well because it adds more interest visually and makes things look better organized too!
3. Antique Fall Centerpiece
This antique fall centerpiece is made of a large pumpkin, some greenery, and a few metal items. The metal items are painted in a rusty brown color. The pumpkin is carved with a floral pattern and placed in the center of the table. A few stems of sunflowers are placed around it, along with greenery that has been wrapped tightly around small branches to create an elegant fall display!
4. Fall Leaf Decor
You can use a variety of fall leaves to decorate your table. There are many ways to use fall leaves as decorations, such as in a centerpiece or as place settings. Fall leaves can also be used as table runners.
Fall leaf decor is the perfect way to add color and warmth to your dining room!
5. Fall Mason Jars Centerpiece
Mason jars are a great way to create a centerpiece. You can use different sizes and colors of mason jars, as well as different types of flowers and greenery. For example, you could use purple flowers in smaller jars, while larger ones would be better suited for pink or red blooms. You could also use rustic twigs or branches for the base instead of newspaper or moss.
If you want to add candles in your jar centerpieces, this is certainly an option but keep in mind that the heat from them may cause your flowers to wilt quicker than usual!
6. Succulent Centerpiece
If you're looking to add some greenery that's easy to maintain and won't need a lot of attention, succulents are the way to go. Succulents are drought-tolerant plants that don't need much water or sun, making them an ideal choice for the fall season when temperatures are cooler, and we tend to spend less time outside in our gardens. Succulents also make great centerpieces because they come in a wide range of shapes, sizes, and colors—you can choose one plant or several different ones depending on how large your centerpiece needs to be.
When shopping for succulents at a local garden center or nursery, keep in mind that some varieties may look different from what you find online: if possible, try before you buy so that you know exactly what kind of plant(s) will work best with your décor!
7. Greenery as Centerpieces
Greenery is a great way to add color to your table, and it's also easy on the eyes. While you may have considered using only one type of greenery as a centerpiece, we recommend using a variety of greens in order to achieve maximum impact.
For example, if you want a fall-themed centerpiece for Thanksgiving dinner, use acorns and pinecones in addition to leaves and flowers. You could also use them in combination with other types of greenery, like ivy or ferns, for an elegant look that isn't overwhelming.
Autumn Place Setting
Autumn is the time to celebrate the harvest, and what better way to do that than with a lovely Autumn Place Setting!
The Autumn Place Setting is the perfect way to complete your autumn decorating! You should include disposable plates, plastic dinnerware, and disposable paper charger plates. The fall color palette of orange, brown, and green will help you create the perfect autumn setting for your guests!
For an extra touch of elegance, include plastic dinnerware in autumn colors: reds and oranges for vibrant fall decorations. This place setting is perfect for your Thanksgiving or fall wedding celebration!
Fall is my favorite time of year, and I love to decorate my home with all kinds of fall decorations. I hope you found some inspiration here for your next party or event!