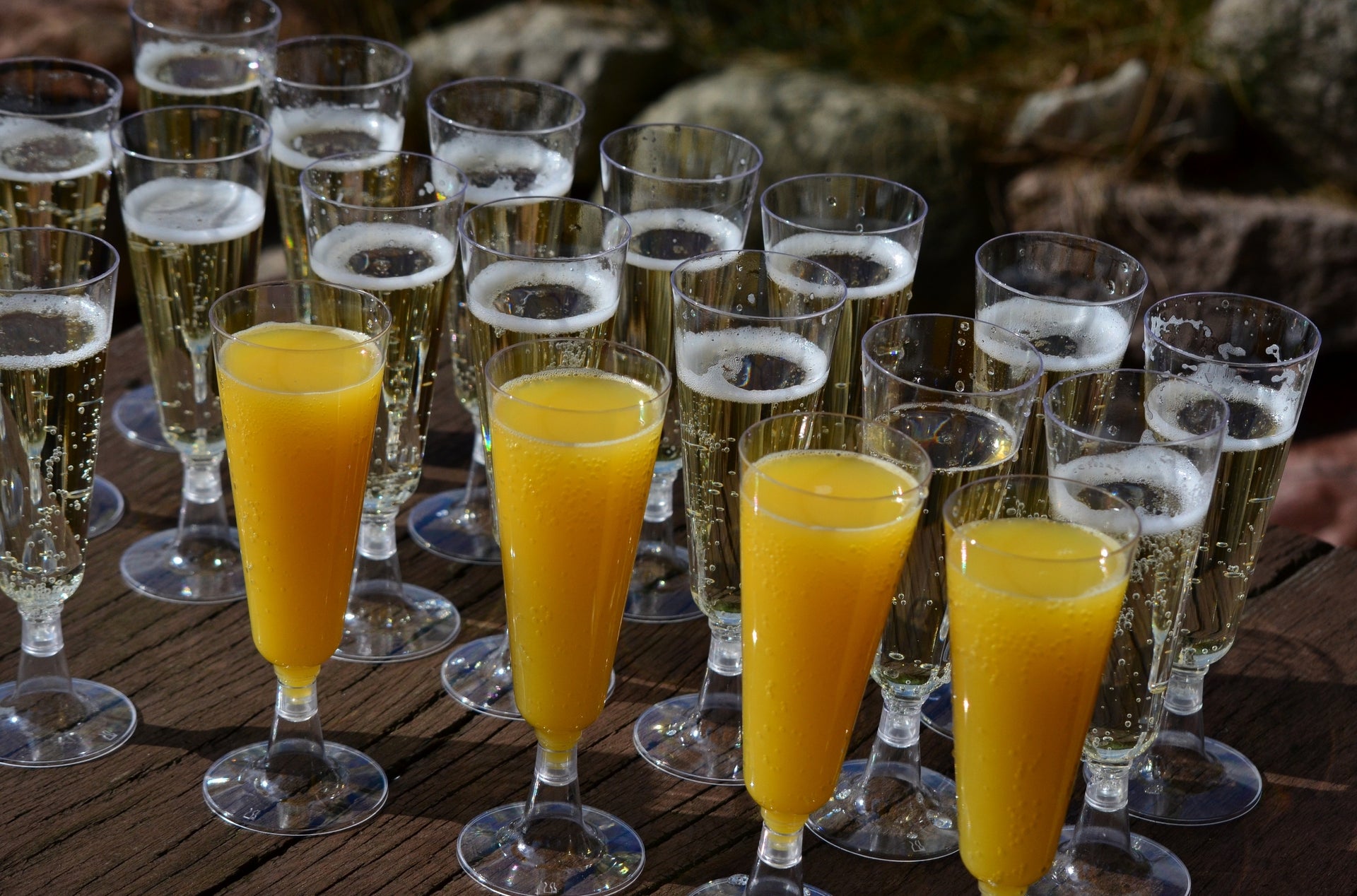 Party in Style: The Best Plastic Champagne Flutes for Celebrations
Regarding celebrations, few things can match the elegance and joy of raising a glass of champagne to toast life's special moments. Whether it's a wedding, birthday, anniversary, or any other festive occasion, champagne adds a touch of sophistication and sparkle to the festivities. But what if you're concerned about using fragile glassware at your event or simply want a more convenient option? Enter disposable champagne flutes, the perfect solution for those who want to party in style without compromising practicality.
Celebrate in Elegance: Premium Plastic Champagne Flutes for Stylish Parties
Whether you're planning a glamorous outdoor soiree, a lively bachelorette party, or an intimate dinner gathering, join us as we explore the best plastic champagne flutes for celebrations. Get ready to toast in style because your next party is about to become an unforgettable affair!
Benefits of Plastic Champagne Flutes
Durability and Shatterproof Design: Plastic champagne flutes offer durability, unlike their glass counterparts. They are shatterproof, perfect for lively events. No need to worry about accidents ruining the celebration. Enjoy peace of mind and festivities, free from the fear of broken glass.
Convenience and Ease of Use: Plastic champagne flutes are convenient, practical, and easy to use. Lightweight and ergonomic, they offer a comfortable grip, allowing you to mingle and enjoy the party without worrying about fragile glass. They are also stackable, making storage and transportation hassle-free.
Wide Range of Designs and Styles Available: Plastic champagne flutes have evolved from simple designs to stunning options that rival glass counterparts. With a wide range of eye-catching styles available, from elegant stemmed flutes to modern and chic designs, there's something for every taste and theme. Whether you prefer classic simplicity, intricate patterns, or personalized options, the variety of designs ensures you can find the perfect plastic champagne flutes to match your celebration's aesthetic.
Factors to Consider When Choosing Plastic Champagne Flutes
Material Quality and Safety: Regarding plastic champagne flutes, material quality, and safety should be your top priority. Look for flutes made from food-grade, BPA-free plastic to ensure they are safe for beverage use. High-quality materials not only enhance the overall durability of the flutes but also guarantee that they won't leach any harmful chemicals into your drink. 
Design and Aesthetics: Choose plastic champagne flutes that enhance your celebration's visual appeal. Consider the event's style and theme, whether classic, contemporary, or themed. Pay attention to stem length, bowl shape, and proportions for sophistication. Look for smooth finishes and refined details to create a memorable drinking experience.
Size and Capacity: Consider the size and capacity of plastic champagne flutes when selecting them. The bowl size affects how much they can hold, while capacity determines how much guests can enjoy. Decide if you prefer smaller or larger flutes, balancing functionality and aesthetics for an elegant look and practical use.
Where to Find the Best Plastic Champagne Flutes: Smarty Had A Party
When sourcing the best plastic champagne flutes for your celebrations, Smarty Had A Party is an online store that stands out. They are the ideal destination for party supplies with a wide selection, competitive pricing, and exceptional customer satisfaction. Let's explore what makes Smarty Had A Party the ideal place to find the perfect plastic champagne flutes:
Smarty Had A Party Online Store: Smarty Had A Party is a renowned online retailer for disposable party supplies, offering a wide range of plastic champagne flutes. Smarty provides stylish, functional, affordable products with excellent customer service and high-quality standards.
Range of Plastic Champagne Flutes Available: Smarty Had A Party offers a diverse range of plastic champagne flutes to suit different preferences and event themes. From stemless to crystal-cut and classic clear designs, our collection meets high standards of quality and aesthetics. Party in style with our elegant flutes without compromising the glassware's elegance.
Competitive Pricing and Discounts: Smarty Had A Party offers quality products at competitive prices. Smarty prioritizes affordability for large-scale events, ensuring you can find plastic champagne flutes within your budget. Take advantage of our frequent discounts and promotions to save on your party essentials.
Customer Reviews and Satisfaction: Smarty Had A Party has a proven track record of customer satisfaction. Positive reviews emphasize excellent customer service, fast shipping, and high product quality. With Smarty's fantastic reputation and positive feedback, you can trust and feel confident in your purchase.
Additional Party Supplies Offered by Smarty Had A Party: Smarty Had A Party is your one-stop shop for party supplies. In addition to plastic champagne flutes, Smarty offers a diverse range of products, including table covers, disposable napkins, plastic flatware, and dinnerware sets. With their comprehensive party solutions, you can create a cohesive and stylish event without the hassle of sourcing from multiple places. Save time and effort with their seamless shopping experience.
Top 4 Plastic Champagne Flutes for Celebrations
These stemless plastic champagne flutes combine simplicity and sophistication. With a clear body and a stunning design, they exude an air of modern elegance. The 9 oz. capacity allows for generous pours while still maintaining a sleek and compact design. These flutes are made from high-quality, BPA-free plastic, ensuring safety and durability. Perfect for weddings, anniversaries, or any celebration that calls for a touch of glamour, these stemless flutes will be a hit among your guests.
If you're looking for plastic champagne flutes that closely resemble their glass counterparts, these crystal-cut flutes are an excellent choice. Crafted with intricate detailing, they mimic the elegance of traditional crystal flutes, adding a touch of opulence to your celebrations. The 8 oz. capacity balances style and functionality, making them suitable for various events. Made from premium-quality plastic, these flutes are durable, shatterproof, and reusable, making them a practical and eye-catching option.
These disposable plastic champagne flutes are perfect for those seeking a more delicate and refined experience. Their slender and graceful design evokes a sense of classic elegance. These flutes are made from high-quality, BPA-free plastic, ensuring safety without compromising style. Whether it's a formal dinner party, a romantic date night, or an intimate gathering, these clear plastic champagne flutes will elevate the ambiance and create a memorable drinking experience.
If you're planning a large-scale event or simply prefer the convenience of disposable options, these champagne flutes are fantastic. The elegant striped design adds a touch of sophistication, while the large capacity ensures your guests can enjoy ample amounts of their favorite bubbly. These flutes are made from high-quality, recyclable plastic, offering convenience and eco-friendliness.
Frequently Asked Questions (FAQ)
1. Are plastic champagne flutes BPA-free? 
Yes, we prioritize safety and produce plastic champagne flutes that are BPA-free. BPA (Bisphenol A) is a chemical often used in plastics but has been linked to potential health risks. To ensure your safety, look for flutes made from food-grade, BPA-free plastic. This information is usually mentioned in the product details or specifications.
2. Can plastic champagne flutes be customized or personalized? 
Many plastic champagne flutes can be customized or personalized to add a unique touch to your celebrations. Personalized plastic flutes can be an excellent addition to weddings, anniversaries, or corporate events, adding a personalized touch to make the occasion even more memorable.
3. How should I clean and care for plastic champagne flutes? 
Plastic champagne flutes are easily cleaned in the dishwasher or hand with mild dish soap and a soft sponge. Avoid harsh chemicals and abrasive materials to prevent damage and extend their lifespan.
Are plastic champagne flutes suitable for outdoor events? 
Yes, plastic champagne flutes are an excellent choice for outdoor events. Their durability and shatterproof nature make them ideal for outdoor settings where glassware may not be practical or allowed. Plastic flutes can withstand accidental drops or bumps without breaking, ensuring a safer and worry-free experience. Additionally, plastic flutes are often lightweight and stackable, making them easily transported and set up at outdoor venues.