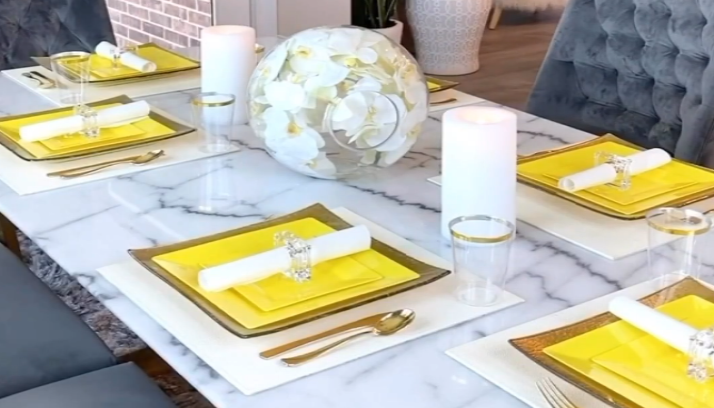 An Evening of Elegance: Hosting the Perfect Dinner Party
Hosting a dinner party is about creating an enchanting experience that lingers in your guests' memories. It requires careful planning and attention to detail, from the table setting to the menu.
Mastering the Art of Hosting an Elegant Dinner Party
In this blog post, we will guide you through the steps to create an evening of sophistication and charm, where your guests will be transported to a world of refined indulgence. Get ready to transform your dining space into a haven of beauty and grace, where your guests will be enchanted from the moment they step through the door. Let's dive in and discover how to host the perfect dinner party, leaving a lasting impression on everyone attending.
Creating an Exquisite Table Setting
Setting the stage for an evening of elegance starts with creating a visually stunning table setting that sets the tone for the entire dinner party. 
Choosing the Suitable Placemats for a Polished Look 
Placemats not only protect your table but also add a touch of sophistication. Opt for placemats that complement your theme and color scheme. Consider using neutral shades like white or gray for a timeless and elegant look, or experiment with bold and vibrant hues to make a statement.
Enhancing the Table with Disposable Charger Plates
Disposable charger plates are a game-changer when elevating your table setting. These shimmering plates act as a decorative base for each place setting, adding a touch of glamour and luxury. They create an instant impression of elegance and opulence without needing expensive china.
Modern Square Plastic Dinnerware Set for a Contemporary Touch
Embrace modernity and break away from traditional round dinnerware by opting for a square plastic dinnerware set. You can choose a vibrant color that adds a cheerful and contemporary touch to your table, while the sleek square shape exudes a sense of style and uniqueness.
Adding Sophistication with a Disposable Cutlery Set
Nothing screams elegance like gleaming cutlery. Opt for a disposable gold cutlery set to add a touch of luxury to your table setting. The metallic finish enhances the overall aesthetic and adds a refined touch to each guest's dining experience.
Serving Drinks in Elegant Plastic Tumblers
To elevate your drink presentation, serve beverages in clear plastic tumblers adorned with delicate gold rims. These sophisticated tumblers add a touch of glamour and refinement, enhancing the overall visual appeal of your table.
Elevating the Look with Linen-like Napkins and Napkin Rings
Choose high-quality white linen-like napkins to add elegance and sophistication to your table. Fold them neatly or experiment with unique folds to showcase your attention to detail. Clear napkin rings add subtle refinement while keeping the napkins in place.
Setting the Mood with a Unique Floral Centerpiece and Candles
A captivating centerpiece acts as the focal point of your table. Choose a unique floral arrangement that complements your theme and color palette. Incorporate a mix of seasonal flowers, foliage, and some unexpected elements like feathers or branches for an added touch of uniqueness. Surround the centerpiece with white candles to create a warm, inviting glow that enhances the overall ambiance.
Preparing the Perfect Menu
Deciding on the theme and style of the dinner party: Consider the theme and style of your dinner party when planning your menu. Choose items that match the atmosphere you want to create.
Selecting appetizers that impress and engage guests: Impress your guests with delicious and visually appealing appetizers like stuffed mushrooms, bruschetta, or cheese and charcuterie boards. Experiment with various flavors and textures to keep them engaged.
Crafting a delightful main course that caters to various preferences: Offer diverse options for the main course, including vegetarian, vegan, and gluten-free dishes. Also, consider featuring a standout dish, like prime rib or salmon, to be the meal's focal point.
Complementing the meal with delectable sides and salads: Elevate your meal with unique sides and salads. Try roasted veggies with balsamic glaze, truffle mashed potatoes, or a citrus salad for added refinement.
Ensuring a sweet ending with elegant dessert options: Impress your guests with a sophisticated dessert like chocolate mousse, crème brûlée, or fruit tart. Add a touch of elegance with edible flowers or powdered sugar for presentation.
Pairing the menu with suitable wine or beverage choices: Choose wine or beverage pairings that complement each course to enhance your dining experience. Consult a sommelier or do some research for perfect options. Signature cocktails or non-alcoholic beverages can also match the flavors of the dishes.
Practical Tips for Hosting
Creating a guest list and sending out invitations: Create a diverse list and send out invitations that match your dinner party's style. Remember to include important details like the date, time, dress code (if applicable), and RSVP information.
Organizing the space for optimal comfort and flow: For a pleasant dinner, ensure enough space for guests to move around. Seat everyone comfortably and encourage conversation. Dim the lights and play soft music to set the mood.
Timing the preparation to ensure a stress-free evening: Plan ahead to avoid last-minute anxiety. Make a timeline for shopping, cooking, and setting the table. Consider cooking and resting times for each dish. Prepare some dishes ahead of time and allow for unexpected issues.
Personalizing the experience with thoughtful details: Make your dinner party unforgettable by focusing on the little details. Add personal touches like handwritten place cards and customized menus. Use soft lighting, elegant music, and carefully chosen scents to create the perfect atmosphere. Your guests will feel valued and special.
Managing dietary restrictions and preferences: Accommodate guests' dietary needs by asking about allergies or restrictions beforehand. Offer alternatives and label dishes containing common allergens. Be prepared to answer questions about ingredients.
Entertaining with Flair
Create a welcoming atmosphere for your guests: Welcome them warmly and offer them a drink. Set up a coat rack or designated space for their belongings. Consider a sign or welcome board to make them feel special.
Engage conversation starters and ice-breaker games: Use conversation starters and ice-breaker games to encourage lively conversation among your guests. It will help break the ice and make your gathering more engaging.
Select background music that enhances the ambiance: Choose music that matches the mood and style of your dinner party. Soft instrumental music is best for formal occasions, while upbeat jazz or contemporary tunes work for more relaxed gatherings. Keep the volume at a comfortable level for conversation.
Capture memories with a photo booth or disposable cameras: Set up a photo booth or provide disposable cameras for guests to take candid photos. Add props or a backdrop to match the party theme. Share the photos with guests as a keepsake.
Offer small tokens of appreciation or party favors: Consider giving your guests small tokens of appreciation, like personalized thank-you notes, elegant trinkets, or handmade chocolates. These gifts should relate to the event's theme or your personal style and will leave a lasting impression on your guests.
Frequently Asked Questions (FAQ)
1. How do I create an elegant table setting on a budget? 
Hosting a fancy dinner party doesn't have to be expensive. Simple placemats or table runners and DIY ideas can add elegance. Use greenery or candles for a touch of class. Disposable dinnerware sets can be affordable yet look traditional. Be resourceful and creative to achieve an elegant table setting on a budget.
2. Are disposable dinnerware sets a good option for a dinner party?
Disposable dinnerware sets are a practical and convenient choice for hosting dinner parties. They come in various designs, mimic real china or glassware, and save time on cleanup. Choose visually appealing options that match your party's theme and style.
3. How can I choose a suitable centerpiece for my dinner table? 
Choose a centerpiece that fits your table's theme, style, and size. Avoid anything too tall or wide that might obstruct views or conversation. Consider seasonal flowers, greenery, fruits, or candles to add interest. A statement piece like a candle holder or sculpture can also work. Don't overpower the table setting with the centerpiece.
4. What are some vegetarian or vegan menu options to consider?
When hosting a dinner party, consider dietary restrictions. Offer a variety of plant-based dishes, like roasted vegetable tarts or mushroom risotto. Include international cuisines and diverse flavors for all to enjoy.
Cheers to hosting an evening of elegance and creating cherished memories that will be talked about for years to come!